US/Israeli/Saudi Alliance: Future of the Middle East Careening Toward War With Iran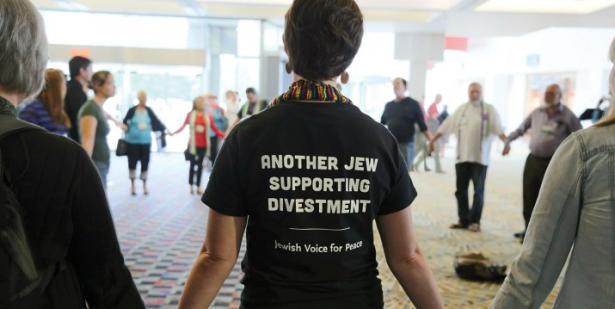 , Jewish Voice for Peace
Trump was forthright in explaining why he replaced Rex Tillerson with Pompeo: "If you look at the Iran deal I think it's terrible and I guess he [Tillerson] thought it was OK … We weren't really thinking the same,"[1] Pompeo has been hyping an Iran/ Al Qaeda connection[2] reminiscent of the run-up to the second Gulf War, as former CIA analyst Ed Price has pointed out: "This effort reeks of former vice president Dick Cheney's consistent false allegations of links between Saddam Hussein's Iraq and the 9/11 attacks, a nexus the Bush administration debunked only after we had lost too much in blood and treasure."[3]
Bolton, already infamous for his time as UN Ambassador for George W. Bush[4], has argued for a first strike against North Korea.[5]  Less well known are his ties to the Mujahideen-e Khalq (MEK), a fringe Iranian exile group, which had been on the State Department's list of terrorist organizations until Bolton and others successfully lobbied to have the designation removed in 2012.   Bolton is a lobbyist for the group and its "government-in-exile," the Iran National Council of Resistance.
Bolton has long called for a military attack on Iran.  In 2008 he said, "I think obviously this needs to be done in a careful and prudent fashion. But I think that the strategic situation now is that if we don't respond, the Iranians will take it as a sign of weakness.  A strike accompanied by effective public diplomacy could well turn Iran's diverse population against an oppressive regime," Bolton also wrote in 2009, advocating a strike on Iran by Israel. "Most of the Arab world's leaders would welcome Israel solving the Iran nuclear problem, although they certainly won't say so publicly and will rhetorically embrace Iran if Israel strikes."[6]  In a speech to the Free Iran gathering in July 2017, Bolton further promised regime change in Iran by 2019.[7]
We now have two outspoken advocates of regime change who are not shy about advocating military means to effect this change.  Be prepared for what is coming.
Original article:
How can we understand what is going on in the Middle East as a whole and the impact on the situation of the Palestinians?  What do we make of the burgeoning alliance between the US, Israel, and Saudi Arabia? 
The US is a longstanding ally of Israel, and continues to help arm Israel to the teeth.  This alliance was solidified after the events of 9/11/2001. Even the Obama administration, despite widely noted tensions with the Netanyahu government, agreed on a $38 billion military aid package for the decade after 2016.[1]
The US is also a long-time ally of Saudi Arabia dating back to World War II.  Despite the involvement of numerous Saudis in the 9/11 attacks, and documented Saudi support for Al Qaeda and other terrorist groups, the George W. Bush administration provided tens of billions of dollars in military sales, which was topped by the Obama administration.  Despite Trump's campaign criticism of US aid to Saudi Arabia, he celebrated a $110 billion arms deal last May.[2]
In contrast, the US has been generally hostile to Iran since the 1979 Islamic Revolution.  In 2003 after the US invasion of Iraq and the targeting of Al Qaeda, the Iranians sought diplomatic common ground with the US to no effect.[3] Instead, in the wake of the 2003 Iraq war, a senior Bush official crowed, "Anyone can go to Baghdad. Real men go to Tehran."  While Obama's deal (Joint Comprehensive Plan of Action (JCPOA)) with the Iranians to halt the development of Iranian nuclear weapons briefly lowered tensions, Trump has repeatedly cited it as a foreign policy disaster, though he has not yet decertified the deal.
Shared hostility toward Iran has brought the Israelis and Saudis together.  The long-term strategy by Israeli leaders is the disruption and breakup of surrounding Arab and Muslim states.  They view most of the other Middle Eastern states as being on the verge of collapse, as the misguided product of failed 20th century western attempts to create viable nations.  Before 1979, the Israelis (along with the US) had banked on a close relationship with the Shah of Iran; but the 1979 Iranian revolution disrupted this alliance. Israeli leaders continually seek to exploit Shia/Sunni, Christian/Muslim, and ethnic tensions.  This strategy aims both to bolster Israeli military dominance and relieve Arab and Muslim pressure on the Israelis with respect to the Palestinians.  Thus the Israelis advocated the US invasion of Iraq, the overthrow of Assad, and opposition to Hezbollah in Lebanon and elsewhere.  Their longstanding opposition to Hezbollah is linked to their view of Iran as their main threat: thus their virulent opposition to the nuclear agreement with Iran.  It is an open secret that Israel possesses nuclear weapons[1] and wishes to remain the sole nuclear power in the Middle East.  Despite worldwide condemnation of Israeli policy toward the Palestinians, Israel is becoming less isolated internationally as evidenced by the participation of France, Germany, Italy, India, Greece, Poland as well as the US in the biennial Israeli Blue Flag joint military exercise in November 2017.[2]
The Saudis also see the Iranians as a threat; this is evident not only in public statements, but also in their war on the Houthis in Yemen, attempts to isolate Qatar, and attempted manipulation of the Prime Minister of Lebanon,[3] as well as their unprecedented rapprochement with their Israelis.
In a November interview with the Saudi online newspaper Elaph, IDF Chief of Staff, Lt. Gen. Gadi Eisenkot stated that Israel and Saudi Arabia are in full agreement about Iran's intentions, noting the two states have never fought each other.  He added, "with President Trump there is an opportunity to build a new international coalition in the region. We need to carry out a large and inclusive strategic plan to stop the Iranian danger. We are willing to exchange information with moderate Arab countries, including intelligence information in order to deal with Iran."[4]
News of a secret visit by Saudi Crown Prince Mohammed bin Salman to Israel in September[5] also suggests closer ties. Adding to the media frenzy over the possible opening of diplomatic relations between the two nations was news of Jared Kushner visiting both countries in January. Kushner, Trump's chief Middle East adviser, was reported to have stayed up late into the night communing with Saudi Crown Prince Mohammed Bin Salman (aka MBS).[6]
According to Michael Wolff's Fire and Fury[7], Trump, egged on initially by Steve Bannon and still by Sheldon Adelson, thinks the Arabs can pressure Palestinians to accept any deal; perhaps with Jordan taking over the West Bank & Egypt annexing Gaza.  "A queasy-making mishmash of thought. Bannon's isolationism (a pox on all your houses – and keep us out of it); Flynn's anti-Iranism (of all the world's perfidy and toxicity, there is none like that of the mullahs); and Kushner's Kissingerism."
Wolff writes further that and that the effective Trump doctrine could be reduced "to three elements: powers we can work with, powers we cannot work with, and those without enough power whom we can functionally disregard or sacrifice [in this case, the Palestinians]. Trump's inner circle also reduced the Middle East to being centered on "four players": Egypt, Israel, Saudi Arabia, and Iran.  The first three can be united against the fourth." [1] And these first three will also pressure the Palestinians to make a deal.   The move of the US embassy to Jerusalem, urged by Christian Zionist Mike Pence, as well as Jewish Zionist Chuck Schumer[2], is in line with this dismissal of Palestinian viability. 
Reports surfaced in December 2017 that Saudi Crown Prince Mohammed bin Salman demanded that Palestinians accept a plan that would give them only very limited sovereignty over non-contiguous chunks of the West Bank.  Netanyahu's Likud Party just unanimously agreed that Israel should annex all settlements on the West Bank.  This would divide Palestinian areas into an archipelago of disconnected Bantustans, ruling out any future contiguous Palestinian state.  Netanyahu's coalition partner, the Jewish Home party, advocates outright annexation of at least 60 per cent of the West Bank.[3]  Trump's assumption – as per Wolff's book – is that Palestinians should accept whatever little they can now get.
This fantastical grand strategy is not without contradictions.  First of all, there is no indication of Jordanian or Egyptian willingness to take on the West Bank or Gaza.  One can also wonder as to the enduring effectiveness of the Saudi Crown Prince, as his failed effort to coerce the resignation of Lebanon's prime minister, Saad Hariri[4] and his attempt to isolate Qatar[5] have so far come up short.  Further we can't assess the reaction inside Saudi Arabia in his crude attempts to consolidate power.  Who can predict where the US/Russia relationship is headed, but this strategy does put the US and Russia in direct confrontation both in Syria and Iran.  Decertifying the Iran nuclear deal will also put the US at odds not only with Russia but with much of Europe, as well.  Coercing Palestinians to accept a humiliating deal will not work, however desperate their situation. 
There are ongoing wars in Syria and Yemen, grave uncertainty in Iraq and Lebanon (as well as Iran), and a strong further rightward tilt in Israel.  There is a great deal of warlike bluster as well as demonizing of the opposition.  There is renewed talk of tactical nuclear weapons in the US. In such an explosive situation, with unhinged and macho leadership there is certainly the danger of a wider war with unknown consequences.  While the immediate bullet may be dodged, such loose talk in an area bursting with lethal weapons (as indicated above, mostly US supplied), we should not wish away the danger signs.
As matters stand, the US/Israeli strategy is to isolate the Palestinians, leaving them no option—not even the pretense of negotiations—to accept, at best, permanent Balkanization under the direct control of the Israelis.  Minimally, we must continue to assert the human rights of Palestinians and to expose the strategy as unsustainable injustice leading to more violence and instability.  Trump, for better and worse, has exposed the patent hypocrisy of US policy toward Palestinians.  We can connect the dangers of the overall Trump trajectory to the particulars of his Middle East plans.
We must also be alert and alert others to the further disaster that may well lie ahead.  In this volatile atmosphere, a single spark can ignite an uncontrollable conflagration.  Escalation may occur in incremental, seemingly small steps—an air attack or ground skirmish with Hezbollah, a naval confrontation in the Persian Gulf, the decertification of the Iran nuclear deal—or it may come in a flash.  In the interview with IDF Chief of Staff, Lt. Gen. Gadi Eisenkot cited above, he cautioned that local flare-ups could "lead to a broad strategic conflict."[1]  In any case, it is incumbent on those of us supporting Palestinian rights and opposed to war to issue clear warnings, respond to any escalation forthrightly and with vigor.  We cannot permit the marginalization and terrorizing of the Palestinian people or the demonization of Iran as preparation for a disastrous, wider war. 
In an era, where war has been normalized, the military sacralized, people overwhelmed by the rigors of daily life, the planet overheated while rulers fiddle and tweet, it is not overwrought to be concerned about the future of the species.  While understandable attention is being paid to the dangers of nuclear war in the Korean peninsular, we should not lose sight of the fact that since World War I, the Middle East has been a center of world tension.  A broader war must be avoided, an antiwar movement revitalized, and an alternative vision projected and enacted. 
[1] See https://www.cnbc.com/2018/03/13/why-new-secretary-of-state-mike-pompeo-is-probably-bad-news-for-iran.html
[1] At the conservative Foundation for the Defense of Democracies (FDD) Pompeo asserted: "I think it's an open secret, and not classified information, that there have been relationships, there are connections" between Iran and al-Qaeda. "The CIA is going to release, here, in the next handful of days, a series of documents related to the Abbottabad raids that may prove interesting to those who are looking to … take a look at this issue a little bit further."  See https://www.theatlantic.com/international/archive/2017/11/iran-mike-pompeo-bin-laden-documents-cia/545093/
[1] See https://larouchepac.com/20171116/mike-pompeo-neo-cons-and-alleged-al-qaeda-iran-link
[1] See https://theintercept.com/2018/03/30/deconstructed-podcast-will-john-bolton-get-us-all-killed/
[1] See https://www.wsj.com/articles/the-legal-case-for-striking-north-korea-fi….
[1] See http://www.businessinsider.com/john-bolton-quotes-iran-north-korea-iraq-2018-3
[1] See https://www.youtube.com/watch?v=hTMh24qlyQA
[1] See https://www.theatlantic.com/international/archive/2016/09/united-states-israel-memorandum-of-understanding-military-aid/500192/ and https://www.cnn.com/2016/09/13/politics/us-israel-military-aid-package-mou/index.html
[1] See http://time.com/4787797/donald-trump-yemen-saudi-arabia-arms-deal/ and https://www.cnn.com/2017/05/19/politics/jared-kushner-saudi-arms-deal-lockheed-martin/index.html
[1] See http://www.washingtonpost.com/wp-dyn/content/article/2006/06/17/AR2006061700727.html and http://www.mideastweb.org/iranian_letter_of_2003.htm
[1] See https://portside.org/2018-01-22/israels-nuclear-weapons-program
[1] See https://www.haaretz.com/israel-news/india-air-force-in-israel-for-first-ever-joint-military-exercise-1.5462139
[1] See https://www.nytimes.com/2017/12/24/world/middleeast/saudi-arabia-saad-hariri-mohammed-bin-salman-lebanon.html
[1] See  https://www.haaretz.com/israel-news/idf-chief-gives-unprecedented-interview-to-saudi-media-1.5466066
[1] See https://www.middleeastmonitor.com/20171021-israeli-official-confirms-bin-salman-visited-tel-aviv-last-month/ and https://www.haaretz.com/middle-east-news/new-saudi-crown-prince-good-news-for-israel-u-s-1.5486893
[1] See http://foreignpolicy.com/2017/11/07/jared-kushner-mohammed-bin-salman-and-benjamin-netanyahu-are-up-to-something/ and https://www.nytimes.com/2017/11/14/world/middleeast/saudi-arabia-mohammed-bin-salman.html
[1] Fire and Fury: Inside the Trump White House. Michael Wolff. Henry Holt and Co. 2018 and see http://www.philly.com/philly/columnists/trudy_rubin/fire-and-fury-michael-wolff-trump-middle-east-20180110.html and http://theantimedia.org/fire-and-fury-middle-east/
[1] See http://theantimedia.org/fire-and-fury-middle-east/
[1] See http://www.breitbart.com/jerusalem/2017/11/29/mike-pence-trump-actively-considering-when-and-how-to-move-u-s-embassy-to-jerusalem/ and  https://nypost.com/2017/12/06/democratic-nay-sayers-on-trumps-jerusalem-move-are-outright-hypocrites/
[1] See http://www.philly.com/philly/columnists/trudy_rubin/fire-and-fury-michael-wolff-trump-middle-east-20180110.html
[1] See https://www.nytimes.com/2017/12/24/world/middleeast/saudi-arabia-saad-hariri-mohammed-bin-salman-lebanon.html
[1] See http://www.aljazeera.com/news/2018/02/defence-minister-saudi-uae-intended-invade-qatar-180203091422735.html
[1] See  https://www.haaretz.com/israel-news/idf-chief-gives-unprecedented-interview-to-saudi-media-1.5466066
Thanks to Portside readers and supporter Howard Machtinger for submitting this article.