Equal Pay Day Is a Reminder That You Can't Mansplain Away the Gender Pay Gap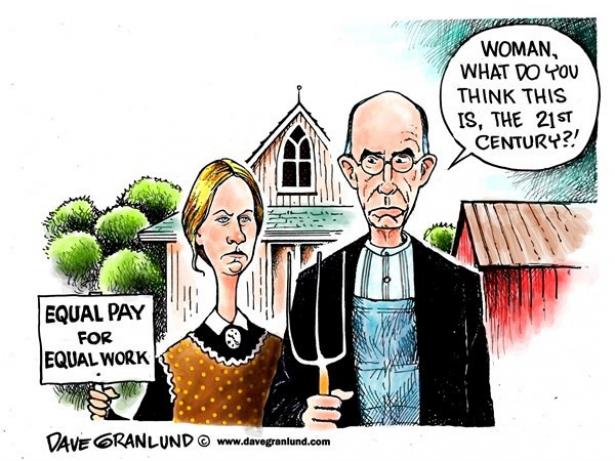 , Dave Granlund
April 10th is Equal Pay Day, a reminder that a significant pay gap still exists between men and women in our country. April 10th marks how far into 2018 women would have to work to earn the same amount that men earned in 2017. On average in 2017, women were paid 22 percent less than men, after controlling for race and ethnicity, education, age, and location.
Even after extensive research has been done to show the gender pay gap exists (and persists), some skeptics refuse to believe the data. The infographic shows some of the most common criticisms of the gender wage gap and rebuts the "mansplainers" with data.
While April 10th is the overall Equal Pay Day, the gaps for women of color are even larger. As compared to white men, women of color have to work even further into 2018 to make up for the wage deficit they experienced in 2017. Black women's equal pay day is August 7th, Native American women's equal pay day is September 27th, and Latina equal pay day doesn't come until November 1st, almost an entire second year of working to equal typical white male wages in 2017.
To close the gender pay gap, women need to see real wage growth faster than their male counterparts. The best type of narrowing occurs when both women and men see real annual wage growth. To see how much you could be earning in a more equal society, check out EPI's Gender pay calculator.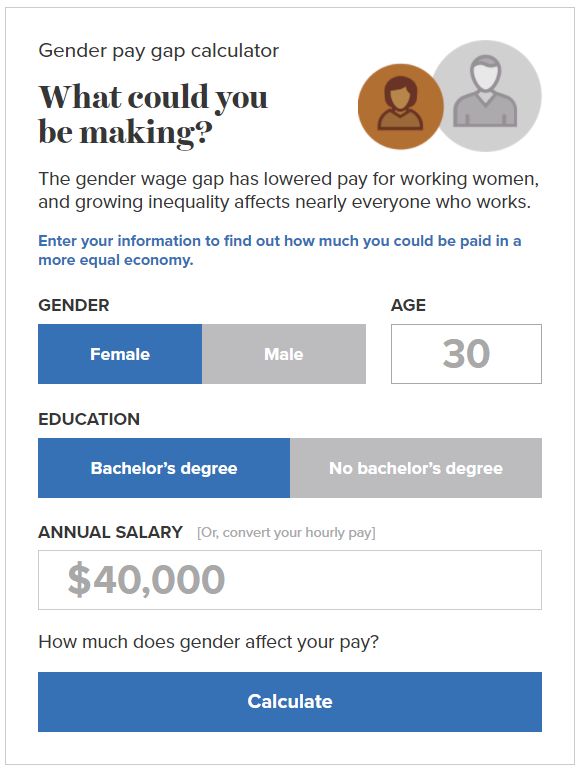 Click here to use the Gender Pay Gap Calculator from EPI
---
Elise Gould joined EPI in 2003. Her research areas include wages, poverty, inequality, economic mobility and health care. She is a co-author of The State of Working America, 12th Edition. Gould authored a chapter on health in The State of Working America 2008/09; co-authored a book on health insurance coverage in retirement; published in venues such as The Chronicle of Higher Education, Challenge Magazine, and Tax Notes; and written for academic journals including Health Economics, Health Affairs, Journal of Aging and Social Policy, Risk Management & Insurance Review, Environmental Health Perspectives, and International Journal of Health Services. Gould has been quoted by a variety of news sources, including Bloomberg, NPR, The Washington Post, The New York Times, and The Wall Street Journal, and her opinions have appeared on the op-ed pages of USA Today and The Detroit News. She has testified before the U.S. House Committee on Ways and Means, Maryland Senate Finance and House Economic Matters committees, the New York City Council, and the District of Columbia Council.
Education
Ph.D., Economics, University of Wisconsin at Madison
Master of Public Affairs, University of Texas at Austin
B.A., Sociology, Wesleyan University
Jessica Schieder joined EPI in 2015. As a research assistant, she supports EPI's economists and researchers in analyzing trends in the labor market. She specializes in research on wage trends, executive compensation, the gender wage gap, and various measures of inequality. She also works with the Economic Analysis and Research Network (EARN) to provide research support to various state advocacy organizations.
Schieder's work has been cited by numerous broadcast, radio, print, and online news outlets, including The New York Times, The Washington Post, The Atlantic, The Guardian, Politico, and The New Yorker.
Prior to joining EPI, Jessica worked at the Center for Effective Government (formerly OMB Watch) as a fiscal policy analyst, where she examined how budget and tax policy decisions impact working families.
Education
B.S., International Political Economy, Georgetown University