tv
Review: Occupied Season 2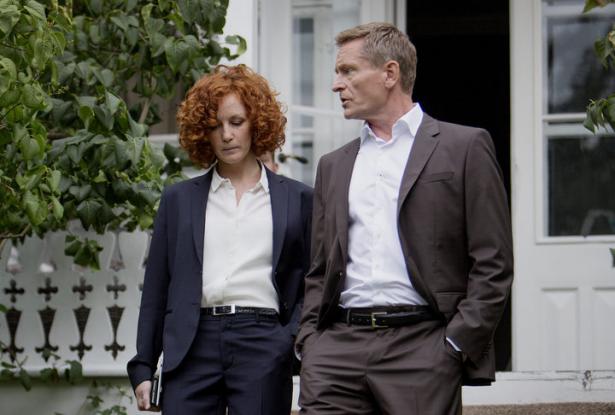 Janne Heltberg as Anita Rygh and Henrik Mestad as Jesper Berg in the Netflix political thriller Occupied (S2).,Netflix
When the first season of Occupied was on screen the Russians were a fictional threat. Has reality caught up with the conceit, asks Dan Slevin?
Janne Heltberg as Anita Rygh and Henrik Mestad as Jesper Berg in the Netflix political thriller Occupied (S2). Photo: Netflix

Two years ago, Norway's most expensive television production of all time captivated viewers across Europe. A political thriller about a Green prime minister, committed to renewable energy, overthrown by close neighbour Russia in order to control his country's abundant natural gas and oil reserves was gripping and left many viewers – not least my own household – on the edge of their seats when episode 10 failed to resolve the deadlock.
Word soon came out that Netflix was flexing its own freshly-acquired global muscle by buying the rights to the next two seasons of Occupiedthereby guaranteeing that Season Two was inevitably going to end in a similar form of WTF. (Why do we do this to ourselves?)
As we reconvene, former-PM Jesper Berg (Henrik Mestad) has been ousted and is in exile in Sweden. His former chief-of-staff Anita Rygh (Janne Heltberg) combines conjugal visits with attempts to keep him in contact with Norwegian political realities but their romantic entanglement seems doomed. Conflicted restaurateur Bente Norum (Ane Dahl Torp) now owns a hotel patronised by oligarchs and is in love with the head of Russian security. Former prime-ministerial bodyguard Hans Martin Djupvik (Eldar Skar) is now head of state security but seems to owe secret favours to everybody – including the majestic Russian ambassador Sidorova (Ingeborga Dapkunaite) who is playing everyone off against each other.
The violent resistance is organised via chat sessions inside an online first-person-shooter (set in a recognisably Nordic environment). The actual military is frustrated that they can't join the fight and many Norwegian citizens are guiltily enjoying the roubles the Russians bring and turning a blind-eye to the Greenhouse Effect.
This season of Occupied is even bigger than the first – a co-production with French, Belgian and Danish television as well as the international might of Netflix. It's gorgeous to look at – Oslo's modern architecture is strikingly photogenic throughout – although you can tell the producers have sometimes struggled to maintain snow continuity.
French actor Hippolyte Girardot (EU commissioner Fransk) and Jesper Berg negotiate on a Paris park bench. Photo: Netflix (Kris Dewitte)
The central theme also remains intact – the conflict between principle and realpolitik. In S1 Jesper Berg was the peacemaker who reluctantly sold Norway's future to prevent bloodshed. In S2 he has become the figurehead for the resistance – but still so naïve that his face is perpetually perplexed as one person after another double-crosses him.
The most interesting character in the show this time is Rygh – an unelected prime minister selected for the job because the Norwegian parliament couldn't offer up anyone else stupid enough to take it. Watching her engage in snowy brinkmanship with the indefatigable Sidorova is a treat.
Ambassador Sidorova (Ingeborga Dapkunaite) ponders whether to do yet another favour for Norwegian Head of Security Hans Martin Djupvik (Elder Skar). Photo: Netflix
Our fast-moving real world understandably hasn't had much of an impact on the latest season of Occupied – no Novichok, no Facebook-mining(although one enterprising young hacker does create an app that gets him a backdoor to the entire prime ministerial email server), no mention of the USA at all – but the air of uncertainty, that the unthinkable is not only thinkable but possible, all feels very much of the moment.
Like many middle seasons of television these days, we end up not a million miles away from where we started but the roundabout journey is a swiftly paced, cinematic and entertaining one.
Occupied S2 is streaming now on Netflix.