tv
'Luke Cage' Season 2: A New Villain and Respectability Politics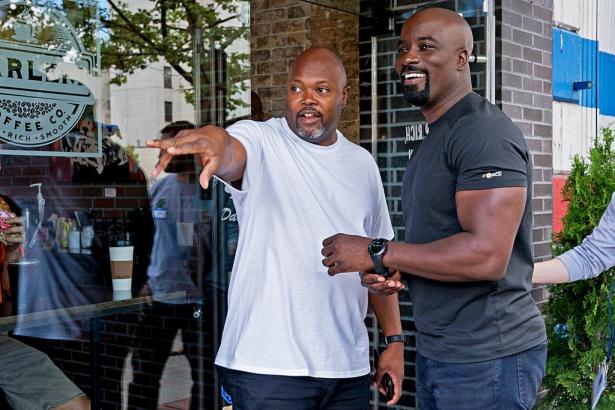 Cheo Hodari Coker, left, with Mike Colter on the set of "Marvel's Luke Cage." The show returns Friday for its second season on Netflix.,David Lee/Netflix
When the first season of "Luke Cage" made its debut on Netflix in 2016, anticipation was high: Inspired by the character who made his first appearance in comic books during the blaxploitation era, it featured an impressive cast — including Mike Colter, Alfre Woodard and Mahershala Ali — and a more subversive and political superhero narrative than many of Marvel Comics' previous forays onto the screen. The titular character, a bulletproof ex-convict with superhuman strength who rids Harlem of its criminals, made the series ripe for comparisons to the Black Lives Matter movement.
The second season arrives on Friday, and while much within the culture has changed since 2016, the objectives for "Luke Cage" have not, said the showrunner Cheo Hodari Coker.
"I just always feel that any black art should address our perpetual struggle for progress and freedom, period," he said. "There's no way around it. The thing is you can never predict what the next injustice is going to be. Unfortunately, it's part of being black and conscious in America."

In a phone interview, Mr. Coker, 45, discussed the new season's female directors and Caribbean influences, his disregard for respectability politics and his unabashed love for all things musical. "The reason I keep making so many musical metaphors with 'Luke Cage' is that I don't view it as much a television show as I do a concept album with dialogue," he said. "I've always said it's like a bulletproof version of [Beyoncé's] 'Lemonade.'" These are edited excerpts from the conversation.
When Season 1 dropped, Colin Kaepernick had only just started making headlines for kneeling before games and the presidential election was in its final stretch. Did you feel as though you had to address these social and political issues in Season 2?
There's no way I could have anticipated that not only would we have a president this obtuse, but this most recent thing, separating children from their families in terms of these border crossings. It's unconscionable. Honestly, it's all I've been thinking about right now. Not only if we can possibly address this kind of stuff in Season 3, but more just on a human level.
Mr. Coker, standing, on the set of Season 2, Episode 1, with Theo Rossi, left, and Alfre Woodard.CreditSarah Shatz/Netflix
In art you can't predict that, so the only thing you can do is basically be reactive from the standpoint of always being conscious. Sometimes you can anticipate it, sometimes you can't. The power that you have as a storyteller is to be able to tell stories that are at once entertaining but also never lose sight of what's going on in the real world. Whether it's "Black Lightning" or "Black Panther" or us, "Luke Cage." Whether it's "Queen Sugar," even "Atlanta,"—especially "Atlanta" — all of us in different ways have figured out ways to speak to both.
Unlike the first season, Season 2 features directing turns from several women, including Lucy Liu, Salli Richardson-Whitfield and Kasi Lemmons. Was this a conscious decision in the wake of recent calls andinitiatives for more female representation behind the camera on shows like "Queen Sugar" and the most recent season of "Jessica Jones"?
I think what happens with a quote-unquote "brawny" action show, people say, "Oh well, great, if you have a female director she's going to be great with the emotions, but then when it comes to the camera, when it comes to action, she's not going to know what to do with it." And that's just really — I mean, it's frankly [expletive].
But, if you want to see real change, it has to start in places where people wouldn't expect to see a female director, and that was one of the things that was important to me, my co-executive producer this season Aïda [Mashaka] Croal and Tom Lieber, one of the drama heads at Marvel television. We were also very much supported by Netflix on this. So six of our 13 directors are women, and the thing is, they all defy that stereotype, because if anyone wants to say that they can't direct action, look at Episode 4 in terms of our signature kick with Bushmaster, really handing Luke Cage's [expletive]. That was Salli's episode, and that actual shot was her idea, because initially the script called for just a devastating punch. And then she called from the set and said, "Look, we kind of worked things out with the coordinator, but I think this is a chance for a more signature moment." And I pulled the trigger, said go for it, and bam: It's the kick that we're marketing the entire show around.
With Bushmaster's arrival as a new villain, he brings this facet of blackness that we didn't see much of in Season 1: Caribbean culture. What kinds of discussions did you have in the writers' room and on set when you were enfolding this into the narrative?
Before even getting the room together when I was thinking about what the season could be about, I started looking through the various Marvel dossiers and looking through old issues of "Luke Cage" and when Bushmaster's character came up, looking at his background, he's from the Caribbean. And I said, perfect, that's going to be our window to really talk about Jamaican culture. Even though I'm not Jamaican, I've always loved Jamaican culture because to me it's the island of magic, it's the island of politics, of resistance.
At first, in talking to the powers that be, there was a little bit of resistance. There was, "Fine, he has a Jamaican background, but does he have to speak with a Jamaican accent? Could he be Jamaican-American? How are you going to connect it to Harlem? How are you going to connect it to the club?" And in trying to answer the questions for both Marvel and Netflix, it helped us in terms of the writers' room of realizing here's how we expand New York. Because Brooklyn has always kind of been the epicenter of Jamaican America, Brooklyn and Queens. So, this expands our universe outside of Harlem.
Mr. Colter in the new season of "Luke Cage," which expands its world beyond Harlem in Season 2.CreditDavid Lee/Netflix
Luke was dubbed by many as the "Black Lives Matter superhero," though others have read him as being more politically conservative, particularly when it comes to the N-word.
[Laughs.] Here we go.
What do you make of the critiques of his and other characters' leanings toward respectability politics? Is that an accurate description?
[Expletive] respectability politics. Like I've always said, Luke Cage is more Big Daddy Kane than Herman Cain. He's the furthest thing from a conservative. I think people — particularly this younger generation — are a little too literal. Because Luke Cage doesn't love the N-word, it doesn't make him a conservative. It makes him an old head from the '90s. Because back in the '90s, there was a period of time when if you were going to use the N-word, you were going to talk about why you're using it. If it was something like an N.W.A. record like "Niggaz 4 Life" — "Why do I call myself a nigga, you ask me?" — you're going to answer that question.
When it comes to "Luke Cage," I think it comes down to that scene [in Season 1] when Luke is in front of [the Crispus Attucks apartment complex] and the guy is pointing a gun at his head, and he calls him "nigga." And Luke's not reacting to the word like, "Oh, I'm too good to use this word." He's had the worst day of his life, and the last thing he wants to deal with is some kid who doesn't recognize the history or recognize all the things that built up to this point to say that word to him. That's why he flips it over. But it's not about don't use that word around me, it literally was just meant for this one moment. But then of course that's the thing about a television show: When you do that all of a sudden people are going to be like, "Oh well, really what it means is this."
What about the fights that I had to have with Marvel to even use that word? So people want to talk to me about respectability politics without even realizing all the different levels of fights that I had to have to even use the word within a Marvel property. What's even more offensive than me having characters using the word "nigger" is you telling me that I can't use this word. [laughs]
You've talked about having responsibility as a black showrunner. Often people like you talk about wanting to represent their community and where they are from. But do you ever think, I don't want to do this anymore — I just want to make purely fun art?
I don't think my approach is any different than Spike Lee's or John Singleton's. They've always managed to make movies that are political, deeply political at times, but at the same time, fun. There are fun moments in "Boyz N The Hood." There are a lot of fun moments in "Do the Right Thing." And both those movies could not have been more political. For me it all goes back to James Brown. Because James Brown managed to have incredibly deep politics at the same time that a groove is underneath making you move. You have to be able to dance and teach at the same time. "I don't want nobody to give me nothing, open up the door, I'll get it myself" — which is a mouthful, but essentially symbolizes the progression of black politics and black people through the mid-'60s all the way through the '70s. But then the groove on that record is hot.
You're not necessarily dancing, but you can do both. You always strive to be entertaining, because the best way to reach somebody's politics is to entertain them.
A version of this article appears in print on June 22, 2018, on Page C9 of the New York edition with the headline: A New Villain and Respectability Politics. Order Reprints | Today's Paper | Subscribe