Tidbits – Feb. 16, 2023 – Reader Comments: States Can Tax the Rich; Black Studies Vital, Necessary; History Seeing 'Socialism' Under Every Bed; Ukraine War; Ohio Train Derailment; Holly Near Tribute; Paul Robeson 125th Birthday Celebration; More…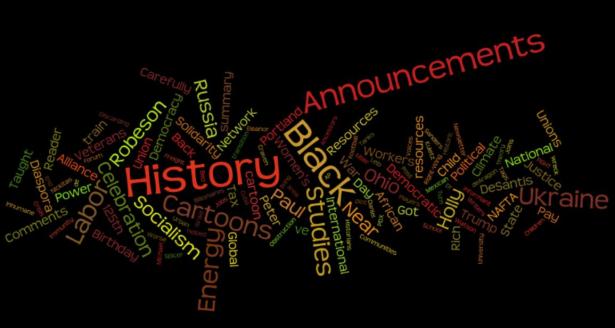 Tidbits - Reader Comments, Resources, Announcements, AND cartoons - Feb 16, 2023,Portside
War in the Ukraine:
Resources:
Announcements:
Re: State Legislators Can Finally Make Billionaires Pay What They Owe
As you may already know, I want to tax the rich. In NYS, where I live, there is an exciting grass roots campaign Invest in Our New York (investinourny.org) which allies Democratic Socialists of America, the Working Families Party, New York Communities for Change and more. What I didn't know is that campaigns like this are going on elsewhere. Do you live in California, Connecticut, Hawaii, Illinois, Minnesota, Maryland, or Washington? You can join your local effort. Thanks to Portside for this report. How is the campaign to tax the rich going where you live? Here it has been very exciting.
Daniel Millstone
Posted on Portside's Facebook page
Re: Biden Forges a New Democratic Paradigm
 
Why is foreign policy totally absent from your analysis of the SOTU address?
Why was it hardly mentioned by Biden, except for Russia and China and the
war in Ukraine?
Gil Leib
Re: Will the Children Tortured as a Trump Policy Tool Receive Justice?
 
Thank you, Portside! I heard Thom's talk this morning and wanted to share it, and thanks to you I could, with many hundreds of people--
Amy Hendrickson
Re: Black Studies Pioneer John H. Bracey Jr. Joins the Ancestors
 
John H. Bracey Jr.—an architect of Black studies—who helped to create one of the nation's first doctoral programs in African American studies at the University of Massachusetts at Amherst, died over the weekend. Bracey was 81.
Kentucky Alliance Against Racist and Political Repression
Posted on Portside's Facebook page
Your Child Can Learn About Black History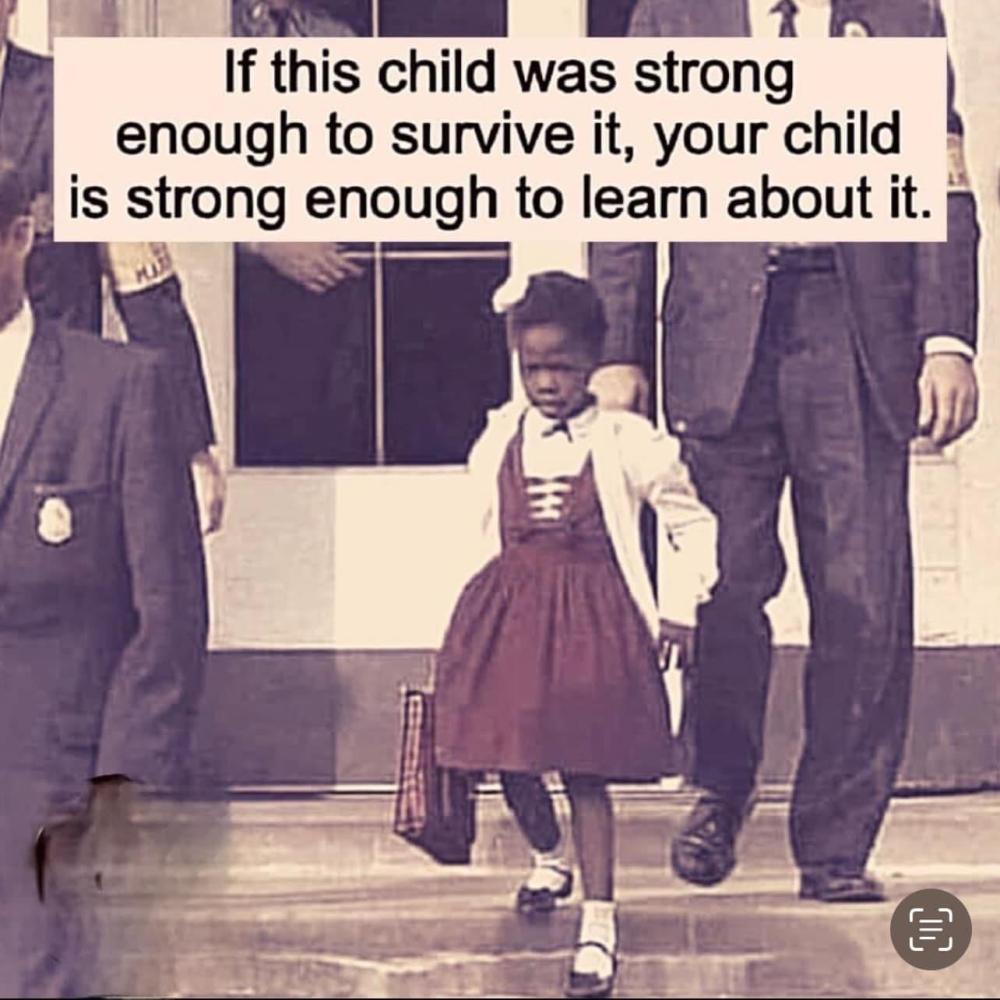 History Repeats   --  cartoon by Michael de Adder
Michael de Adder
January 31, 2023
Washington Post
Re: Believe It: A DeSantis Presidency Could Be Even Worse Than Trump
 
Ever wonder why there's so many right-wing Catholics on the Supreme Court? Or are we not allowed to ask that?
Eleanor Roosevelt
Posted on Portside's Facebook page
      =====
Far worse
Alan Hart
Posted on Portside's Facebook page
      =====
Our very own Viktor Orban.
Edgar Aracena
Posted on Portside's Facebook page
Re: Israel's Government Is Trying to Turn the Film Industry Into a Propaganda Arm
 
The New Israeli government coalition is a anti democratic fascist government. 
Rachel deAragon
Re: Democratic Leaders' Craven "Socialism" Vote Is a Symptom of Political Cluelessness
 
What's next? Lock us up? Put DSA on the subversive list? Present US politics feels like a nightmare of the return of the 1959s red scare I lived through
Roxanne Dunbar-Ortiz
Posted on Portside's Facebook page
      =====
Gratitude to Roxanne Dunbar-Ortiz for this post (and to Portside https://portside.org/2023-02-09/democratic-leaders-craven-socialism-vot… for the article.
"Some Democrats apparently thought voting for the GOP's ludicrous anti-socialism resolution would keep them safe from Republican attacks. They'll find out soon enough how wrong they were."
Kipp Dawson
Posted on Portside's Facebook page
      =====
Do they even know the meaning of the word?
Raul A. Cardenas
Posted on Portside's Facebook page
      =====
Right there with you, Roxanne; lived through it with my factory-working rank-&-file CP mom being constantly harassed by the FBI. My first visitor when I got my first apartment (1963; I had just turned 18) was from a big guy who spoke to me by name when I opened the door, introduced himself as being from the "SF Police Red Squad," "just wanting to let you know that we know where you are." Of course for Black activists and undocumented (or US citizen) immigrants/children of's, these "visits" were too often outright deadly. And yes, these horrors were built up to with things like this. It's not to be taken lightly. Thank you!
Kipp Dawson
Posted on Portside's Facebook page
Sarah Huckabee Sanders  --  cartoon by Nick Anderson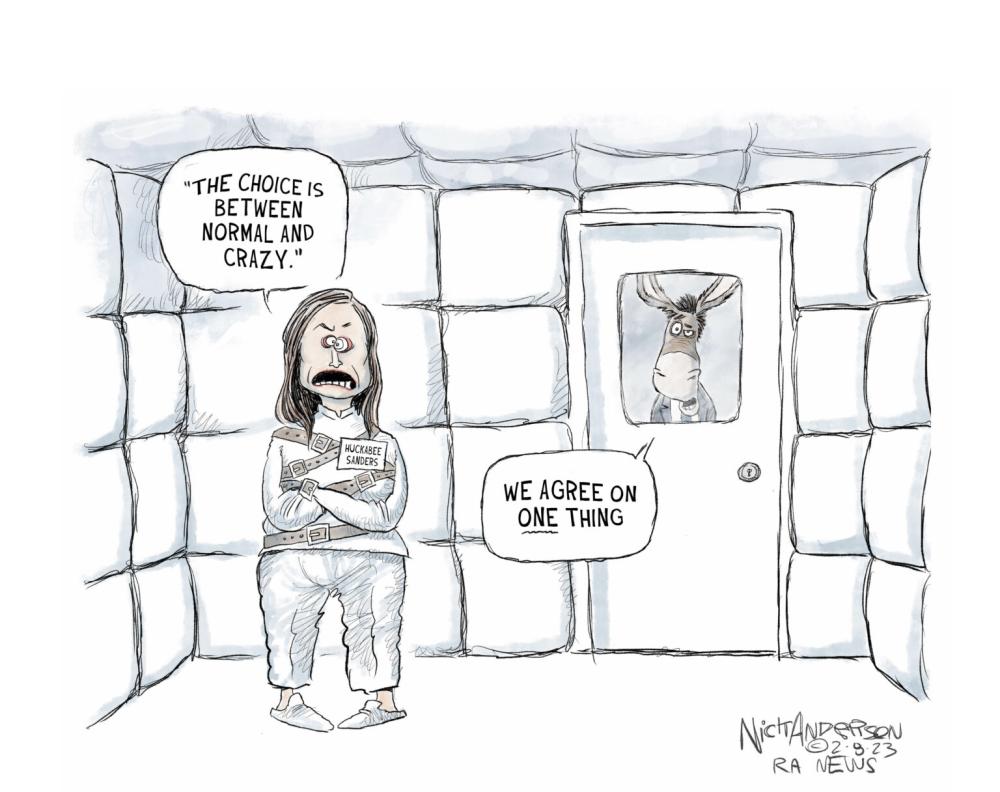 Nick Anderson
February 8, 2023
Reform Austin
Re: You've Got To Be Carefully Taught
 
"Holocaust Deniers" are among the most hated people in the country. The descendants of Germany's Nazis, that I know, don't blame themselves or feel guilty, they work to change the hatreds in the world. Germany has the highest numbers of emigres from Israel of any country in the world. The feeling almost seems to be that "if you want to escape oppression, go to Germany."
There is nobody many of us dislike more than those who won't admit their own mistakes and responsibility for harm caused to others; e.g., in an accident.
Why isn't that the lesson, rather than "why should we feel guilty for things we didn't do?" No-one is asking anyone now to feel guilty for the past; we mostly just want everyone to know and understand "the past" in order to understand "the now" and try to fix the damage done in the past.
Learning ACCURATE history is necessary if we are to be proud of the historical record we leave today for future historians.
Arlene Halfon
Re: 92 Percent of Ex-NFL Players Show Brain Trauma
 
Have you played a contact sport? 
This is an interesting article.
The researchers at BU CTE need your input.
Emily Sue Rosner
Posted on Portside's Facebook page
      =====
Destroy your brain and body for profits.
Jennifer Watson
Posted on Portside's Facebook page
      =====
It's time to put an end to this sort of entertainment. There are many sports where there is always a risk of this kind of injury but it's always due to an unfortunate accident. In football it's a foregone conclusion.
Robert Laite
Posted on Portside's Facebook page
Re: Police Accountability Is a "Non-Starter" Without Discarding the Qualified Immunity Doctrine
 
The corollary to QI abolition is establishment of vicarious liability for officers' employers.  Sec. 1983 employs the fiction that, with narrow exceptions, the government is not liable; only the individual.
There was no qualified immunity at Nuremberg.
Peter J. Nickitas
Attorney at Law
Re: Fears of Renewed FBI Abuse of Power After Informant Infiltrated BLM Protests
 
Some things never change.
Spicer Blount
Posted on Portside's Facebook page
Re: Washington Post Runs Medicare Newsletter Sponsored by Insurance Lobby Front Group
 
This is because we have news outlets owned by massive corporations who work for these people instead of investigating them.
E Beth Davis
Posted on Portside's Facebook page
Re: Hyundai Supply Chain and Child Labor
(posting on Portside Labor)
 
"A group of 33 Democratic lawmakers on Friday implored the U.S. Labor Department 'to take immediate action to rid Hyundai's supply chain of child labor and hold those responsible to the fullest extent of the law' after a Reuters investigation revealed that dozens of kids as young as 12 years old—most of them Central American migrants—were working in Southeastern factories supplying the Korean auto giant.
"Last July, Reuters began investigating allegations of children working on the factory floor at Hyundai subsidiary SMART Alabama LLC's metal stamping plant in Luverne after a 13-year-old Guatemalan girl who worked there temporarily went missing."
Norm Littlejohn
Posted on Portside's Facebook page
Re: Union Kitchen Workers Win Back Pay in National Labor Relations Board Settlement
(posting on Portside Labor)
 
That restaurant needs to change its name!
Peter Ruark
Posted on Portside's Facebook page
Re: Mexican President Vows Global Push To End 'Inhumane' US Embargo of Cuba
 
article on AMLO's efforts to get the US to end its inhumane embargo on Cuba was excellent. EXCEPT there is zero mention of what Biden or the State Dept have to say about it. Your readers need to know what the government reaction is to this pressure. Standard journalism gives an overview of both sides' reactions.
David Miller
Re: German Tanks Against Russia? A Historic Mistake
I was surprised and disappointed that you reprinted the article titled "German Tanks Against Russia?" by Sevim Dagdalen. Dagdalen's argument is seriously flawed. She presents NO serious alternatives to Germany supplying tanks to Russia. The alternative she does argue for-- diplomatic talks with Russia--has shown to be nothing more than a calculated detraction, while Putin's illegal and criminal forces run roughshod over Ukrainian civilians. 
Her claim that the Western wave of pro-military support for Ukrainian sovereignty is the result of having been "swept away by a destructive oligarchalisation" is unfounded and ludicrous especially in light of Russia's own institutionalized aggression against Ukraine. Does she not remember Bucha? Or Mariupol? Does she not recognize the daily bombings of civilians? Is she not horrified at Putin's disregard for everyone when his dictates result in a compromised nuclear plant that even now is running only on backup generators? Or what about the pattern of Russian aggression in neighboring territories? 
She confuses our need to support Ukraine against rape, torture, dispossession, and death at the hands of the Russian military, the Wagner Group, and Putin's maniacal ambitions with "an apocalyptic mood in our society which no longer believes in real social progress." Negotiations do not heal the likes of Bucha. 
This is not about an "apocalyptic mood" among those who wish to support Ukraine. In fact, it is about preventing genocide; and we--the international community-- have been shamefully tardy in our response. I understand that Portside may want to open debate on this issue but this article lacks an intelligent rationale for any realistic alternative. And it shows no understanding of the actual complexity of concern and thought that is implicit in the decision that more military power for Ukraine is necessary. 
Deciding to send tanks to Ukraine is not done lightly, nor is it a result of an "apocalyptic mood." It is a well-considered response to stopping genocide. Period. All countries--including Germany, no matter its past--must respond to this horror. We have tried diplomatic negotiations. It is shameful that this politician-writer can suggest we continue to do this as the bombs reign down upon innocent civilians. 
If you really think there needs to be debate on this issue among the left (and I am not at all sure that is what we need right now) I suggest you reprint someone other than Sevim Dagdelen. Actually, it is my opinion that there is no articulate and intelligent argument to be made here for not supporting Ukraine with tanks.
Dr. Valerie Kuletz
After a train derailment, Ohio residents are living the plot of a movie they helped make (CNN)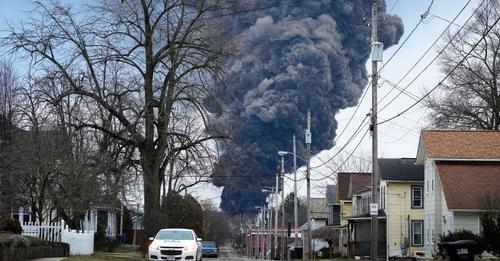 By Brenda Goodman and Kyla Russell
February 11, 2023
CNN
When Ben Ratner's family signed up in 2021 to be extras in the movie "White Noise," they thought it would be a fun distraction from their day-to-day life in blue-collar East Palestine, Ohio....
The 2022 movie was shot around Ohio and is based on a novel by Don DeLillo. The book was published in 1985, shortly after a chemical disaster in Bhopal, India, that killed nearly 4,000 people. The book and film follow the fictional Gladney family – a couple and their four kids – as they flee an "airborne toxic event" and then return home and try to resume their normal lives.
Ratner tried to rewatch the movie a few days ago and found that he couldn't finish it.
"All of a sudden, it hit too close to home," he said.
Read full story here
Historians Mobilize to Fight Back Against Right-Wing Attacks
 
by Margaret Power
February 6, 2023
History News Network
We in Historians for Peace and Democracy (H-PAD)  oppose any and all attempts by right-wing groups and politicians to severely restrict or eliminate teaching about race, ethnicity, gender, sexuality, and LGBTQ rights.
On January 17, 2023, H-PAD released online a comprehensive digital resource, Culture Wars Against Education Archive. The archive, which Molly Nolan, Professor of History Emeritus at New York University, Ellen Schrecker, Professor of History Emeritus at Yeshiva University, Andor Skotnes, Professor of History Emeritus at The Sage Colleges, and H-PAD Research Associate Sarah Sklaw curated, consists of a wide variety of official documents, articles, and information about the main protagonists in the current attack on democratic education. It is free and we encourage you to use it and to share it. And we plan to update the archive periodically.
H-PAD has also launched Historians-On-Call (HOC), in conjunction with the Zinn Education Project, https://www.zinnedproject.org/, which we have developed in conjunction with the Zinn Education Project, https://www.zinnedproject.org/, which is in direct contact with high school teachers across the country. As we know, high school teachers are being threatened, attacked, and fired. Members of school boards have been either voted out of office or forced to resign. Librarians are under intense pressure to get rid of books a particular parent or parents or right-wing groups don't like. University professors are not immune from such attacks, but many of us do operate in safer, more protected environments. The goal of HOC is to mobilize university and college professors to work directly with high school teachers, librarians, administrators, and school board members who are receiving the brunt of the right-wings attacks on education. 
Read more here
NAFTA's Shadow of Obstruction (Rosa Luxemburg Stiftung)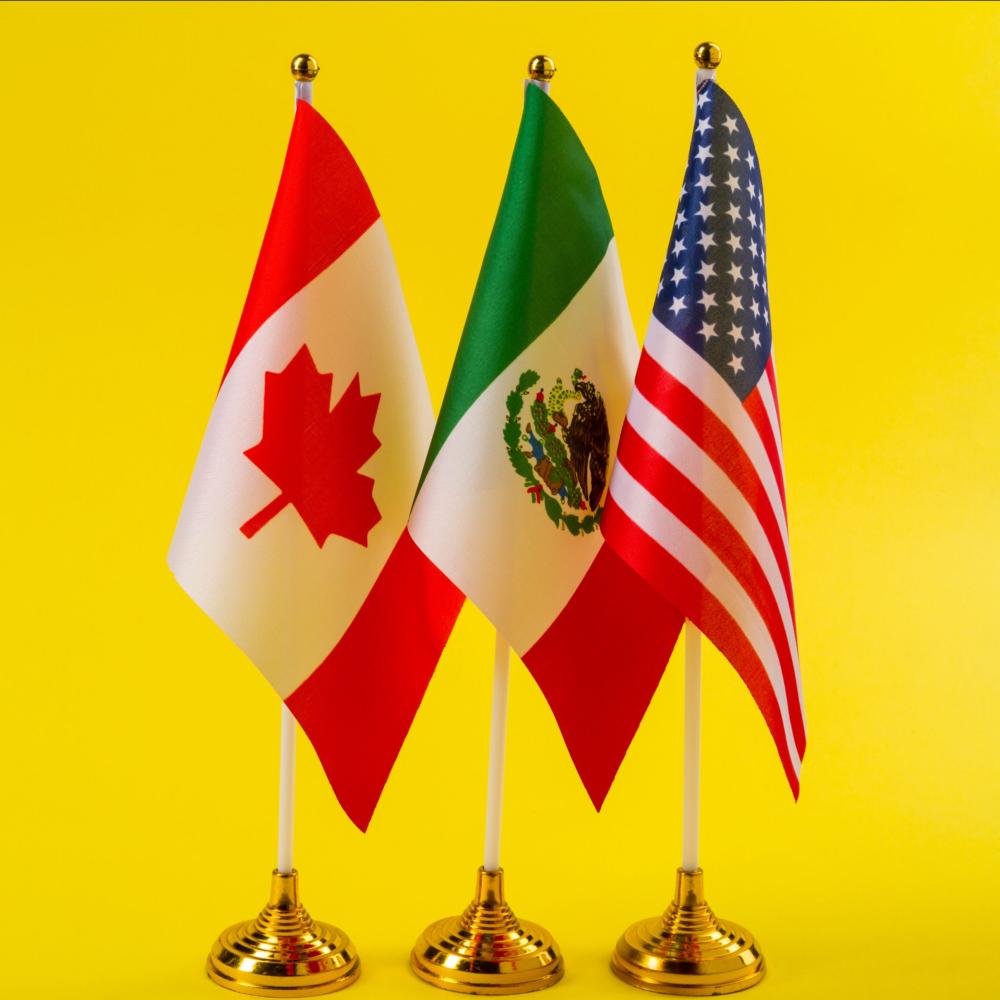 In our newest study by Stuart Trew, Manuel Pérez-Rocha, and Karen Hansen-Kuhn, the authors look into in the expired North American Free Trade Agreement and the lingering investor legacy clauses that undermine democratic decision-making and climate policy.
International investment treaties and investor-state dispute settlement (ISDS) play increasingly prominent roles in debates about the climate crisis and government efforts to mitigate greenhouse gas emissions. Around the world, states and international governance bodies are warming to the understanding that investment treaties threaten progress on decarbonization, sustainable development, and the achievement of human rights. Even in places where countries have taken steps to roll back ISDS, as in North America with the passage of the US-Mexico-Canada Agreement (USCMA), corporate lawsuits against democratically enacted energy and climate policies continue to put a chill on government action.
This report looks at three such cases launched in the past two years against Canada, the United States, and Mexico under the expiring ISDS process in the North American Free Trade Agreement (NAFTA). These disparate cases include: TC Energy's $15 billion challenge to the Biden administration's cancellation of the Keystone XL tar sands pipeline; a dispute from Koch Industries involving the cancellation of cap-and-trade in the Canadian province of Ontario; and about a half dozen energy- and mining-related ISDS cases from Canadian and US firms against Mexico, of which we will highlight the Finley Resources case.
What unites these ISDS cases, besides their links to energy and climate policy, is that they should not have been possible to begin with. They can only move forward because of a "legacy" provision that temporarily extended NAFTA's Chapter 11 investment provisions in the replacement USMCA.
As such, these cases—and the Keystone XL dispute in particular—provide a lesson for countries seeking to exit investment treaties and free trade agreements containing ISDS: unless unreasonable sunset periods are rolled back or canceled alongside ISDS, the threat of investment arbitration to climate action will linger.
275 Madison Avenue,
Suite 2114
New York, NY 10016
Russia Out! Solidarity with the Ukrainian Resistance - February 25 (The Ukraine Solidarity Network (US) and Haymarket Books)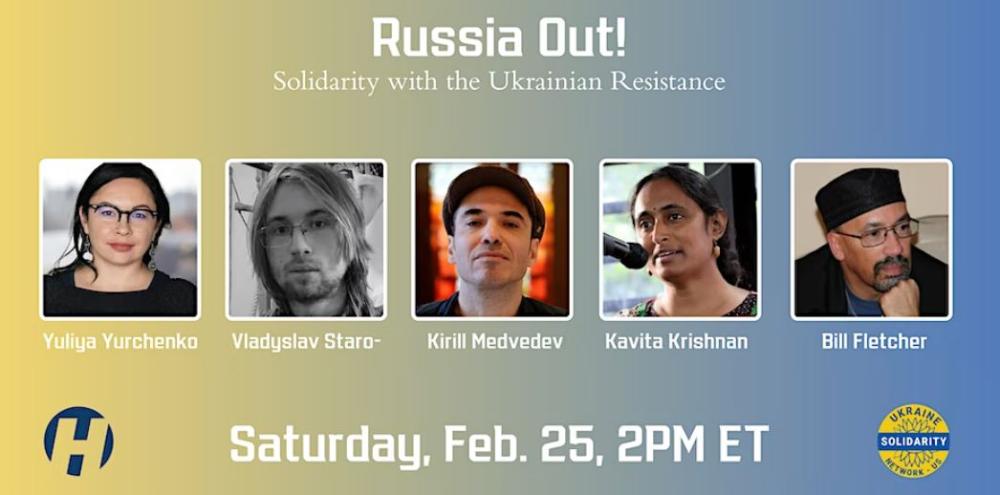 This February marks one year since Russia's imperialist invasion of Ukraine. On the anniversary, people around the world are organizing events in solidarity with Ukraine's heroic struggle for self-determination. On Saturday, February 25, 2023, please join our panel of scholars and activists for a discussion of the roots, nature, and politics of the war and the resistance.
***Register through Eventbrite to receive a link to the video conference on the day of the event. This event will also be recorded and live captioning will be provided.***
Featured Speakers:
Yuliya Yurchenko, Senior Lecturer at the University of Greenwich and author of Ukraine and the Empire of Capital: From Marketization to Armed Conflict.
Vladyslav Starodubstev, historian of Central and Eastern European region, and member of the Ukrainian democratic socialist organization Sotsialnyi Rukh.
Kirill Medvedev, poet, political writer, and member of the Russian Socialist Movement.
Kavita Krishnan, Indian feminist, author of Fearless Freedom, former leader of the Communist Party of India (ML).
Bill Fletcher, former President of TransAfrica Forum, former senior staff person at the AFL-CIO, and Senior Scholar at the Institute for Policy Studies.
Including solidarity statements from among others Barbara Smith, Eric Draitser, Haley Pessin, Ramah Kudaimi, Dave Zirin, Frieda Afary, Jose La Luz, Rob Barrill, and Cindy Domingo.
This event is sponsored by The Ukraine Solidarity Network (US) and Haymarket Books. While all of our events are freely available, we ask that those who are able make a solidarity donation in support of our important publishing and programming work.
Learning from Global South Unions: Student Voices on Climate Action and a Just Energy Transition - March 7 (CUNY School of Labor and Urban Studies and Trade Unions for Energy Democracy)
Tuesday, March 7, 2023
7:00 PM - 8:30 PM  (ET) via Zoom
Join us to learn from SLU students and Trade Unions for Energy Democracy about the launch of TUED South in Africa, and upcoming opportunities for students and other activists to learn about climate action and organizing with unions globally for a public pathway to a just energy transition.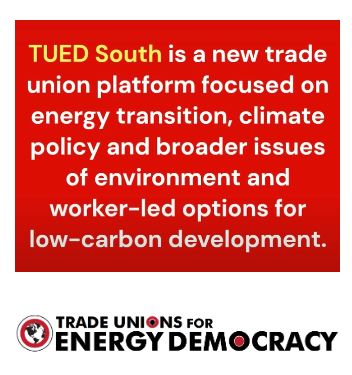 CUNY School of Labor and Urban Studies
25 West 43rd Street
18th Floor
New York, NY 10036
International Women's Day Celebration of Holly Near - Bay Area - March 8 (Freight & Salvage)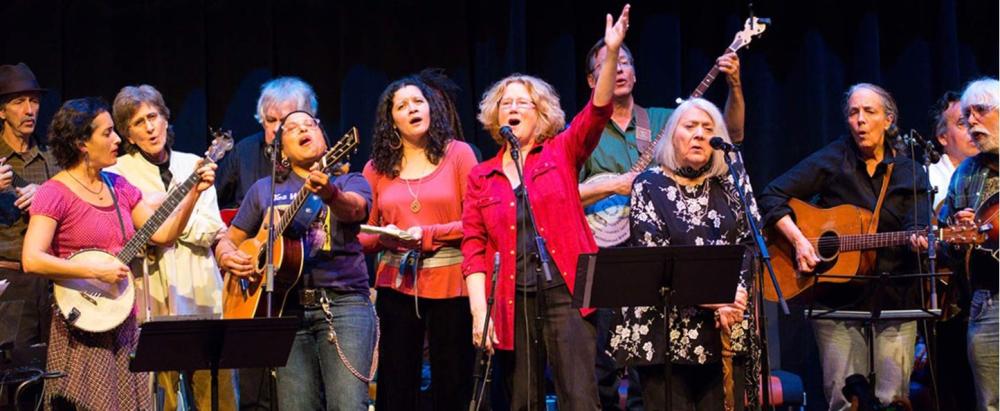 The Freight and Salvage is honoring Holly Near on International Women's Day, March 8th. Rather than toasts and speakers, guest artist will sing songs expressing the wide rage of Holly's work. Holly will sing and many duets are in the works. It is a rare evening of love and collaboration featuring guests Linda Tillery, Mary Watkins, Rhiannon, Terry Garthwaite, Vicki Randal, Adrienne Torf, Emma's Revolution, music director Tammy Hall and MC Krissy Keefer.
Holly Near has been singing for a more equitable world for well over 50 creative years. She is an insightful storyteller through her music, committed to keeping the work rooted in contemporary activism.
Respected around the world for her music and activism, Holly released her 31st album in 2018.
One of the most powerful, consistent, and outspoken singers of our time, her concerts elevate spirits and inspire activism. A skilled performer, Holly is an outspoken ambassador for peace who brings to the stage a unique integration of world consciousness, spiritual discovery, and theatricality.
Holly's joy and passion continue to inspire people to join in her celebration of the human spirit. Equally compelling at her shows and through recordings, Holly's music fully engages listeners in the world around them—speaking to anyone who believes in peace, justice, and feminism; a wonderful spectrum of humanity.
Featuring:
Krissy Keefer as MC
Holly Near
Emma's Revolution
Adrienne Torf
Vicki Randle
Terry Garthwaite
Rhiannon
Linda Tillery
Tammy Hall
Jan Martinelli
Michaelle Goerlitz
Mary Watkins
Advance Tickets: $32.00; Tickets at the Door: $36.00; Livestream $25.00 (plus fees)
Purchase tickets here
2020 Addison Street
Berkeley, CA 94704
(510) 644-2020
Call for Papers - Hemispheric Connections Collaboration, Critique, Community and the Black Diaspora in the Americas - Rutgers University - August 2-4 (submit abstracts by March 20)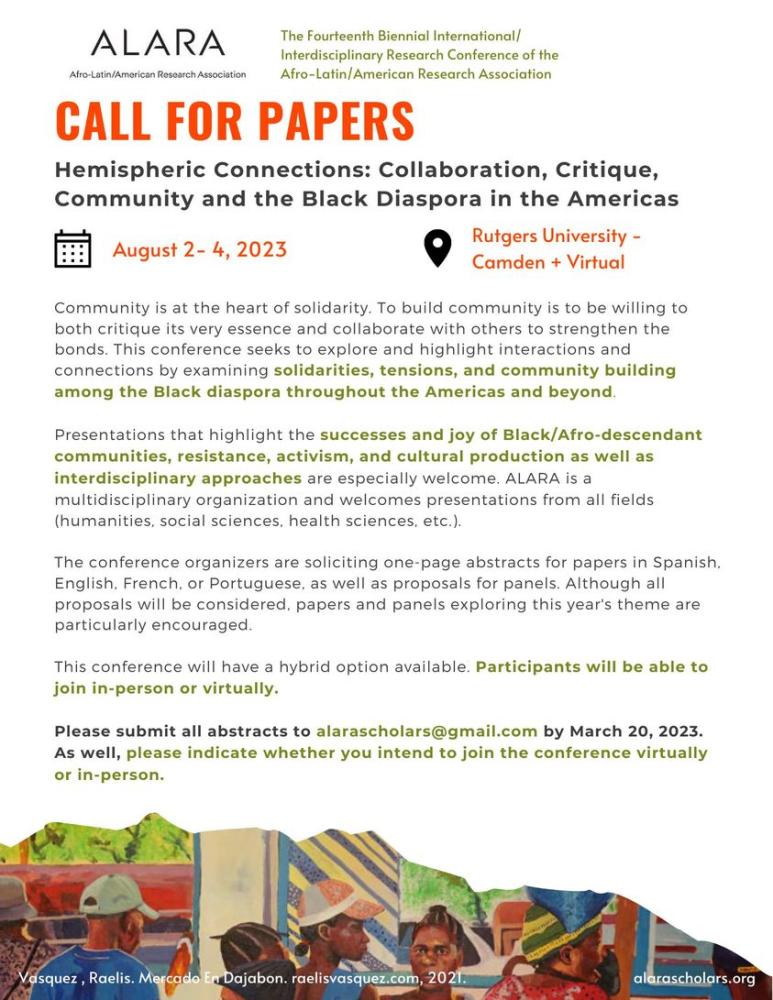 More information - ALARAscholars@gmail.com
Public forum on labor, veterans, healthcare profiteering and THE FIGHT AGAINST PRIVATIZATION - Portland, OR -March 29 (Labor Notes, AFGE Local 2157, Veterans for Peace PDX 72, Communities and Postal Workers United, Alliance for Demoocracy, Health Care for All Oregon, National Writers Union and Portland Jobs with Justice)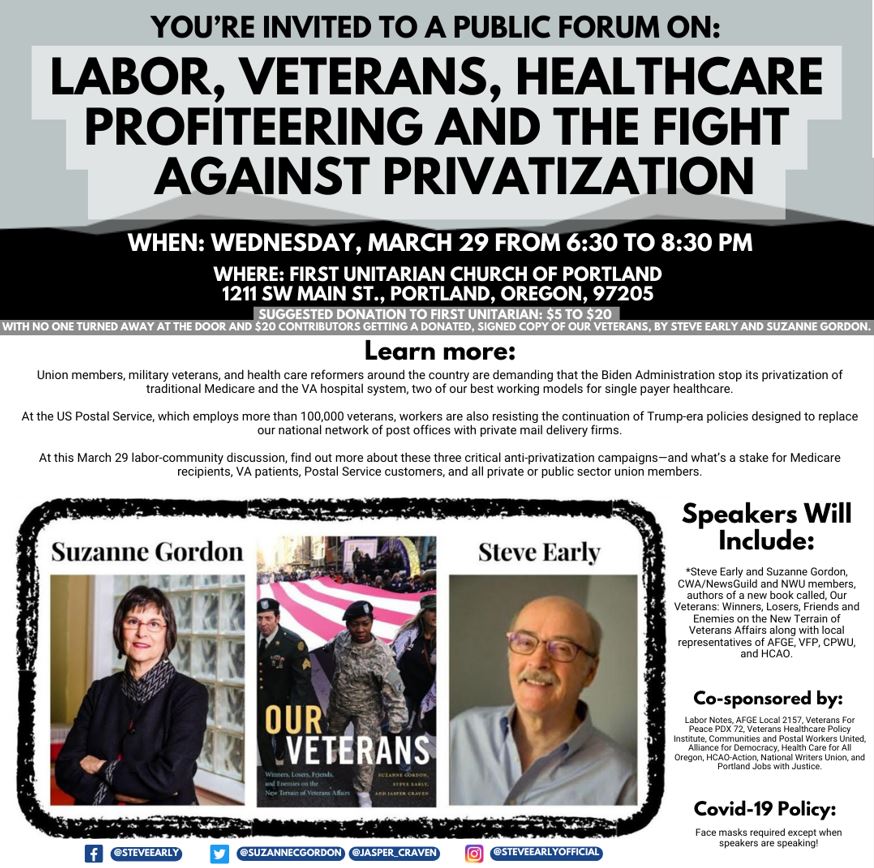 Paul Leroy Robeson 125th Birthday Celebration - Philadelphia - April 8 - 15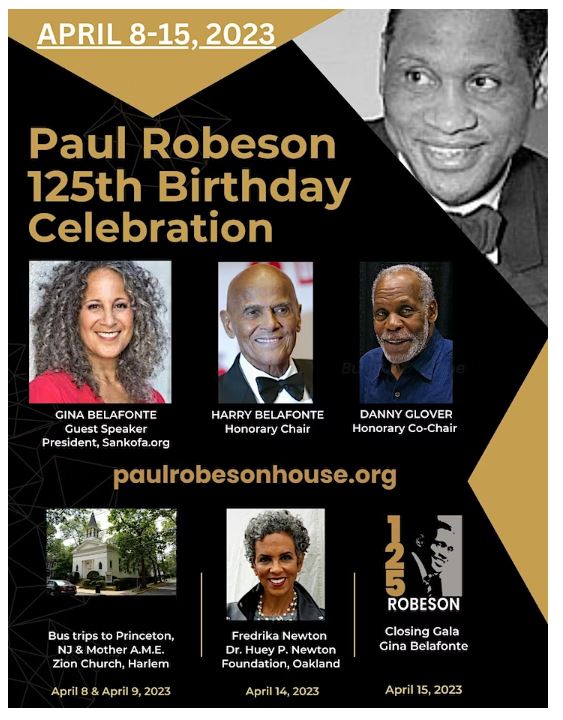 The Paul Robeson House & Museum 
4951 Walnut Street
Philadelphia, PA 19139
This year, the Paul Robeson House & Museum is celebrating the 125th birthday of Paul Leroy Robeson. Robeson was a man of many talents - football star, singer, actor, lawyer, activist, orator, linguist. He was also an unabashed advocate for the civil and human rights of people considered outsiders - African Americans in his own country and oppressed people all over the world.
Robeson was outspoken during the era of McCarthyism in this country. The U.S. government and many of its citizens considered his cordiality with the Soviet Union as a sign that he was a communist. He was made a pariah, and he was literally wiped from U.S. history. Those of us who believe in him and what he stood for are destined to preserve his legacy and praise his name. This celebration is part of our mission. So, we invite you to participate in the acknowledgment of this Renaissance man.
During this Black History Month, we are offering a series of vignettes from Robeson's life as a prelude to the birthday celebration from April 8-15, 2023. The series will remind the country and the world of Robeson's contributions, and the price he paid for speaking out against racism and oppression. Robeson was born on April 9, 1898.
As we approach his birthday, the Robeson House and its counterparts across the United States (the Paul Robeson Alliance) are recognizing him with a flurry of activities from April 8-15, 2023. You can find more information about the celebration on the Robeson House website (paulrobesonhouse.org) as well as the alliance's website (paulrobesonalliance.org).
April 8, 2023
Bus trip to Paul Robeson's Birthplace
Join us for a bus trip from Philadelphia to Princeton, NJ, on Friday morning, April 8, 2023, for a walking tour of the Witherspoon-Jackson neighborhood that was the birth home of Paul Leroy Robeson. The tour will be followed by a program at the Princeton Public Library featuring speaker Dr. Jessica J. Williams, Black feminist artist and educator, and a tour of an exhibit in the library's Princeton Room. Lunch is included.
The Rev. William Drew Robeson and his wife Maria Louisa Bustill lived in this now-historic neighborhood with Robeson, his three brothers and one sister. Rev. Robeson was pastor of the Witherspoon Street Presbyterian Church until he was ousted when Paul was about three years old. White church officials said that the pastor was derelict in his duties; Rev. Robeson's parishioners said that he was removed because he spoke out against social injustices. He was pastor for 20 years before his son was born in 1898.
Witherspoon-Jackson was Princeton's Black neighborhood, begun in earnest in the early 19th century. Like many Black neighborhoods during those segregated times, it was "proud, self-sufficient and self-sustaining," as noted by the Witherspoon-Jackson Historical and Cultural Society. Black people built their own churches, beauty and barber shops, ice cream parlors, restaurants, clothing stores, school and cemetery. They were also trained carpenters, teachers, lawyers and physicians.
The society has erected 29 plaques that relate the story of the establishments important to the history of the neighborhood, including Witherspoon and three other churches; the School for Colored Children, founded in 1873; Pearl Moore Allen Tavern, a meeting place, and the Elks Home, still in operation.
Robeson recalled later that Blacks lived a "communal" life in the neighborhood, bound together by the churches.
April 9, 2023
Bus trip to Mother A.M.E. Zion Church
Join us for a bus trip from Philadelphia to Easter-morning services at Mother A.M.E. Zion Church in Harlem, NY, on April 9, 2023, the birthdate of Paul Leroy Robeson. The pastor is Rev. Dr. Malcolm J. Byrd. Brunch is included, on Columbia University campus.
Mother A.M.E. Zion was the church of the Robeson family for more than 50 years. Robeson's brother the Rev. Benjamin C. Robeson pastored there from 1936 to 1963, and was an activist minister. Robeson sang and spoke there often during his brother's tenure. It was one of the few institutions that welcomed him after the U.S. government and much of the country made him a pariah because of his activism and his cordiality toward the Soviet Union. Robeson's funeral service was held at the church in 1976.
The church was founded in 1796, and its current building was designed by George W. Foster Jr., a Black architect. Throughout its history, the church attracted such Black luminaries as Langston Hughes, W.E.B. DuBois, Marian Anderson, Joe Louis and Roland Hayes.
Mother A.M.E. Zion was called the "Freedom Church" because of its role in the abolitionist movement, and it was an Underground Railroad hideaway for enslaved Africans escaping slavery. Among its members was Sojourner Truth
Friday night, April 14, 2023
Panel Discussion on Black America
Join us for a timely panel discussion on Black Americans featuring longtime activist Fredrika Newton, president and co-founder of the Dr. Huey P. Newton Foundation in Oakland, CA. Newton, widow of Huey Newton, is a former Black Panther Party member.
The event will be both live and virtual. It will be held at the Historic Belmont Mansion.
The aim of the foundation is to provide an accurate history of the Party based on Huey's archives, to preserve its legacy and commemorate its work. The archives are located at Stanford University. Huey and Bobby Seale founded the party in 1966.
The foundation has developed educational materials, organized forums and exhibited historical documents from the Party archives. In 2021, a bust of Huey was installed in Oakland, and the street where he was killed in 1989 was designated "Dr. Huey P. Newton Way." The foundation's seeks to ensure that the Party has a permanent space in Oakland's history through a monument, pop-up exhibits and a museum. Fredricka believes that the Party helped set the stage and cleared the path for the Black Lives Matter movement.
The panel will also feature Solomon Jones, commentator/author/columnist; activist Michael Africa Jr. of the MOVE Archival Project, among others. A reception will be held before the panel discussion.
Paul Robeson House & Museum / West Philadelphia Cultural Alliance