labor
Union Kitchen Workers Win Back Pay in National Labor Relations Board Settlement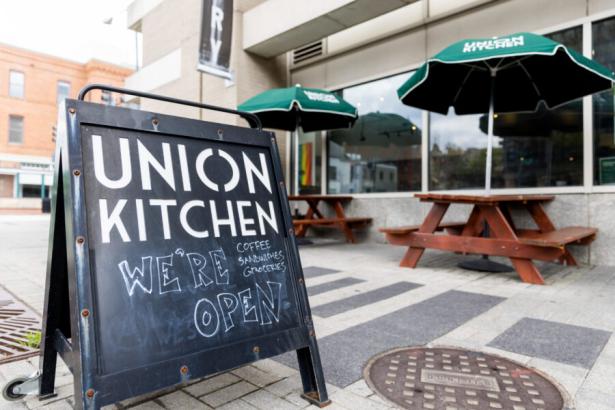 The National Labor Relations Board issued a complaint against Union Kitchen last fall, detailing 26 violations of labor laws protecting unionizing workers.,Tyrone Turner / WAMU/DCist
Union organizers at Union Kitchen locations in the D.C. region have settled a dispute with the food accelerator and retailer, which officials said had engaged in union-busting tactics outlined in an extensive complaint last fall.
The National Labor Relations Board settlement agreement requires the restaurant to pay nearly $25,000 in backpay and frontpay to five workers who were fired or faced discipline, apparently in retaliation for their participation in the union drive. The payments include interest, expenses, and relief from economic harm and adverse tax consequences to some of the named workers.
The settlement also requires Union Kitchen management to post a notice of workers' unionization rights in prominent places in their workplaces, email the notice to workers, and to read it aloud in a meeting. Management will be required to keep the post up for 60 days, and to send monthly photographic proof to NLRB officials.

A related memorandum between Union Kitchen management and United Food and Commercial Workers Local 400, the union representative for the workers, requires management to allow UFCW staff into Union Kitchen locations to speak with workers about working conditions and other union work. The union representative is expected to let the manager on duty know, and to not disrupt on-the-clock employees. That arrangement will end when the Union Kitchen unit negotiates their first collective bargaining agreement.
An NLRB complaint filed in November detailed 26 violations of labor law on the part of Union Kitchen and its owner, Cullen Gilchrist, including firings and other disciplinary measures against workers involved in organizing, mandatory anti-union meetings, and management attempts to give special treatment to workers who did not join in organizing efforts. Workers went on strike last February to protest.
"The settlement that was signed this week brings justice to some of the workers that were harmed by [Gilchrist's] unlawful behaviors," said Jonathan Williams, the communications director for UFCW Local 400.
Williams said the union was "very pleased" with the settlement agreement and said the group was looking ahead to contract negotiations, but lamented the "chilling effect" the dispute had on workers exercising their right to organize.
"The impact on the workforce is absolutely real, and makes what ought to be a huge collective, enthusiastic process into a real drag," he said.
"There's absolutely no need for this — absolutely no need to retaliate against employees and make them go through a very long process to get justice, only to end up right back where you started negotiating a contract with a unionized workforce," Williams added.
Union Kitchen did not return a request for comment. Gilchrist has repeatedly denied in previous interviews with WAMU/DCist that he engaged in union-busting.
Despite those headwinds, Union Kitchen employees at five of the company's locations in the D.C. region won their union election in June — but only after Gilchrist and management challenged several ballots.
Throughout the process, workers said they wanted to organize for better pay, a formal grievance process, and a say in scheduling, tipping and other workplace policies. At the time, some expressed concerns about racist and sexist policies put in place by one store manager, who was later let go.
But a contract with those long-desired worker protections, Williams said, could be a long way off. He suggested that Union Kitchen — despite the settlement agreement — is still seeking to thwart the union by "slow-walking" the bargaining process, spacing out contract negotiation meetings by more than a month and refusing to agree to provisions.
"That is not negotiating in good faith and that is not being productive and it wastes everybody's time," Williams said.
There's No Paywall Here
DCist is supported by a community of members … readers just like you. So if you love the local news and stories you find here, don't let it disappear!
We depend on your support...DONATE