Meet Progressive Champions Ben Jealous and Alexandria Ocasio-Cortez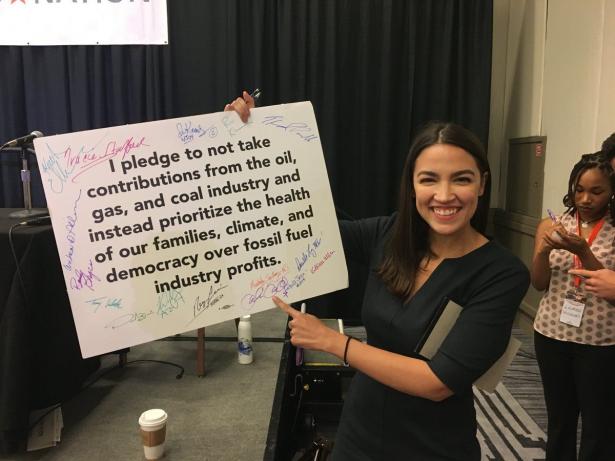 Alexandria Ocasio-Cortez pledges a new kind of politics,Pinterest
Larry Stafford
ourfuture.org
June 27, 2018
Last night, a Progressive earthquake shook Maryland's establishment politics to their core. Ben Jealous's primary victory puts Maryland within striking distance of the progressive governor we deserve and need. His victory marks the ascendance of a movement that's grounded in progressive values, led by women and people of color, to shape a new direction for politics that breathes new life into the electoral system, in our state and beyond.

At Progressive Maryland, we've been on board with Ben from the start – and he with us. Back in December, he let us know where he stands on key issues: the $15 minimum wage, workers' right to organize, women's rights and Medicare for All. As with all of our candidates, before we knocked on a single door, we shared his public commitment to us on these issues with you. And as we celebrate his victory, it's worth remembering what he told us then:
I've been a civil rights leader my whole life and it has been a lifetime of bringing together diverse coalitions across the lines that are supposed to divide us like race, class, religion and so on. Talking to Marylanders from the place that they are coming from, whether they are a white police officer dealing with violent crime in Baltimore City or a black working mother from Montgomery County, you have to first recognize and acknowledge their struggle and it is only from that place that understanding and change can happen.
This is what sets Ben apart, and makes him a true leader. Like Progressive Maryland, he hears the voices of ordinary Marylanders, the only way you can: by knocking on doors and listening to the struggles, hopes and dreams all across our state. He then puts this experience into practice on issues that really resonate with people.
Ben's primary victory represents a shift in the balance of power in Maryland politics and within the Democratic Party away from the old, corporate consensus that the only kind of change that's possible is incremental. He is bold, and so are we.
It's proof that Progressives are now organized enough, and strong enough, to win statewide elections. People in the state have often speculated that Maryland was more a moderate state, a more establishment Democrat-driven state. Ben's win totally proves that theory wrong.
It also shows that the path forward for progressive values and working people's values is through organizing and creating meaningful alliances between populist progressive, white constituency groups and progressive people of color, who want to who want to vote for people who knows the issues of our communities and who will put forward hold solutions that meet the needs of our constituency.
Ben represents the success of this kind of coalition, and how it can beat establishment politics. And it also represents to me, as an African-American man, that we are strong enough to win in Maryland, and in the nation.
Maryland's Democratic electorate has long been significantly been driven by Black voters. The fact that Maryland's Democratic contender for governor is now African-American is powerful. But even more powerful is that Ben's campaign is not just based on racial identity. It's based on the real values he puts forward, the types of ideas that he has, and the vision that he's putting forward for our state. These are the values and vision that Maryland needs now.
We're clearly witnessing a changing of the guard, especially in the Maryland State Senate, where the Chair of the House Judiciary Committee, Senate Finance Chair, Senate Pro-Tem and Senate Health and chair of the Environmental Affairs Committee were all unseated by progressive challengers.
Regressive incumbents like these have held back progress in Maryland on the minimum wage, sick leave, criminal justice reform and other policies that matter most to ordinary people, so these victories open the door to real change in our state.
Ben now stands poised to lead this progressive wave. We're proud of him, and proud of all the progressives who made strong showings across our state – such as Cory McCray, Mary Washington and Antonio Hayes in the State Senate, Mark Elrich and Brandy Brooks in Montgomery County, and Krystal Oriadha and Juwan Blocker in Prince George's County. At Progressive Maryland, supporting candidates like these demonstrates our commitment to doing politics in a different way – now, in November and beyond.
Ben has a bold vision, one that's right for Maryland. Onwards to victory, Ben. You demonstrate when you really tap into our state's progressive electorate, you can win with progressive ideas: go bold.
Larry Stafford is executive director of Progressive Maryland.
Nash Jenkins
Time Magazine
June 27, 2018 
By all accounts, Alexandria Ocasio-Cortez's upset of a 10-term Democratic lawmaker on Tuesday night was a stunner. The 28-year-old former bartender — a democratic socialist who ran on a platform of universal health care, ending tuition at public colleges and abolishing the Immigration and Customs Enforcement agency — defeated Rep. Joe Crowley by double digits.
Crowley, who had his eyes on a Democratic leadership post, raised more than $3 million for the primary in New York's 14th congressional district, with a donor list that read like a NASDAQ ticker; Ocasio-Cortez had just north of $300,000. Perhaps more critically, Ocasio-Cortez won on a campaign putting forward the sort of left-leaning ideas that until very recently many Democrats considered fringe. The district, which encompasses parts of Queens and the Bronx and is about half Hispanic, leans deeply Democratic and her primary win all but assures she'll soon be the youngest woman ever elected to Congress.
Despite all this, Democrats on Capitol Hill downplayed the larger meaning of the result on Wednesday.
"Yes, I was surprised, because no one expected him to lose," Rep. James Clyburn, the South Carolina Democrat who serves as the House's Assistant Minority Leader, said as he entered an elevator off the House chamber. But when asked what, if anything, the New York contest augured for the party's ideological tact, he was curt. "Nothing," he said. "Nothing for the party."
"One election out of five hundred and thirty five?" Democratic Sen. Patrick Leahy scoffed when asked the same question, boarding the subway train connecting the Capitol to the Russell Senate Office Building. "Listen, I do not know the district. I'm not trying to dodge your question." The train then pulled away.
Critics of the Democratic establishment say this is precisely the strain of dismissiveness that has stoked disenchantment among the party's base. This was a spiritual tension at the core of the 2016 Democratic primary: Sen. Bernie Sanders, a previously little-known independent from Vermont, ran on an unabashedly progressive platform; his dogma, and the grassroots support it received, underscored the relatively centrist campaign of his opponent, Hillary Clinton.
The gap between these two factions has not narrowed in the years since. The intraparty battle continues to be especially loud on social media platforms like Twitter and played a role in the fight between former Labor Secretary Tom Perez and Sanders ally Rep. Keith Ellison to chair the Democratic National Committee. (Perez won.)
But a number of the party's rising stars seem to sense that change is afoot. In October, a quarter of all Senate Democrats — notably including potential 2020 contenders Sens. Cory Booker, Kamala Harris, Kirsten Gillibrand and Elizabeth Warren — signed onto a Sanders bill for universal health care. He had introduced a similar bill two years prior, and couldn't find a single cosponsor.
Sanders was elated on Wednesday after what transpired the previous evening in New York, and also in Maryland, where Ben Jealous, a progressive who previously chaired the NAACP, had won the Democratic primary for governor by more than 10 percentage points.
"When you are running a grassroots campaign, when you are talking about issues that matter to people in your district, you can win no matter what," Sanders told TIME in a telephone interview. "Today, you've got well over a hundred million people who are struggling to put food on the table. You've got 30 million people with no healthcare."
"In other words," Sanders continued, "You have a middle class which is struggling and you have some people living in desperate poverty, and for too long the Democratic Party did not understand that reality."
The party stands now at an ideological crossroads ahead of this November's midterm elections. For months, pundits have predicted a "blue wave," citing President Donald Trump's unpopularity and the historical tendency for the president's own party to lose seats in the first midterm contest after his taking office. But progressive commentators care less about the numbers game of the horse race and more about whether the party will move left.
"Alexandria's victory is incontrovertible proof that not only is the progressive agenda deeply resonating with voters, but that running 'uncorrupted' is a powerful electoral tool," Emma Vigeland, a correspondent for the progressive digital media outlet The Young Turks, tells TIME. "The Democratic Party would be wise to learn from this historic win."
Her victory is also the latest strike against the leadership of Rep. Nancy Pelosi, a longtime bête noire for conservatives who in recent months has faced increasing criticism from her own ranks. A number of House Democrats — both progressives like Ocasio-Cortez and moderates like Rep. Conor Lamb of Pennsylvania, who won in a special election in his Trump-supporting district earlier this year — have declined to support Pelosi's continued leadership. Crowley, who at 56 is a generation younger than the 78-year-old Pelosi, was widely considered her successor.
When asked about this on Wednesday, however, Pelosi's allies did not seem particularly concerned, chalking up the upset in New York to an anomaly.
"We can't write trend stories at this point when one thing has happened," one senior leadership aide tells TIME. "You're talking about a district that's probably in the top 5% of the most liberal districts in the country. I think everyone is surprised, because Crowley and his folks were giving off very confident vibes. Obviously, he tried to move to the left, and it wasn't enough."
But the demographic peculiarities of the race did not detract progressives from their confidence in what they saw as the election's broader philosophical crux: that Democratic voters seem ready for a change.
"You've got to present an agenda and ideas to the American people and working families that make sense to them," Sanders tells TIME. "But that's not enough. You need to run a strong grassroots campaign. Alexandria was outspent by 10-, 15-to-one. And she won. When you get people involved in the political process, nobody can stop us."