FAMILIES BELONG TOGETHER — Attend a June 30 Event!; We must all stand with Muslims NOW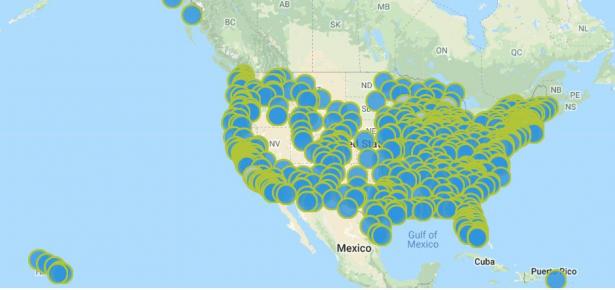 Search for event - click here https://act.moveon.org/event/families-belong-together/#event-ma,
A federal judge ruled against Trump's family separation policy—but we know the administration will fight back. We have momentum and we cannot slow down now since the the court ruling along isn't enough and could be overturned. Our mobilization, in over 600 locations around the country and still growing, is critical to showing the widespread public demand for just immigration policies—because families belong together ... and free!
Trump and his administration have been systematically criminalizing immigration and immigrants, from revoking Deferred Action for Childhood Arrivals (DACA) to ramping up intimidating ICE tactics. 
Join us on June 30 to send a clear message to Donald Trump and Republicans in Congress: Families Belong Together! 
If there's not an event near you, keep checking back or create an event at the link below.
The executive order that Donald Trump signed is not a solution to the crisis created by his administration; it keeps kids imprisoned indefinitely, and doesn't reunite thousands of separated families. But it does show the administration is reacting to public pressure, so we will continue to increase our pressure for justice at hundreds of events on Saturday, June 30, to say that families belong together—and free.
Search for an event near you - Click here.
Families Belong Together Rally 
Saturday, June 30 at 11 a.m.
Lafayette Square
Washington, DC 20006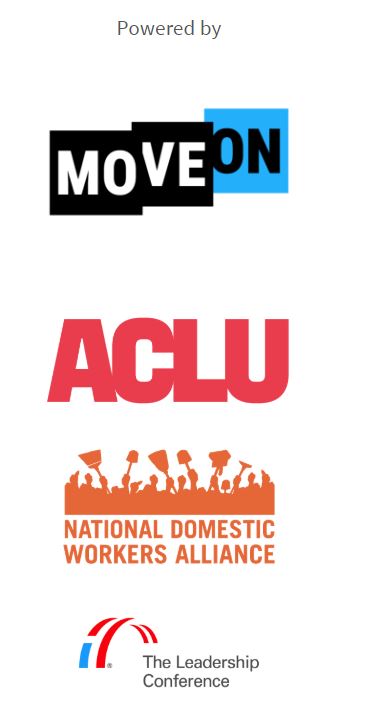 Families Belong Together — Partners
The June 30 Families Belong Together actions are being organized by everyday people across the country, supported by a number of organizations, in addition to the four lead sponsors. Some of the organizations supporting these actions are listed below. 
We welcome engagement from all organizations and individuals on this issue. Please feel free to send your supporters directly to the event page without informing us! 
To get more involved, please submit the form at: MoveOn.org/Partner
| | | |
| --- | --- | --- |
| #VOTEPROCHOICE | Fair Immigration Reform Movement | Organizing for Action |
| 270 Strategies | Foreign Policy for America | Oxfam America |
| 350.org | Friends of the Earth | Pantsuit Nation |
| ACLU | Gamliel | ParentsTogether |
| Action Together Massachusetttes | Global Fund for Children | People For the American Way |
| Action Together Network | GreenLatinos | People's Action |
| Advancement Project | Greenpeace | Planned Parenthood Federation of America |
| AFT | Hand in Hand: The Domestic Employers Network | Positive Women's Network-USA |
| Al Otro Lado | Health Care Voter | Presbyterian Church (USA) |
| Alliance for Justice | Hispanic Federation | Presente.org |
| Alliance for Youth Action | Human Rights Campaign | Priorities USA |
| American Constitution Society | Human Rights First | Public Citizen |
| American Ethical Union | IfNotNow | Race Forward |
| American Human Rights Council (AHRC-USA) | Immigration Hub | Rainforest Action Network |
| Amnesty International USA | Indivisible | Really American |
| Anti-Defamation League | Japanese American Citizens League | Resistance Labs |
| Arab American Institute | Jewish Voice for Peace | SALDEF |
| Asian Americans Advancing Justice | AAJC | JStreet | Sanctuary for Families |
| ASISTA | JWI | SEIU |
| Asylum Seeker Advocacy Project (ASAP) at the Urban Justice Center | Latin America Working Group | SIECUS |
| Asylum Seeker Assistance Project | Latino Victory Foundation | Sierra Club |
| Avaaz | Latino Victory Foundation | Sister District Action Network |
| Bend the Arc | Lawyers for Good Government | Sojourners |
| Beyond the Bomb | Leadership Conference of Women Religious | South Asian Americans Leading Together |
| Center for Biological Diversity | League of United Latin American Citizens (LULAC) | Southern Poverty Law Center |
| Center for Gender and Refugee Studies | LGBTQ Task Force | Stand Up America |
| Center for Victims of Torture | Little Lobbyists | SumOfUs |
| Centro de los Derechos del Migrante, Inc. | MarchOn | Tax March |
| Chicago Women Take Action | Moms Rising | The Leadership Conference |
| Children's Defense Fund-Texas | Muslim Advocates | The Workmen's Circle |
| Church World Service | NARAL | Together We Will Contra Costa |
| Church World Service | National Alliance to End Sexual Violence | Truman National Security Project |
| Coalition on Human Needs | National Asian Pacific American Women's Forum (NAPAWF) | UltraViolet |
| Congregational UCC Greensboro | National Iranian American Council | UnidosUS |
| Congressional Hispanic Caucus Institute (CHCI) | National Justice for Our Neighbors | Unitarian Universalist Association |
| Constitutional Accountability Center | National Latina Institute for Reproductive Health | Unitarian Universalist Service Committee |
| Council on American-Islamic Relations | National Network to End Domestic Violence | Unitarian Universalists for Social Justice (UUSJ) |
| Credo | National Nurses United | United State of Women |
| Daily Kos | National Organization of Concerned Black Men | United We Dream |
| DC Immigration Hub | National Partnership for Women & Families | VDay.org |
| DC Teens Action | National Women's Law Center | Voto Latino |
| DC Teens Action | Natonal Council of Jewish Women | Win Without War |
| Dulles Justice Coalition | National Domestic Workers Alliance | Women's March |
| End Rape on Campus | National Education Association | Women's Refugee Commission |
| Equal Voice Action | NETWORK Lobby for Catholic Social Justice | Youth Caucus of America |
| Every Voice | Network of Spiritual Progressives | YWCA USA |
| Families Belong Together | NEW |   |
| Families USA | NextGen America |   |
| Feminist Majority Foundation | One Billion Rising |   |
A joint website of MoveOn.org Civic Action and MoveOn.org Political Action. MoveOn.org Political Action and MoveOn.org Civic Action are separate organizations.
MoveOn.org Civic Action is a 501(c)(4) organization which primarily focuses on nonpartisan education and advocacy on important national issues.
Donate to MoveOn Civic Action
MoveOn.org Political Action is a federal political committee which primarily helps members elect candidates who reflect our values through a variety of activities aimed at influencing the outcome of the next election.
Donate to MoveOn Political Action
SUPREME COURT NEWS: We must all stand with Muslims NOW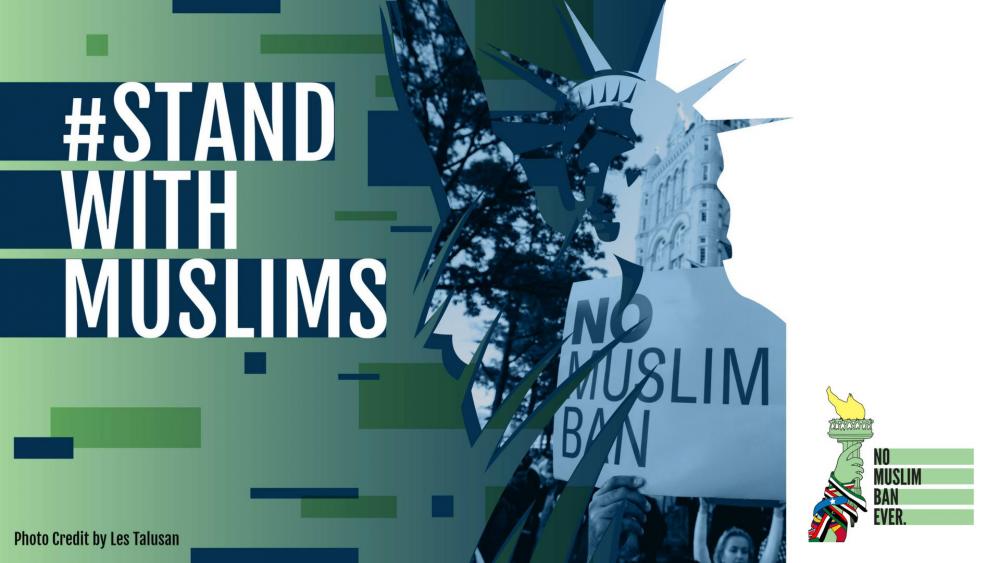 By Linda Sarsour
June 26, 2018
MPowerchange.org
The Supreme Court just ruled—in a historic blow to civil rights, the U.S. Constitution, and the most basic human decency—to maintain Trump's racist and immoral Muslim Ban.
This is an EMERGENCY: please go to StandWithMuslims.com right now to take part in the work that Muslims and allies are doing to minimize the damage.
This is a pivotal moment for our movement, and an emergency that requires solidarity right now. Whether we identify as Muslims, or as non-Muslim allies, we must stand together.
We know what this administration stands for: fear, bigotry, and tearing apart families and communities—whether it's at the border or through policies like the Muslim Ban. We need to show them—loudly and clearly—what we stand for.
Please: go to StandWithMuslims.com right now, and stand with us against this administration and this cruel and immoral Supreme Court ruling.
Rather than reinforcing the notion that the U.S. should welcome people regardless of where they were born, what they look like, or how they worship, the Supreme Court instead upheld a Ban, driven by anti-Muslim sentiment, that shuns these values.
This isn't the first time that the Supreme Court made a historic error and sealed its legacy as siding with the forces of racism and bigotry. In the Dred Scott case, the Court ruled in favor of slavery. In Korematsu, they ruled in favor of incarceration based on ethnicity, allowing Japanese-American incarceration.
In this case, Trump explicitly set out to ban Muslims—and the highest level of our judiciary just allowed it to happen, giving this and future administrations the green light to discriminate on the basis of religion. The Justices who ruled in favor of Trump will have to live with the weight of that upon their consciences, and their legacies for generations to follow. We don't have to—and we don't intend to.
The fight for religious freedom does not end here. The right to live in peace and be treated justly no matter one's race, ethnicity, or religion is too important to let one person, one administration, or one decision destroy it.
We will continue to fight for our families and communities, to pursue legal avenues, and to demand that legislators take action to end the Muslim Ban.
Most importantly, we will continue organizing, mobilizing, and defending our communities from bigoted policies—whether they are endorsed by the Supreme Court or not.
We've created StandWithMuslims.com as a gateway to easily get plugged into that organizing, mobilization, and defense.
If you've ever talked about the need to resist Trump's bigotry, know that this is the moment you must stand up and be counted.
In solidarity,
Linda and the MPower Change team