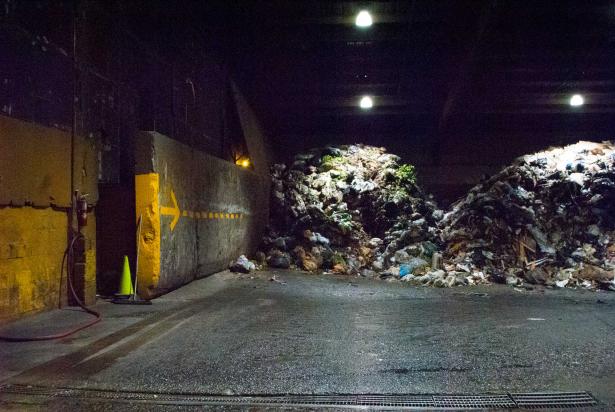 Piles of trash just inside the entrance to the Metropolitan Waste Transfer Station. Photo by Olivia SchwobPiles of trash just inside the entrance to the Metropolitan Waste Transfer Station. , Olivia Schwob
Each day, in the daylight, employees of the Department of Sanitation pick up 12,000 tons of trash generated by homes and residences. But the waste generated by businesses, offices, and restaurants — roughly 5.5 million tons annually — is someone else's business. Those who work for "hauling" or "carting" companies in the private sanitation industry must lift, sling, transport, and dump commercial trash at night. Their convoluted routes crisscross the five boroughs, shaping our urban environment through noise, exhaust, and too-frequent accidents that injure passersby and haulers alike.
Allan Henry, a former hauler himself, now spends his nights organizing with the Transform Don't Trash coalition to push for an exclusive zone franchise system, which would limit how many companies collect trash in each section of the city. The system could strengthen government oversight on safety violations, and reduce greenhouse gas emissions associated with waste removal by close to 70 percent. So what's the hold up? As Henry described during a ride-along this spring, one block on the road to change is workers' fear that the existing system is stacked against them. But with companies fighting reorganization tooth and nail, it'll take a united front to get the private waste industry to clean up its act.
It's 2am on a Thursday in early May, and a single streetlight breaks the damp darkness over Halleck Street. But noise, if not light, signals that this stretch (near the water, in the Mott Haven section of the Bronx) is open for business. One after another, garbage trucks rumble up the block, lurch through the gates of the Metropolitan Waste Transfer Station, and disappear from sight. At the first sign of outsiders, the gate swings shut behind them.
New York City's commitment to achieving Zero Waste by 2030 and reducing carbon emissions 80 percent by 2050 has put New York City's waste streams in the spotlight. Investigation and debate have mainly focused on origins and end points: Where does the waste come from and how can it be reduced? Where does it go and how should it be processed? But recently, attention has shifted to the journey between the curb and the heap, which the vast majority of trash — the waste generated by private businesses, rather than homes — travels by night.
Across from the Halleck Street entrance, just beyond the reach of the streetlight, a silver pickup idles; behind the wheel, Allan Henry sips from a Dunkin' Donuts cup and checks his rearview mirror a few times a minute. Three or four nights a week, Henry stakes out a transfer station like this one, waiting for trucks to arrive. The workers inside might be allies to Henry's cause already, or else activists waiting to happen.
Henry is an organizer with Transform Don't Trash NYC (TDT). Since 2014, this broad coalition of environmental, labor, and racial justice groups has denounced New York City's private waste removal industry as an inefficient, abusive, and environmentally deranged free-market fiasco. Beginning in winter of this year, a slew of investigations has exposed a multitude of sins committed, under cover of darkness, by the carting companies that collect private businesses' trash: skirting safety regulations, exploiting employees, and lining local politicians' pockets to remain helpfully in the shadows. Coalition organizers connected investigative journalist Kiera Feldman with many of the workers who became her sources in reports for ProPublica, The Investigative Fund, and Voice of America.
In terms of planning, the anarchy of the present is hard to dispute. Citywide, about 200,000 businesses contract directly with any one of roughly 260 trash-hauling companies, without regard for the geographic distribution of the company's pickup points. As a result, a 2014 survey found, up to 22 carting companies might be contracted to collect the trash along a single commercial strip. Meanwhile, individual trucks travel protracted, convoluted routes to meet each company's obligations.
In an animation created by journalists for ProPublica and the Investigative Fund, one truck wanders its nightly course like a dazed bee from a dump in central Brooklyn to the northern tip of Manhattan and back. Screenshot via ProPublica and the Investigative Fund
But, the coalition argues, an exclusive zoned collection system — like the systems currently being implemented in West Coast cities including Los Angeles and Seattle — could solve all of the industry's problems, and then some.
At the most basic level, a zoned system means the city has some say over which commercial waste collection company or companies are allowed to operate in a designated area. Advocates argue that gatekeeping could yield more rational, compressed truck routes and fewer trucks on the road overall — a boon for the city's greenhouse gas emission reduction goals. And since crashes in the private sanitation industry have doubled in the last two years, according to a recent report, more efficient, city-dictated routes could have big effects for safety on the street.
Additionally, companies would have to meet city-defined standards in order to win contracts. From an environmental perspective, the most significant result could be improved recycling practices: An unpublished Department of Sanitation (DSNY) study found that 60 percent of paper and cardboard waste from New York City ends up in landfills, undercutting the city's recycling goals. New York's city-wide recycling rate is less than one third that of other major US cities, and a recent report by TDT coalition members and New York Lawyers for the Public Interest found that recycling and composting in the city's private waste industry recovers merely 21 percent of the waste stream, compared with 65 to 75 percent recovered from the commercial waste streams in Seattle and San Jose; in the same report, the coalition collected anecdotal and photographic evidence of private haulers illegally throwing properly separated recyclables in with general trash. Under zoning, TDT argues, the city could leverage the power of the contract over previously negligent carting companies to demand they increase their recovery rates, radically expanding recycling and composting in the city. And since recycling and composting involve more workers per ton of waste than traditional garbage disposal processes, zoning could (indirectly) deliver thousands of new jobs.
Under the exclusive franchise zoning commercial waste removal system implemented in Los Angeles in 2017, the city was carved into 11 zones (ten of which are visible here) and contracts awarded to seven companies. Graphic via LA Sanitation
The effects for environmental justice would reach beyond emission goals and efficiency metrics. Waste transfer stations like Metropolitan are overwhelmingly located in low-income neighborhoods of color like Mott Haven (the Bronx alone houses 14). For residents there, increased recycling would mean fewer garbage trucks spewing disease-causing fumes into the air they breathe. For residents of the largely working-class cities and towns near the 24 upstate or out-of-state landfills where New York garbage's journey ends, recovering more of the city's waste stream would mean local environmental improvements as well.
And for the workers who drive and load the trucks within the city itself, zoned collection would mean traveling more reasonable distances and working more humane hours, plus less incentive to drive dangerously in order to complete routes on time. Meanwhile, city oversight through the franchise system could deliver protections to those workers that the existing regulatory agencies, such as the Business Integrity Council and the Occupational Safety and Health Administration, have failed to provide. In contrast to their public-employee counterparts at the New York City Department of Sanitation, private carting company employees are overwhelmingly Black and Latino, and many hail from the same neighborhoods of the Bronx that are choked with exhaust from garbage trucks and transfer stations. Justice for these workers is environmental justice too.
And that's where Allan Henry comes in.
Henry is employed by Teamsters Local 813, a core coalition member and the largest union of sanitation workers in the city. Henry's job is to connect the dots between the exclusive zone proposal, an apparently super-technical urban systems issue, and workers' quality of life. But most of all, Henry's job is to break through the workers' fear, their sense that danger, pain, and anarchy are inevitable in this business — that the companies hold all the power, and that there's nothing to be done about it.
Henry is familiar with the transfer station, and with spending all night in a truck. Before going to work for the Teamsters, he worked the late-night garbage shift, first as a helper, swinging heavy bags of garbage into the back of a yawning packer truck, and then as a driver. The work had always been gross and exhausting. But in 28 years, Henry watched it go from a gross, exhausting, well-compensated job, with the potential to create a decent life, to a gross, exhausting, deadly, hardscrabble ordeal, underpaid and rife with abuse.
Henry got on a truck for the first time at age 15, looped into a good union job by a childhood friend. He started at $14 per hour, with quality benefits and pension; over time he made enough to buy a house and send his children to college. When his oldest son graduated from high school and didn't know what he wanted to do with himself, Henry got him work on a truck at his company, doing the exact same job he'd had himself, when he started out in the '80s. But in 2012 his son's starting salary was $11 per hour, even less than Henry's had been nearly 30 years before, with no pension, severance, or good medical coverage. That was a first taste of a declining industry. But since the Teamsters approached Henry four years ago to go to work as an organizer for the Transform Don't Trash campaign, he's come to understand the underbelly of the industry better than just about anybody.
Now, Henry spends three to four nights per week driving around in his pickup, looking for trucks with the telltale signs of neglect — broken latches and lights, workers without the proper reflective vests, gloves, or footwear — and talking to workers at the dumps. He'll meet with people in their homes, at bus stops, at Dunkin' Donuts, over the phone. Then there are the coffee shops, gas stations, and diners where sanitation workers are known to hang out — he'll spend whole mornings in a Mexican restaurant around the corner from the Metropolitan Transfer Station, catching drivers coming off their shifts. Henry maintains relationships with more than 200 current and former private sanitation employees, most of whom are not Teamsters members. He listens to their stories — of being bone-tired, underpaid, or ill-equipped, of being paid late, of being denied overtime, of being discriminated against and called racial slurs, of being injured and falling asleep at the wheel. And he tries to recruit them to support the campaign, by telling their stories at press events and city hearings, or meeting with regulators at the BIC, the city Commission on Human Rights, or the National Labor Review Board, in order to contribute to cases against individual companies.
onight, Henry is on the lookout for specific trucks — emerald green, under the grime, with a company's name emblazoned on the side: Sanitation Salvage. These trucks start work mere blocks away at the company's headquarters on Manida Street, where routes are assigned just after sundown. Throughout the industry, drivers often clock twelve or 16 hours per shift, making more than a thousand stops and blowing through red lights and safety regulations in order to complete their routes before sunup. Meanwhile helpers are at risk of injury or worse — with the highest rate of on-the-job death and injury, sanitation is the one of the top five most dangerous industries in the country, beating out policing and firefighting for that ignominious distinction. But Sanitation Salvage is a particularly bad actor, and with the help of journalists like Feldman, Henry and TDT are using this company's malfeasance to mount an argument against the industry in general — and make a case for zoning. This spring, the tragic death of Mouctar Diallo furnished TDT with the emblematic horror story needed to nail their point.
One evening in November 2017, Feldman and Henry were driving around the Bronx, meeting with workers who were sources in Feldman's ongoing investigation, when they heard reports of a "daredevil homeless man" who had died after attempting to joyride on the back of a truck. When they learned that the truck belonged to Sanitation Salvage, Feldman and Henry had the same suspicion. "We said something to the effect of, 'That doesn't smell right. There's no way,'" Feldman recalls. Through a Facebook post made by one of his contacts in the industry, Henry learned that the victim was a "third man," an informal worker hired nightly and paid in cash to assist overburdened, contracted employees — the Sanitation Salvage employee who made the post called Diallo "Gotto."  With the help of a Bronx African immigrant community organization, Henry managed to locate Diallo's mother, who confirmed his identity and relationship to the company. But the company lied to the police, and the driver responsible for the accident remained employed at the company until he killed another person six months later — this time, a 72-year-old man crossing the street in front of his apartment building.
Henry says stories like Diallo's are far too common in the industry, and as they spread among workers, hopelessness tightens its grip: If the boss can get away with murder — or at least with covering up manslaughter — he can get away with anything. Henry says that companies will regularly blackball injured employees, refusing to pay worker's compensation or improve faulty health insurance, "because they're so used to the worker just going away." Turnover in the industry is high, says Henry, and "workers will try to jump from company to company to find somewhere things are better, rather than face their fears and fight." But when stories like Diallo's do make the news, and companies like Sanitation Salvage start to sweat as a result, the workers can feel emboldened.
The exposé detailing Diallo's death and its cover-up, a collaborative effort between the journalist and the coalition, electrified local and national media. Suddenly there was talk of the company losing its license. On May 9th, TDT called a press conference to tell Mouctar Diallo's story, demanding an investigation into Sanitation Salvage's safety practices and condemning industry malpractices and regulator neglect more generally; that night, 17 Sanitation Salvage employees, angry at the company's failure to pay them on time, fed up with their ongoing lack of contract, and buoyed by the conference's show of force, went on a wildcat strike. Henry had been organizing one of the strike leaders for some time, a young man named Troy, whose father Henry had worked alongside for years. "I'm coming to this as a parent," Henry says. "Even if my son wasn't in the industry, the kids on these trucks could be my kid."
Tonight, Henry's looking for Sanitation Salvage's busted green trucks in order to touch base with Troy about that rare victorious moment. But even this victory has a bitter aftertaste, Troy describes, once he finally drives up and jumps down from the truck. The company, spooked by the press and the strike, had rushed to draw up a contract (after two years without one) with the union that represents its employees. But like many unions in the private waste removal industry, the one representing Sanitation Salvage workers has a reputation for putting the company owners' interests over those of the workers. On this drizzly May morning, the union's "advocacy" appears to have nipped the workers' burgeoning power in the bud. The union and Sanitation Salvage agreed, without consulting with the striking employees, to a raise but no other improvements. The union staff intimidated the workers into signing it, and now it binds them for ten years.
According to Henry, such unions — called "independent unions" in news reports, and "sham unions" by the Teamsters — are at the root of all the workers' problems, as well as their fear and hopelessness.
"They know they're getting played," Henry says ruefully of the workers at Sanitation Salvage, "They're just afraid to do anything about it." Henry tells them, "If I took five dollars from you, what would you do? You wouldn't let me take five dollars from you, right? Well, you're letting your boss rob you every week." It's easy for Henry become frustrated with some workers' reluctance to get organized or participate in the campaign. "The company's going down, it's like a sinking ship. But they'd rather sink with the ship." But he knows most have normalized the industry's abuses; if a truck breaks down one night and the boss refuses to pay the workers for the lost hours, they won't protest. And when the union that's supposed to protect them is so clearly in cahoots with abusive management, it can be hard for workers to feel that fighting back is worth it.
How did the private sanitation industry come to this? Until the 1980s, the business was controlled by organized crime, and notoriously violent; Mayor Giuliani is credited with busting the monopoly and driving the mob out of the garbage racket in New York City. In the process, his administration established the regulatory agency that oversees the waste industry today (originally called the Trade Waste Commission, now known as the Business Integrity Commission). But at least back then, Henry says, the workers were taken care of — the Teamsters represented the majority of the industry. Giuliani's efforts splintered the negotiating power of the Teamsters, as a pre-existing industry-wide master contract became invalid. (It should be noted that in the mid-late 20th century, the Teamsters was itself considered a hotbed of organized crime, and in 1989 came under federal oversight through a consent decree resulting from an anti-corruption suit brought by Giuliani, then US District Attorney. In 2014, the federal government agreed to relinquish oversight after 25 years, allowing that the union's problems with mob influence were in the past.) Since the '90s, a host of independent unions have sprung up to fill the void, and a symbiosis has bloomed.
Indeed, the worst examples are flagrant. Workers report independent unions cutting deals without consulting them, mounting pressure campaigns to get workers to sign substandard contracts, or pocketing dues without advocating for anything or anyone at all. "Sounds like organized crime to me," Henry says with a bitter laugh. "Besides the Teamsters, there are now no other legitimate unions in this industry."
That's why the Teamsters, and the rest of the Transform Don't Trash coalition, are fighting against a DSNY decision to make the zoned waste removal system limited, but not exclusive. Under an exclusive franchise zoning system, the city would have total control over assigning carting companies to commercial clients, and all the businesses in a given zone would have to contract with the same company. But though the city had agreed in August 2017 to formulate a zoning plan for commercial waste collection, in May 2018, Department of Sanitation Commissioner Kathryn Garcia announced that exclusivity would be off the table. This, TDT says, would be a huge mistake.
Exclusivity is essential, Henry says, because only under a system with exclusive zones will the contracts awarded by the city be large enough that losing one, as a result of failing to meet city standards, would outweigh what a company could gain through cutting corners. After all, he points out, there are regulatory agencies already — but in comparing a meager fine imposed by the BIC to the millions they could make stealing wages from their employees, private carters would rather accept the slap on the wrist than change their ways. Implicit in an exclusive zoning plan is the same power that makes a properly functional union effective in negotiations with the boss. Any company that failed to play by the rules would find itself unable to do business in New York City, full stop.
Veering from exclusivity would also dilute the zoning's gains for efficiency and environmentalism, TDT argues. Henry continues to hustle, connecting workers to regulators and journalists, and speaking at rallies and press conferences. Recently, the spotlight has turned onto the BIC. The agency found out about Diallo's death and the cover-up within months of the event, but failed to act against the company or the individual driver responsible until after that driver killed another victim. If the BIC, and not existential threat, is supposed to stop companies from endangering their workers and flouting recycling requirements under a nonexclusive zoning proposal, then the coalition and their media allies will hold the BIC accountable.
Organizers are trained to recognize leadership potential in the people they organize. But Allan Henry doesn't think he was always an organizer — for most of his life he was afraid of public speaking, or of feeling like the least informed person in the room. Since joining the campaign and finding fellowship among the Teamsters, Henry has stoked a moral fire inside himself he didn't know was there. Nevertheless, always, always there is the workers' fear to contend with. "It's like we always take two steps forward and one step back," he says. And Henry still feels his decades on the truck. "I may look like a young man, but I feel old. I don't know if I can recover from it anymore than I have." When the fight is over, he wants to retire somewhere warm, where he can go fishing and mind his own business.
As for the zoning campaign, its future is in flux. Even if the city is "giving up before having the fight," it's not over 'til it's over, says Alex Moore, a Teamsters and TDT spokesman. DSNY's non-exclusive zoning plan, due to be released by the end of the summer, would have to be passed into law by the City Council after being made public. And though DSNY spokespeople have been firm, Moore cites the arc of the Waste Equity Bill for hope. That bill, intended to limit the use of transfer stations in low-income neighborhoods of color, had long been considered a nonstarter, but — partly thanks to renewed media interest in questions of waste management and environmental justice — it finally fought its way to the floor of the City Council and was passed July 19, 2018. It isn't over 'til it's over. For now, as trash bags begin to spoil in the summer heat, recall the Sanitation Strike of 50 years ago. The essential and invisible work of waste removal stays out of sight only so long as the wheels keep turning.
Olivia Schwob is Managing Editor of Urban Omnibus.