Demanding an End to 'Modern Day Slavery,' Prisoners Launch Multi-Day Nationwide Strike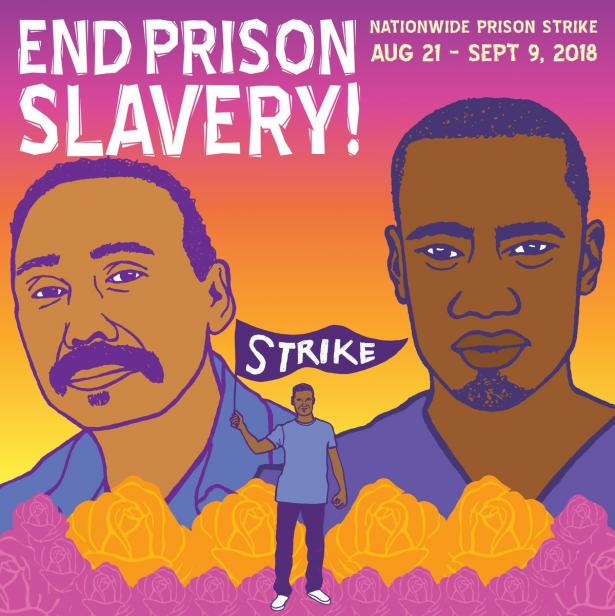 Prison strike poster,Melanie Cervantes / Incarceratedworkers.org
In what could become the largest prison strike in American history, prisoners in at least 17 states on Tuesday launched a series of protests that are slated to continue through Sept. 9—the anniversary of the infamous 1971 uprising at New York's Attica Correctional Facility—demanding improved living conditions, voting rights, fair wages, and an end to racist incarceration policies.
"Even with the authorities threatening, prisoners are ready for action," declared a statement from Jailhouse Lawyers Speak (JLS). "Fundamentally, it's a human rights issue. Prisoners understand they are being treated as animals. We know that our conditions are causing physical harm and deaths that could be avoided if prison policymakers actually gave a damn. Prisons in America are a warzone. Every day prisoners are harmed due to conditions of confinement. For some of us it's as if we are already dead."
The mass mobilization—which started on the anniversary of incarcerated Black Panther George Jackson's death—comes in response to an April riot at Lee Correctional Institution, a maximum-security prison in South Carolina where guards waited more than four hours to intervene in violent fighting that left seven inmates dead and more than 17 injured.

Organizers issued a list of demands (pdf) including sentence reform and access to rehabilitation services, and denounced current prison labor practices as "modern day slavery."
"More than 800,000 prisoners are daily put to work, in some states compulsorily, in roles such as cleaning, cooking, and lawn mowing," and "the remuneration can be as woeful in states such as Louisiana as four cents an hour," the Guardian reported, detailing how the such conditions are allowed to continue:
The idea that such lowly-paid work in a $2 billion industry is equivalent to slavery is leant weight by the 13th amendment of the U.S. Constitution. It banned slavery and involuntary servitude, with one vital exception: "as punishment for crime whereof the party shall have been duly convicted."

Prisoners, in other words, have no constitutional rights and can be blatantly exploited.
The prisoners' demands and planned protests—which include work strikes, sit-ins, boycotts, and hunger strikes—have garnered support from advocates for criminal justice reform across the continent. Journalist Naomi Klein urged her Twitter followers to support the national strike, noting, "states cannot afford to ignore them if there is enough pressure."
Several other individuals and organizations expressed solidarity, tweeting with the hashtag #prisonstrike.
On Democracy Now! Tuesday morning, host Amy Goodman spoke with Amani Sawari, who's working on behalf of JLS, and Cole Dorsey, a formerly incarcerated member of the IWW's Incarcerated Workers Organizing Committee.
"Prisoners have the ability to participate in the strike in a multitude of ways, one being work stoppages. So, if prisoners do have jobs in the prison, they can participate by refusing to go into work," Sawari said. Explaining the various actions the inmates have planned, she added:
But some prisoners don't have the privilege to have a job, so they can participate through a sit-in, which would just be prisoners coming together and sitting in a common area, refusing to move, doing so peacefully.

Some prisoners don't have access to being a part of general population, so they can participate by boycotting. And this is done through just not spending any money in the prison.

...And then, for prisoners that don't even have access to spending money, they don't have the privileges to do that. They'll be participating through hunger strikes.
"This has been completely prisoner-led," Dorsey noted. The demands, he said, "are really just a human rights declaration of basic demands that we would ask of any human across the world... And the only way their voices are going to be heard is through us on the outside amplifying their voices."
The full list of national demands from "the men and women in federal, immigration, and state prisons" is below:
Immediate improvements to the conditions of prisons and prison policies that recognize the humanity of imprisoned men and women.
An immediate end to prison slavery. All persons imprisoned in any place of detention under United States jurisdiction must be paid the prevailing wage in their state or territory for their labor.
The Prison Litigation Reform Act must be rescinded, allowing imprisoned humans a proper channel to address grievances and violations of their rights.
The Truth in Sentencing Act and the Sentencing Reform Act must be rescinded so that imprisoned humans have a possibility of rehabilitation and parole. No human shall be sentenced to death by incarceration or serve any sentence without the possibility of parole.
An immediate end to the racial overcharging, over-sentencing, and parole denials of black and brown humans. Black humans shall no longer be denied parole because the victim of the crime was white, which is a particular problem in southern states.
An immediate end to racist gang enhancement laws targeting black and brown humans.
No imprisoned human shall be denied access to rehabilitation programs at their place of detention because of their label as a violent offender.
State prisons must be funded specifically to offer more rehabilitation services.
Pell grants must be reinstated in all U.S. states and territories.
The voting rights of all confined citizens serving prison sentences, pretrial detainees, and so-called "ex-felons" must be counted. Representation is demanded. All voices count!