Global Left Midweek - Labor Day Special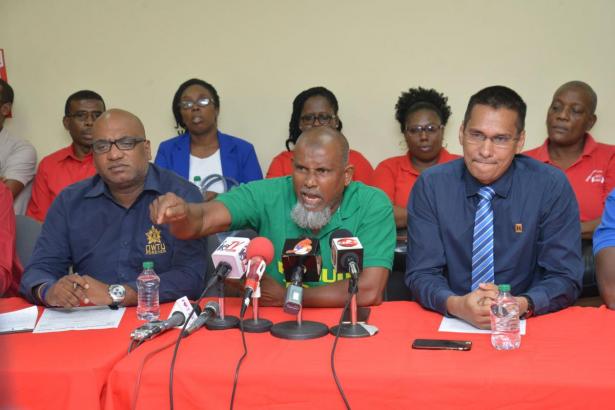 Trinidadian union leaders announce strike plans,Photo: ISHMAEL SALANDY, Daily Express
Amid a Worsening Situation for Workers' Rights, an International Union Chief Speaks Out
Ed Sykes / The Canary (London)

Some of the world's worst offenders are key Western allies – like Saudi Arabia, Turkey, and Colombia.
__________
Trinidad and Tobago: September 7 Shutdown in T&T, Says Unions
Camille Hunte / Daily Express (Post of Spain)
Various union leaders said they stood in solidarity with the oil workers who have lost their jobs.
__________
Ryanair Pilots Across Europe Go on Strike Seeking Better Working Conditions
Pavan Kulkarni / People's Dispatch (New Delhi)
For followup on the Ryanair strikes, see Ryanair Signs Its First Union Deal
__________
India: For First Time Ever, Workers, Peasants, Agri Workers to Hold Joint Rally in Delhi Against Modi Regime
Ashok Dhawale / NewsClick (New Delhi)
Massive rally on September 5 to hit out at neoliberal economic policies, communal agenda, authoritarian attacks by the BJP government.
__________
Viewpoint: The Agenda of the Mexican Working Class
Napoleón Gómez Urrutia / Labor Notes (Detroit)
A statement from the president of Los Mineros (the National Union of Mine, Metal, Steel, and Related Workers of the Mexican Republic).
__________
Canada: Will the Ontario Labour Movement Return to Class Struggle as Austerity Deepens?
Sam Gindin and Michael Hurley / The Bullet (Ontario)
Effectively fighting back as a class must include preparing, organizing and mobilizing for political strikes.