A New Popular Leftist Movement is Gearing Up in Germany – But Does Aufstehen Stand a Chance?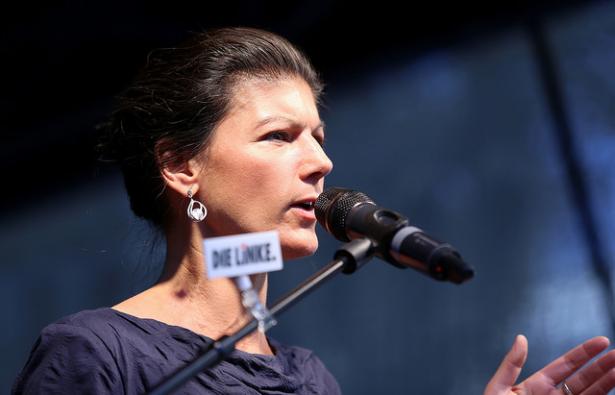 Sahra Wagenknecht, DIE LINKE Nordrhein-Westfalen (Flickr)
An outspoken radical from Germany's hard left party Die Linke has called a new political movement into life. With 'auftstehen' Sahra Wagenknecht is hoping to rally the disjointed and downbeat German left, drawing lessons from Britain's Jeremy Corbyn, America's Bernie Sanders and France's Jean-Luc Mélenchon.
With an official launch date of September 4th, aufstehen – a self-described "social and democratic renewal movement" with a name that translates roughly as 'stand up' or 'get up' – comes not a moment too soon. As elsewhere in Europe, the German left is in a sorry state of affairs. The combined vote share of Die Linke, the centre-left Social Democrats (SPD) and the Greens has dropped from more than 50 per cent in 2005 to under 40 per cent in elections last September.
In particular, the SPD took a trouncing. An attempt by the party's left-leaning former leader Martin Schulz – once hailed as Germany's answer to Corbyn – to curry electoral favour with the country's young and disaffected fell spectacularly short. At 20.5 per cent, 2017 was the SPD's worst ever federal election result, down from a historic high of just under 46 per cent in 1972. Recent months have seen support haemorrhage further.
Where did those votes go? Look no further than the meteoric rise of the far-right Alternative for Germany (AfD). The party burst into the Bundestag for the first time in 2017 with a massive 12.6 per cent vote share, fuelled by the arrival of more than a million refugees in Germany since 2015 – dubbed somewhat indicatively in popular parlance as the 'refugee crisis.'
The question is: does aufstehen have what it takes to succeed where Schulz failed and launch a counter-offensive to the AfD?
Michael Brie, a philosopher working for Die Linke's party foundation, thinks so. Brie believes Schulz' initial popularity (he climbed to 30 per cent in public approval polls) proves the societal appetite for leftist alternatives. "The demand is there, the supply is missing… Now [with aufstehen] we're trying to create that supply."
"We didn't used to have a right-wing block here in Germany [before the AfD]," Brie observes. He sees aufstehen as a potential counter-balancing force. "Whether it will work remains to be seen," he adds.
Germany's lurch to the right
The AfD's rise has left an indelible mark on German politics. The power of the insurgent far right was on show in recent events in the eastern city of Chemnitz. The party played an instrumental role in rallying thousands of right-wing protesters – among their ranks supporters of the Islamophobic Pegida movement and neo-Nazis – to the streets. The demonstrations were triggered by the fatal stabbing of a German man allegedly at the hands of two foreigners, and saw reports of attacks on journalists and people believed to be migrants.
AfD's imprint on the political centre is also clear. Take the nail-biting showdown between Chancellor Angela Merkel and her migration hardliner Interior Minister Horst Seehofer – who is acutely aware that his Christian Social Union (CSU) party has lost ground to the AfD – that kicked off in late June.
In the symbolic battle over a matter affecting a negligible number of asylum seekers, Seehofer was prepared to risk toppling Germany's coalition government to force Merkel's centrist hand slightly further to the right on migration policy.
The conflict ended in an unsavoury compromise: setting up closed processing centres for asylum seekers at the German-Austrian border to fast-track deportations for those who have already lodged asylum applications elsewhere in the European Union. Totally side-lined as coalition partners, the SPD sheepishly acquiesced to the deal.
How will aufstehen push back?
First thing's first, aufstehen is not a new party: the scant details so far published on the campaign's website make that much clear. They state they want to fight for "secure jobs, higher wages, good pensions and care". The movement's first-take agenda is vague and somewhat rambling, covering everything from environmental protection to anti-racism, disarmament, lower rents and quality education. "We have no preconceived programme," aufstehen's website says. The details are to be worked out with supporters.
But Wagenknecht's catch-all concept may well win over radical supporters of the Greens and the SPD disillusioned by centrist party lines. "Nobody has to leave their organization to get involved with us," she pointed out coyly in an interview with news magazine Spiegel.
In its approach, aufstehen is taking cues from the 'Occupy' movement. It is however, top-down rather than bottom-up – a fact that hasn't escaped the ire of sceptical analysts, including political scientist Ulrich von Alemann. "It's almost banal to point out that movements, especially leftist ones, develop from the bottom up," von Alemann wrote in the Frankfurter Rundschau newspaper. With all three leftist parties on offer failing to strike a chord, what is the need for more, he pondered.
If aufstehen succeeds in winning over discontented elements, however, they want to shift Germany's political centre to the left. "Our aim is to establish alternative political majorities and a new government with a social agenda," Wagenknecht explained in Spiegel.
So far, so good. But how can Aufstehen get there? Brie's research institute studies the success of social movements, both left and right. "All our experience shows that at the start of a movement bringing together different forces… that a credible leadership personality is decisive."
Is Wagenknecht up to the job? "That remains to be seen," Brie muses.
Wagenknecht: convincing but divisive
Born and raised in East Germany with studies in philosophy and economics under her belt, Sahra Wagenknecht is radical and sharp as a tack. She is one of Die Linke's two parliamentary group leaders, and first entered the Bundestag in 2009. Her media appearances are articulate and compelling, but polls sketch a mixed picture of her public standing. One recent survey published in the Bild newspaper showed one in four Germans would vote for a list of candidates led by her in a direct election. Others suggest she has only middling popularity, and that a majority of Germans view aufstehen critically.
Wagenknecht is also divisive among her would-be political allies. She has drawn fierce criticism by arguing that the influx of asylum seekers has been managed to the detriment of Germany's poor and the country's welfare state. Such a view is unpopular with many left-of-the-centre activists, desperate to fend off the encroaching tide of right-wing populism. Voices from her own party, from the SPD and the Greens have all been quick to distance themselves, branding aufstehen an ego project or a dangerous flirtation with populism. They fear aufstehen could split the left further.
Many among aufstehen's ranks, Wagenknecht and her husband Oskar Lafontaine included, have declared their desire to win back AfD protest voters – many of whom are staunchly anti-migrant – for the left. Aufstehen hopes to offer a left-wing counter-narrative to the one supplied by the AfD on refugees, according to Brie. But cosmopolitan leftists who have spent the past few years diligently pinning up "Refugees Welcome" posters may find such advances hard to stomach.
Undeterred, others have pledged their support to her cause. Two prominent examples are the SPD mayor of Flensburg, Simone Lange, and former Green party chairman Ludger Volmer.
"I support aufstehen because I believe it is needed," Brie explains. If the movement succeeds, it could shake up German politics and reshape the country's political discourse, which is ever more frequently delineated by the AfD – and centre-right politicians like Seehofer who pander to them. Can aufstehen provide an alternative, or will their uncertain policies on migrant solidarity hinder them? The future of left politics in Germany is up for grabs