Dispatches From the Culture Wars - December 4, 2018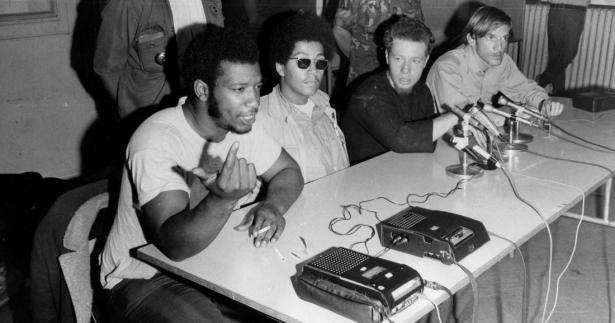 Introducing the Rainbow Coalition, Chicago, 1969. Fred Hampton and his comrade Mark Clark were murdered in a police raid engineered by the FBI Cointelpro operation on December 4, 1969.,
Where Does the Future of the American Left Lie?
By Rachel Gilmer
November 12, 2018
Al Jazeera

In the spirit of Fred Hampton and the Black Panther Party, we must reignite the Rainbow Coalition, a 1960s Chicago-based alliance between young people in Black, poor white and Puerto Rican communities. Solidarity among working people in the US and around the world is our only way out.
Can the Progressive Coalition Beat Trump?
By Eliza Newlin Carney
November 1, 2018
The American Prospect
Too often, when talk turns to this "Rainbow Coalition," a term first coined Chicago Black Panther leader Fred Hampton, progressive strategists wring their hands over the supposed pitfalls of "identity politics." But condemning racism, anti-Semitism, voter suppression, and chauvinism is not "identity politics." It's standing up for core American values.
Fred Hampton's Boyhood House Saved From Foreclosure — For Now
By Michael Romain
October 21, 2018
Village Free Press
A coalition of community members has been frantically trying to raise money ahead of a scheduled foreclosure auction in order to save Fred Hampton's childhood home in Maywood, IL.
Many have focused specifically on my final remark, which said that justice required a "free Palestine, from the river to the sea." Critics of this phrase have suggested that I was calling for violence against Jewish people. In all honesty, I was stunned, and saddened, that this was the response.
America's Postindustrial Futures
By Chloe Ahmann
November 28, 2018
Sapiens
The current administration's controversial "America First" trade policies have tapped into a pervasive feeling of abandonment across the postindustrial United States. But not all former factory workers are interested in reviving American industry.
By Cyndy Etler
November 27, 2018
The Independent (London)
For traditional Christian housewives, the fear might be basic: contradict your husband's opinion and you'll be out of food and shelter. But for much of Trump's base, the fear is all gross ego.
.