film
'Roma' Review: Alfonso Cuaron Makes His Masterpiece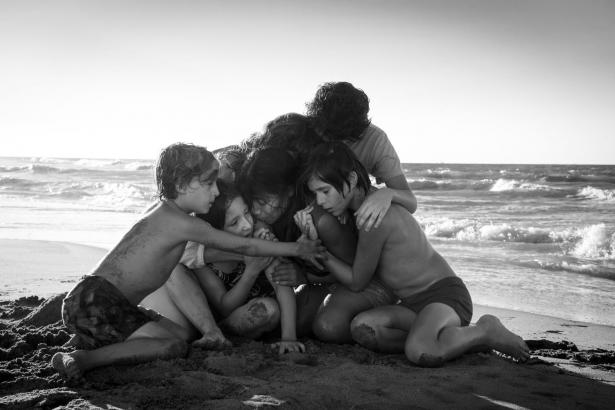 Yalitza Aparicio, center, in Alfonso Cuarón's 'Roma.',Carlos Somonte
If a thing of beauty is a joy forever, as John Keats famously said, then the surpassing loveliness and bracing brilliance of Alfonso Cuarón's Roma will never pass into nothingness. Not as long as there are film lovers or a Netflix, the streaming service that stepped up to bring the movie (fully financed by Participant Media) to theaters for a limited run. (Its worldwide subscriber base, numbering over 137 million, will have the chance to see it starting Dec. 14th.) In other words, Cuarón's semi-autobiographical memory piece about his 1970's childhood in Mexico, shot in black-and-white with no stars and all the dialogue in Spanish, will have a chance to spread its wings beyond the indie ceiling.
Count me among the cinephiles who claim that this widescreen wonder will never play as well as it does in a theater in front of all those wonderful people out there in the dark. But a work of art can't be compromised but how or where we watch it — and this is a true work of art. He has made great films before, including A Little Princess (1995), Y Tu Mama Tambien (2001), Children of Men(2006) and the blockbusters Harry Potter and the Prisoner of Azkaban (2004) and Gravity (2013), for which he became the first Mexican director to win an Oscar. But make no mistake: Roma is Cuarón's masterpiece, his cry from the heart and a transporting new landmark in personal filmmaking.
The plot, such as it is, is so delicately handled that the screenplay was kept hidden from the actors, mostly non-professionals, until the day of shooting. He wanted audiences to feel the chaos of life in Roma, the upscale district of Mexico City where he grew up. It may seem strange that a film based on Cuarón's own formative years contains so little of him and his three siblings. But instead of gazing inward, the filmmaker is looking out from the specifics of his family life and into the wide world beyond.

At first, it seems like the mother, Sofia (Marina de Tavira), is the center of activity in this bustling, upper-middle-class household, with comic relief provided by a prodigiously pooping dog and the matriarch's notoriously bad driving. But Sofia is clearly distracted by the chronic philandering of her doctor husband, Antonio (Fernando Grediaga) and the burden of keeping his infidelities hidden from her children. Responsibility for raising the kids falls to Cleo (the sublime, soulful Yalitza Aparicio), the maid/housekeeper/cook/ babysitter/peacemaker. It's this domestic servant — a shy, silent force of nature — who Cuarón honors in his film, and her grit and grace are wonders to behold. Aparicio, a preschool teacher of Mixteco heritage, has never acted before this film, but she could teach the pros about the subtleties of craft.
Cleo is the beating heart of Roma, as well as the lens through which the filmmaker projects his recollections of the past into a tumultuous present where questions of race, class, violence and and beseiged humanity continue to reverberate. From the opening scene of Cleo scrubbing the driveway, the sudsy water reflecting a jet flying overhead, the film suggests how global events intrude on this not-so-idyllic household. We watch as the family holidays at a friend's hacienda, where guests listen to the soundtrack of Jesus Christ Superstar and a gun-loving uncle organizes a shooting party. Later, nature rumbles when a forest fire erupts on New Year's Eve and flames light the night sky revealing adults, children, dogs and wildlife scattered in profusion as guests form a bucket brigade to extinguish it.
In contrast to that scene's visual grandeur, the movie takes pains to show us Cleo in her off hours, accompanying fellow servant Adela (Nancy Garcia) on a date night in a Mexico City teeming with life. Our heroine hooks up with Fermin (Jorge Antonio Guerrero), a martial-arts expert, who stands naked after their lovemaking, using a shower rod to show his staff-wielding skills. He also executes a neat disappearing act when Cleo announces she is pregnant. Tracking the deadbeat to a militant, outdoor training class, she faces more rejection.
And determined to have her baby, Cleo is shopping for a crib when a riot breaks out in the streets as a group of elite Mexican soldiers, known as Los Halcones, shoot down student demonstrators. The director stages the infamous Corpus Christi Massacre, viewed from an upstairs window of the furniture store, with a sweep that is as breathtaking as it is brutal. When her water breaks during the melee, Cleo rushes to the hospital, feeling abandoned during a wrenching childbirth that could bring tears to a stone.
There is never a moment here when you aren't reminded that Cuarón is a world-class filmmaker, one who is in full command of his craft and capable of creating a film that's both epic in scope and as intimate as a whisper. He even shot the film himself when his go-to camera genius, the Oscar-winner Emmanuel "Chivo" Lubezki, became unavailable. The ravishing images are pure astonishment. Shooting a film about the past in up-to-the-minute digital 65 with the most sophisticated sound design you'll hear anywhere, Cuarón creates a blend of then and now that achieves technical miracles. He views the events of the film with a piercing clarity, in long takes with characters moving through his all-encompassing frame. But don't mistake his distance for a lack of feeling. Like the film itself, Cleo never begs for sympathy. Trust us: your tears will come nonetheless.
His devotion to Cleo, the second mother he took for granted as a child, radiates through every frame — especially during a climactic trip to the sea, where Sofia tells her children their father has left home for good. That trauma is intensified when two of the kids get carried away by the tide and Cleo, frightened herself, swims out to rescue them from drowning in a pounding surf. On the car trip home, she gazes out the window, her eyes a mirror of how much this family is and isn't her own. If the man behind this film didn't see the woman who helped raise him as a hero then, he does now.
And by putting her story in the context of a broken family surviving in a broken world, he has paid her the most heartfelt of tributes. Cuarón has done more than break through walls of language, culture and class to craft the best movie of the year. No matter how you see or stream Roma, this game-changer is making its own kind of history.