Inside the Evangelical Money Flowing Into the West Bank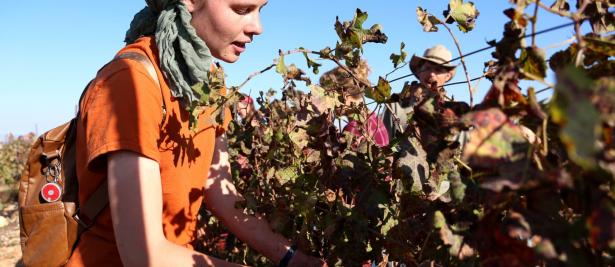 An evangelical woman from the U.S. picking grapes in the West Bank. Free volunteers is just one of the ways Christians help settlers , Kyle S. Mackie
When the first Christian evangelical volunteers descended on the religious West Bank settlement of Har Bracha about 10 years ago, offering to harvest grapes for the local Jewish farmers free of charge, not everyone welcomed them with open arms.
After all, for generations Jews had been taught that when Christians go out of their way to be nice, it is probably because they are secretly plotting to convert them, and, therefore, it's best to keep a distance.
Much has changed since then. There are still Jewish settlers not completely comfortable with the idea of Christians living in their midst and working their fields. But they are far less vocal these days. 
Hayovel, the U.S. organization that brings them to Har Bracha, is among a growing list of evangelical groups that operate exclusively in the so-called "biblical heartland." Over the past decade, it has brought more than 1,700 volunteers to the settlements – and only the settlements because, as a matter of principle, its volunteers do not assist farmers within Israel proper.
Explaining the organization's special attachment to this disputed piece of land – that most of the international community does not recognize as part of Israel – Hayovel states on its website: "Every country in the world has turned its back on Judea and Samaria, the heartland of Israel, where 80 percent of the Bible was either written or occurred."
There were many years when Hayovel operated under the radar, believing that the less Israelis knew what it was up to, the better.
No longer. These days, the nonprofit is more than happy to host journalists and the curious at its main campus, located on this settlement that overlooks the large Palestinian city of Nablus. Its willingness to be so aboveboard about its activities is evidence of how mainstream such interactions between Christian evangelicals and Jewish settlers have become.
The 'real' Israel