Friday Nite Videos | December 21, 2018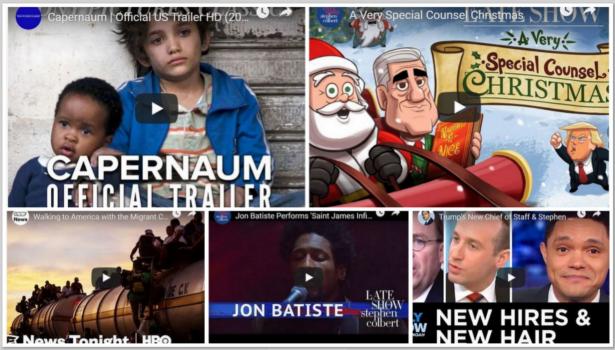 To video a video click an image below,
A Very Special Counsel Christmas

What happens if Santa is fired? Is there anything that could save Christmas?
Jon Batiste Performs 'Saint James Infirmary Blues'

The pride of the Late Show, Jon Batiste, performs the song from his album 'Hollywood Africans' that earned a Grammy nomination for Best American Roots Performance. 'Saint James Infirmary Blues.'
Walking to America with the Migrant Caravan

Thousands of migrants Central America have trekked across Mexico as part of the wave after wave of caravans fleeing persecution, violence, and poverty in their home countries. A Vice News Special Report (HBO).
Capernaum |Movie

Winner of the Grand Jury Prize at the Cannes Film Festival, Nadine Labaki's Capernaum ("Chaos") tells the story of Zain (Zain al Rafeea), a Lebanese boy who sues his parents for the "crime" of giving him life. Full review.
Trump's New Chief of Staff & Stephen Miller's New Hairline

Mick Mulvaney becomes Trump's acting chief of staff despite calling the president a "terrible human being," Ryan Zinke is pushed out as interior secretary, and Stephen Miller debuts a new hairstyle on "Face the Nation."