An Appeal to Jewish Women to Support the 2019 Women's March and Its Leaders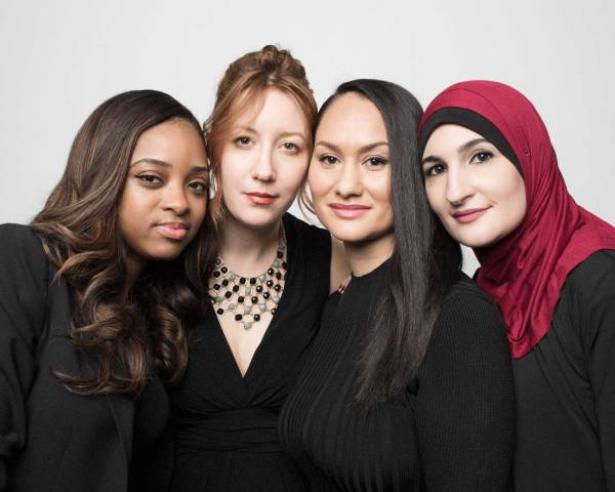 Women's March leaders: Tamika Mallory, Bob Bland, Carmen Perez, Linda Sarsour.,Jody Rogac/Time
For the past nine months, controversy and obfuscation concerning allegations of anti-Semitism and complicity with Louis Farrakhan have surrounded the 2019 Women's March and its Women of Color leaders, especially Tamika Mallory and Linda Sarsour. The complaints rage on, leaving a trail of divisiveness and malice in their wake. This is an appeal to the white Jewish women who have participated in this barrage, or stood idly by while it happened, to step back, hit pause, and think more clearly about what fears lie behind your anger, or your silence.
Others have recounted these sorry events with great precision, none more eloquently than Linda Sarsour writing on Nov. 18. It is past time for progressive Jewish women to step up and say, enough. Tamika's denunciation of anti-Semitism and her honest explanation of how the Nation of Islam supported her as a single mom in Harlem when other resources were lacking should have sufficed. Who among us has not had to reckon with the contradictions and messiness in our own communities and families? My grandmother—a Jewish refugee in the early 20th century who escaped anti-Semitic pogroms in Russia and a patriarchal father who burned her books—was the first person I heard utter the derogatory Yiddish word "schwarze." For too many in that generation of upwardly mobile Jewish immigrants, acquiring whiteness was tied to class status and racism. It's a legacy we, their grandchildren, have to face honestly. When will the white Jewish feminists who rail against Mallory and Sarsour publicly and loudly denounce the Sheldon Adelsons and other wealthy right-wing Jewish donors who support the racist, anti-immigrant, misogynist, militarist policies of the Trump and Netanyahu regimes?
Pernicious Chain of Guilt by Association
Yet the attacks go on and on. Theresa Shook is now pressing Tamika, Linda, Carmen Perez and Bob Bland to "step down" as leaders. Why? Because they "have allowed anti-Semitism, anti-LGBTYQIA sentiment and hateful, racist rhetoric to become a part of the platform by [their] refusal to separate [themselves] from groups that espouse these racist, hateful beliefs." This is a replay of the specious charges against Tamika begun last February. But Shook's accusation unleashes an even more toxic virus: a pernicious chain of guilt by association. Tamika is guilty because she didn't denounce Farrakhan and Linda Sarsour is guilty because she didn't denounce Tamika and the Women's March because it didn't denounce Sarsour, and then all of us who support the march and its current leaders will be caught in this illogical and divisive web. But Linda Sarsour is singled out above the others. In the Jewish Telegraphic Agency's piece reporting Shook's statement, which named all four march leaders, the headline reads "Why the co-founder of the Women's March wants Linda Sarsour to step down." As a Palestinian Muslim supporter of BDS, Sarsour is seen as especially dangerous and a prime target of Jewish ire.

On November 21 the Forward reported that Linda Sarsour had issued a statement of "apology to Jewish women." Why, I asked myself, should Linda Sarsour feel the need to apologize, and who are these Jewish women to whom she, of all people, feels obliged to say she hasn't listened enough? After the barrage of malicious, groundless charges of anti-Semitism, the death threats and other vicious attacks to which she and Tamika Mallory have been subjected, isn't she the one who deserves our apology?
How Many Times Does Linda Sarsour Have to Repudiate Anti-Semitism?
How many times does Linda Sarsour have to remind her Jewish critics of the hundreds of thousands of dollars she and her Muslim organization, MPower Change, and other Muslim groups raised to support Jewish synagogues whose buildings and cemeteries were desecrated or in disrepair in St. Louis and Colorado? or to pay for the burials of all the victims of the massacre at Tree of Life Synagogue in Pittsburgh? How many times does she have to declare her repudiation of anti-Semitism? I'll never forget the videotaped message she sent to the on-line discussion group that Jewish Voice for Peace (JVP) conducted for our members shortly after the Pittsburgh murders. Her words of sisterhood, love, caring—but even more the intimate connection she conveyed with her eyes—touched us deeply. She helped us get through that hard time and see even more clearly how instances of anti-Semitic hatred are bound up with the same white Christian nationalism that affects her along with all immigrants, Muslims, Native Americans, and people of color.
I am a Jewish woman who grew up in an observant Zionist household but changed my views about Israel, Palestine, and US militarism through decades of work in civil rights, feminist, social justice and peace movements. And there are thousands and thousands more American Jewish women like me. We encompass three generations, and we support the Women's March under the leadership of Sarsour, Mallory, Perez and Bland. Though I write this letter only for myself, I am confident that the great majority if not all of my colleagues in JVP in New York and across the country (we have 2200 dues-paying members in New York City alone and some 15,000 members nationally); in our sister organization, JFREJ (Jews for Racial and Economic Justice); in other groups with whom I work, such as the National Women's Studies Association, Jews Say No! and Women in Black would agree that Linda Sarsour and Tamika Mallory deserve our full support and gratitude, not our opprobrium. Significantly, the National Council of Jewish Women at this writing continues to support the Women's March and its leaders.
Right-wing Zionists Behind This Campaign
I do not doubt the sincerity of those Jewish women who are raising the issue of anti-Semitism in the women's movement. But let's be clear about who the main forces pushing this campaign are and their real agendas. Organizations like the Anti-Defamation League (ADL), the American Jewish Committee (AJC) and AIPAC (the Israel lobbying group) know all too well that the political landscape in this country is changing. These organizations fear they are losing a whole generation of young Jews who do not adhere to the code of blind devotion to Israel and its policies. Even some liberal Zionists, for example the journalist Peter Beinart (@PeterBeinart), are beginning to question the false equation between criticisms of Israel and anti-Semitism and urging our legislators to take a sharper look at the brutalities of Israeli occupation.
In reality the "Jewish community" is a kaleidoscope of many communities. Today American Jews represent a huge diversity of political and generational views, religious (or non-religious) practices and beliefs, ethnicities (growing numbers of Jews of Color), and degrees of connection to or separation from the State of Israel. And this is exactly what organizations like the AJC, the ADL and AIPAC fear: they can no longer claim a monopoly on who speaks for Jews. They certainly do not speak for me and, I dare guess, a vast number of Jewish women.
Moving beyond an overwhelmingly white Women's March seems to me something to celebrate. It is time to stop letting Farrakhan be a lightning rod of racial division and to get on with the important work of addressing the persistence of white supremacy as well as anti-Semitism within the mainstream women's movement.
The murderer who slaughtered eleven elderly Jewish worshipers at Tree of Life Synagogue in Pittsburgh targeted his prey not only for being Jews but also for being supporters of immigrants and refugees. We need to learn from this. In a climate of fear, violence, intimidation and rising fascism, the only way forward for a truly transformative Women's March and movement is to unite the struggles to end violence, racism, anti-Semitism, Islamophobia, misogyny, settler colonialism everywhere, including in Palestine, and the white nationalism that undergirds them all. And this means holding out our hands to the courageous leaders who propel this vision, like Linda Sarsour and Tamika Mallory, saying we stand with you, we have your back.
[Rosalind Petchesky is Disitinguished Professor Emerita (retired) at Hunter College and the Graduate Center-CUNY and an active member of Jewish Voice for Peace in New York City.]