Global Left Midweek - February 20, 2019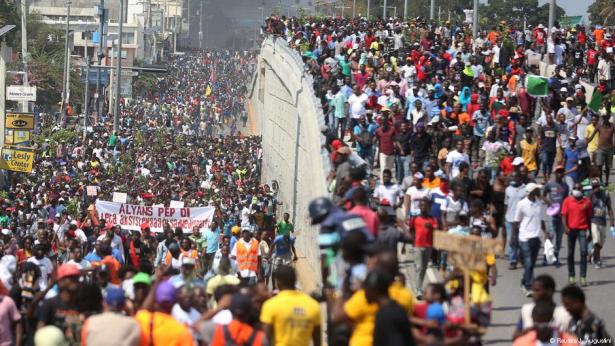 Port-au-Prince last week, Photo: Reuters
Haiti
Mass Protests In Haiti Threaten Modern Oligarchic Structure
Whitney Webb / The Haitian Times (Brooklyn)
Haitians throughout the country seethe with rage over Jovenel Moise's blatant corruption, gross mismanagement and numerous scandals.

__________
A Huge Climate Change Movement Led By Teenage Girls Is Sweeping Europe
J. Lester Feder, Zahra Hirji, and Pascale Mueller / Buzzfeed News (New York)
Tens of thousands of high school–age students in Belgium, Germany, and Sweden have boycotted class and protested against climate change. The loose movement's inspiration is a 16-year-old girl who began a solitary picket last year outside the Swedish Parliament in Stockholm.
__________
Venezuela's Popular Sectors and the Future of a Country
Rebecca Hanson and Francisco Sánchez / NACLA Report (New York)
Just a few years ago, the vast majority of working-class barrios in Caracas were ardent supporters of Chavismo. Today, they are split—but they don't trust the opposition either.
__________
South Africa: Thousands Take to Streets in Protest Against Job Losses
Joseph Chirume, Lisekho Madikane, Emelda Tintswalo, Nomfundo Xolo and Zoë Postman / GroundUp (Cape Town)
COSATU is calling for job creation, an end to corruption in the private sector, a ban on labour broker companies and an end to retrenchments for the sake of profit. The protesters oppose a planned restructuring of the national electric utility Eskom.
__________
Thai Youth a Rising Force in March Election
Patpicha Tanakasempipat and Panarat Thepgumpanat / Reuters (London)
The March 24 vote could be swayed by young people, many of them newly politicized and active in a way that has rarely been seen since state forces crushed student pro-democracy movements in the 1970s.
__________
The Real War at the Border: Strikers in Matamoros
David Agren / The Guardian (London)
A wave of wildcat strikes has rolled across this Mexican border town, as thousands of workers walked off the job to demand better salaries, safer conditions – and union leaders who put members' concerns ahead of company interests.
__________
Three Takes on Brexit 
Brexit and the Left / G.L.L. Williams / Links (Sydney)
Their Internationalism And Ours / Paul O'Connell / Rosa Luxemburg Stiftung (Brussels Office)
For a Radically Reformed, Social Europe / Michael Rafferty / openDemocracy (London)