Casual Observations About the Ha Noi Summit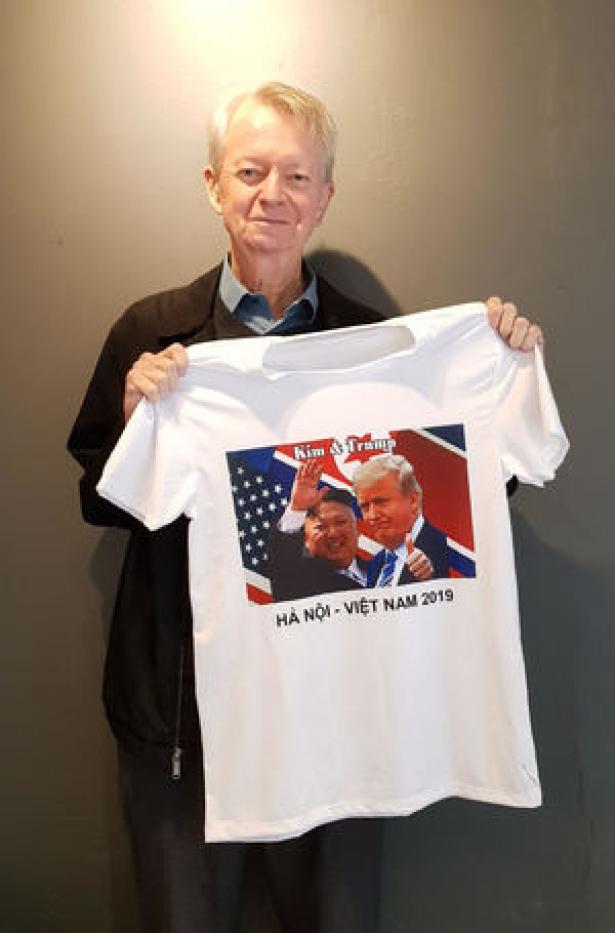 , Veterans For Peace
I have been remiss in not sharing personal observations about the just ended Trump-Kim "summit" in Ha Noi.  My friend Henry Gallagher asked, "Anything you can tell us about the mood, the pulse, the streets of Hanoi today/tonight?"
I assumed that the avalanche of media reportage from an estimated 3,000 journalists who descended on Ha Noi a few days ago would be more than sufficient.  I've had little wisdom to contribute that might add usefully to the deluge of feature articles and political analysis, photographs and video that have dominated the news.  (In the U.S., I realize, there has been competition with the Michael Cohen congressional hearings).
Yesterday I was working my way on foot through a serious traffic stoppage to a meeting with Swedish journalists.  The Swedes were here not because of Trump -- his and Kim Jong-un's presence was a coincidence -- but they were researching the issue of Agent Orange and its continuing impact in Viet Nam.  Crowds were lining Hang Gai Street, a major shopping artery in the Old Quarter, people leaning curiously out across roped cordons and around watchful police and peering up the oddly empty street toward Hoan Kiem Lake.  Just as I purchased the souvenir t-shirt I'm holding in the photo below, the sirens began and motorcyle police in formation came into view followed by a seemingly endless stream of police cars, black sedans, SUVs, and finally "The Beast" which nearly everyone everywhere knows as the U.S. presidential limousine.  Everything sped by too quickly for anyone to see anything other than fast-moving vehicles in a blurred motorcade, along an otherwise deserted street. 
Fake news, fake T-shirt?  Look closely and you'll  see that the Kim Jong-un and Trump images are actually the look-alikes who strolled the streets of Ha Noi for a day until the police deported the Kim personator back to Singapore. The Trump personator, a Canadian, was warned to lay low and stay out of sight.
Someone told me that when Trump exited his dinner with Kim at the famous Sofitel Metropole Legend hotel near Hoan Kim Lake the night before, he turned on the light in the limo so people could see his face as he waved.  Nice touch.  (A few foreigners told me they had a different observation about that.) 
Vietnamese friends inquired if I had been invited to the dinner with Trump. I don't think they were kidding.
People in Ha Noi have been reserved, polite, curious, extremely gracious -- as always, whether a special occasion or not.  The many traffic snarls and long detours to keep traffic away from the meeting sites or the Melia Hotel where Kim Jong-un and his party are staying (just two blocks from my house, so I've done more walking than usual), have been met with patience and relaxed acceptance. I've seen no snarls of chagrin on anyone's face. 
In fact, Vietnamese seem to be taking some quiet pride in the selection of Ha Noi as the city to host this meeting.  The city has been spruced up with new flower boxes along sidewalks and around parks all over town, some buildings repainted for the occasion, T-shirt vendors out in force with a variety of Tump and Kim visages.  Lots of "peace" messages. Citizens modestly point to their history as a country that is "a friend to every nation" and a country that is safe, stable, secure, perfect for a summit such as this one. 
The Vietnamese do not have unrealistic expectations, either; extremely pragmatic, the Vietnamese I've spoken with see this meeting as one of several steps that may be required.
At lunch today, the staff at a vegetarian restaurant were discussing Trump's quick departure yesterday.  "Trump left because the meeting was not successful," they said.  But they added with relaxed assurance, "No problem; there will be other meetings. This will take some steps."
Two young professional women in a café shared with me, in English, the low expectations that Vietnamese had and the absence of anxiety about the outcome.  "We did not expect a big outcome," one said.  "This is a process.  It may take some time.  If you try to achieve everything in the first meeting, you make some mistakes." 
They are sure that the dialogue between the U.S. and North Korea will continue.  They were pleased that Ha Noi has been a part of that process.  And the Vietnamese stand ready to offer any advice or guidance requested by either side.  Viet Nam's position is an enviable one: a truly "honest" broker in an age when not many countries can claim such title.
There is some serious merit in that positioning.  Vietnam and the U.S. have a history of arduous negotiations, even after the Paris Peace Talks and the end of the war in 1975, going back to initial meetings on the MIA issue in the late 80s and progressing toward full normalization of diplomatic relations in July 1995.  Since then, trust has been built, the two countries are moving comfortably into a comprehensive relationship based on an earnest resolution of wartime legacies - Agent Orange and unexploded ordnance - combined with current cooperation on issues covering trade, economic reform and development, business investment, education and science, and more.  There are a few things the North Koreans can learn, though such lessons would likely be shared privately between the two nations, both of which have experienced devastating conflicts with the U.S. in the past, and difficult and painful recoveries.  The Vietnamese are well on the path to recovery; the North Koreans have a longer path ahead of them.
Several people have said to me, "Who could have imagined, even 20 years ago, that the U.S. and Viet Nam would be in the relationship we enjoy today?"  They have more confidence than the Washington establishment does that continued talks between North Korea and the U.S. will eventually produce a similar outcome.
One "failed" meeting in Ha Noi does not mean a lot to the Vietnamese.  They have a history of turning losses into successes, negatives into positives.  In fact, they will rarely answer with a definitive "no" to anything.  Usually they respond, "Not yet."  The door is always open, slightly, or more widely ajar.  We need to be discerning in such matters.
If the U.S. continues along a steady course of limited but progressive steps with North Korea, that are mutually satisfactory for both nations, we may see a volatile situation removed from the global worry list.
The Vietnamese are not giving up on that, and neither am I.
Chuck Searcy enlisted in the U.S. Army from 1966 to 1969.  Assigned to the 519th Military Intelligence Battalion in Saigon from June, 1967 to June,1968, he served as an intelligence analyst at the Combined Intelligence Center, Vietnam (CICV).  After military duty he returned to the University of Georgia as a student and became active in the Vietnam Veterans Against the War (VVAW).  Searcy was editor and publisher of a weekly newspaper for 12 years, worked in Washington in President Jimmy Carter's administration and later for U.S. Senator Wyche Fowler.  He was Executive Director of the Georgia Trial Lawyers Association from 1989 until 1995 when he moved to Vietnam as representative of the Vietnam Veterans of America Foundation (VVAF).   In 2001 Searcy became representative of the Vietnam Veterans Memorial Fund (VVMF) and helped launch Project RENEW in Quang Tri Province, to clean up unexploded ordnance and provide medical assistance, rehabilitation, and income generation for UXO victims.  Project RENEW's mission also includes support for Agent Orange victim families.  Searcy is co-chair of the NGO Agent Orange Working Group in Vietnam. He is a co-founder and currently vice president of Chapter 160 of Veterans For Peace, based in Viet Nam.  In 2003 Searcy was awarded Vietnam's National Friendship Medal.
For anyone who has idle time to peruse some recent clips, links are below.  With TV, as everyone knows, a 45-minute discussion is edited to about 45 seconds, so context and detail sometimes suffer.
(in Vietnamese only, with voice-over)