Dispatches From the Culture Wars - March 12, 2019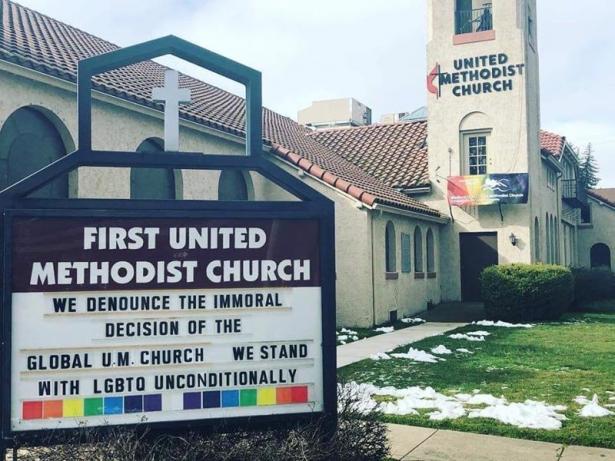 Medford, Oregon,Photo: The Gaily Grind
Methodist Churches Across U.S. are Publicly Rebelling Against Their Leadership
By The Gaily Grind Staff
March 7, 2019
The Gaily Grind

Churches across the United State are publicly displaying their outrage over the General Conference of the United Methodist Church vote last week to reaffirm their teaching that homosexuality is "incompatible" with Christianity and to punish individual churches that perform marriages for same-sex couples and allow LGBTQ clergy.
By Paul Rosenberg
March 8, 2019
Salon
Shoddy media reporting, along with elite fears of what the American public really wants, have driven this disgrace.
The Ilhan Omar Controversy Is a Turning Point for the Jewish Left
By Sofie Werthan 
March 8, 2019
Slate
Jewish American leftists have emerged as a key source of support for Omar, writing a flurry of op-eds, petitions, and social media posts with the hashtag #IStandWithIlhan. 
Alexandria Ocasio-Cortez Is Coming for Your Hamburgers!
By David Remnick
March 3, 2019
The New Yorker
Ocasio-Cortez upset a veteran of her own party in a primary race, and came to office as an unabashed idealist. The mocking attacks have been a constant on the right ever since.
Abrams: Identity Politics Strengthens Democracy
By Stacey Y. Abrams
March/April 2019
Foreign Affairs
The facile advice to focus solely on class ignores complex links among American notions of race, gender, and economics. 
What Dollar Stores Tell Us About Electoral Politics
By Lara Putnam and Gabriel Perez-Putnam
March 9, 2019
Washington Monthly
The United States, we are told, is comprised of conservative rural areas, liberal urban areas, and hotly contested suburbs. It's the variation among them we most need to see to understand political change.
Okay, But What's Wrong With Liberalism? Jonathan Chait and Jacobin's Bhaskar Sunkara
By Eric Levitz
March 3, 2019
New York Magazine
The question: Does socialism's growing popularity reflect liberalism's failures — or merely leftists' inveterate inability to recognize progress when they see it?