Global Student Climate Strike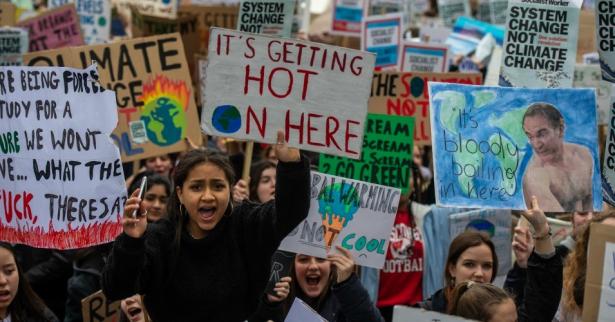 In the United Kingdom, thousands of young people were among the millions worldwide who called on their governments to declare a climate emergency and take action to stop the climate crisis., Chris J. Ratcliffe/Getty Images
All over the planet on Friday, millions of children and young adults walked out of their classrooms in an unprecedented collective action to demand a radical and urgent shift in society's energy and economic systems in order to avert the worst impacts of human-caused global warming and climate change.
With demonstrations in more than 100 countries and tens of thousands of schools, the worldwide Climate Strike is the largest since 16-year-old Greta Thunberg sparked a wave of increasingly huge marches and walkouts with her one-person strike outside the Swedish Parliament last year. 
Since then, Thunberg has admonished and appealed to world leaders at COP24 and Davos, successfully securing a commitment from the European Union to fight the climate crisis while inspiring strikes all over the world. European students began holding weekly walkouts in Brussels in December, while Australian, and German young people are among those who have organized strikes as well. 
"We have been born into this world and we have to live with this crisis, and our children and our grandchildren," Thunberg told a crowd of her peers in Stockholm in Friday. "We are facing the greatest existential crisis humanity has ever faced. And yet it has been ignored. You who have ignored it know who you are."
In Pictures:
People hold up signs and vent their frustrations during a Climate Change Awareness rally at Sydney Town Hall on March 15, 2019 in Sydney, Australia. The protests are part of a global climate strike, urging politicians to take urgent action on climate change. (Photo by Don Arnold/Getty Images)
Portuguese students chant and hoist placards in front of the Assembleia da Republica (Portuguese Parliament) during their demonstration to support actions for climate change on March 15, 2019 in Lisbon, Portugal. Thousands of Portuguese students from universities and schools across the country join the international 'SchoolStrike4Climate' global protest, skipping classes and marching in protest against climate change. (Photo by Horacio Villalobos#Corbis/Getty Images)
The scene on Westminster bridge as school children block traffic and march across the river on March 15, 2019 in London, England. Thousands of pupils from schools, colleges and universities across the UK will walk out today in the second major strike against climate change this year. Young people nationwide are calling on the Government to declare a climate emergency and take action. Similar strikes are taking place around the world today including in Japan and Australia, inspired by 16-year-old Greta Thunberg who criticised world leaders at a United Nations climate conference. (Photo by Guy Smallman/Getty Images)
Environmentalists and concerned citizens gather and hold a picket to voice out concern on environmental and climate issues on March 15, 2019 in Quezon city, Philippines. Students around the world took to the streets on March 15 to protest a lack of climate awareness and demand that elected officials take action on climate change. Inspired by Greta Thunberg, the 16-year-old environmental activist who started skipping school since August 2018 to protest outside Sweden's parliament, school and university students worldwide have followed her lead and shared her alarm and anger. (Photo by Jes Aznar/Getty Images)
Greta Thunberg participates in a strike outside of the Swedish parliament house, Riksdagen, in order to raise awareness for global climate change on March 15, 2019 in Stockholm, Sweden. (Photo by MICHAEL CAMPANELLA/Getty Images)
Schoolchildren take part in the Global Climate Strike For Future on March 15, 2019 in Rome, Italy. Today, thousands of students took part in the Student Global Climate Strike to demand for urgent measures and concrete action to combat climate change, the global warming and to protect our future. The strike is inspired by Greta Thunberg, a Swedish school girl who in 2018 went on school strike to make adults and lawmakers take climate change action. (Photo: Antonio Masiello/Getty Images)
On social media, supporters posted images and videos of students chanting, marching, and waving signs demanding action from their elected officials as well as rebuking some leaders who have criticized the students for skipping school. As one sign in London read, "I'll do my work when you do yours."
Because of people like you, another world is possible. There are many battles to be won, but we will battle them together—all of us. Common Dreams is not your normal news site. We don't survive on clicks. We don't want advertising dollars. We want the world to be a better place. But we can't do it alone. It doesn't work that way. We need you. If you can help today—because every gift of every size matters—please do. Without Your Support We Won't Exist.