Media Bits and Bytes - April 2, 2019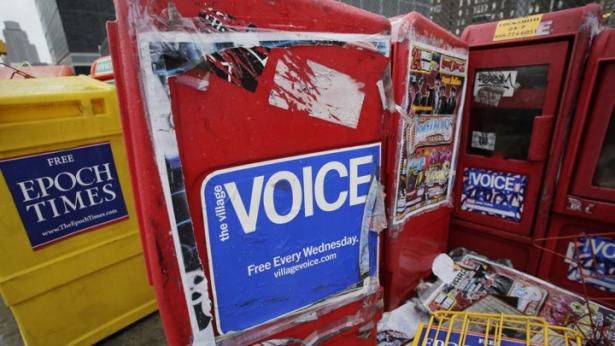 Local news is in the midst of a long financial crisis, as newsrooms are hit with layoffs, page counts shrink, and entire papers go belly-up,Credit: MARK LENNIHAN / AP
The Biggest Issue Surrounding Net Neutrality

By Andrew Wyrich
March 28, 2019
The Daily Dot 
With the 'Save The Internet Act' rolling along, what is the biggest divide between Republicans and Democrats?
Lawmakers Target NSA's Domestic Phone Spying
By Andrea Germanos
March 29, 2019
Common Dreams
"The NSA's sprawling phone records dragnet was born in secrecy, defended with lies, and never stopped a single terrorist attack," said Sen. Ron Wyden.
By Scott McLemee
March 22, 2019
Inside Higher Ed
Scott McLemee reviews two books about our networked society that raise rather dystopian concerns.
Local News Is Dying, and Americans Have No Idea
By Alexis C. Madrigal
March 26, 2019
The Atlantic
While the industry nose-dives, a large majority of the country thinks it is doing great.
Pearson and Google Partner to Steal the Minds of Children
By Alan Singer  
March 25, 2019
Daily Kos
Predator cyber companies are promoting more and more online products targeting children and parents who think they will give their kids an educational boost.
Tech Platforms, White Nationalism and Islamic Terrorism
By Nitasha Tiku
March 20, 2019
Wired
Big Tech expends more effort to curb the spread of terrorist content from high-profile foreign groups, while applying fewer resources and less urgency toward terrorist content from white supremacists.