Global Left Midweek - April 24, 2019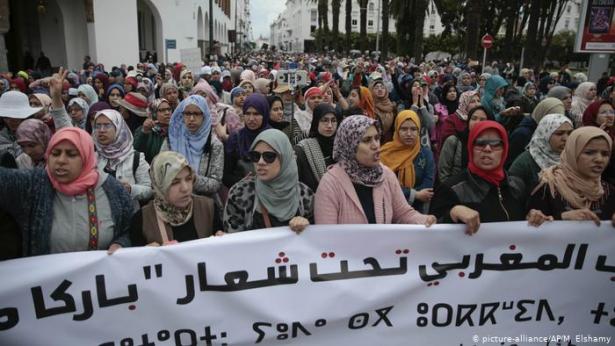 Moroccan protesters sing 'The people want the detainees released' and 'Long live Rif' as they march through central Rabat,Credit:picture-alliance/AP/M. Elshamy
La Via Campesina (Harare): International Day of Peasants' Struggle
April 17th, 2019, the International Day of Peasants' Struggle, the member organisations of La Via Campesina are reaffirming the Declaration on Peasants' Rights as a political tool to strengthen the global struggle for decent living and working conditions in rural areas. The Declaration should also be a tool for the worldwide promotion of urgently-needed agrarian reform programmes, as essential components of public policies that countries should implement in their respective territories. On this International Day of Peasants' Struggle, we are also demanding full respect for our rights. The defence of land and territory is not a crime. There must be an end to impunity and an end to criminalisation, eviction, and killing. 

Video: Thousands Protest in Morocco
Huge crowds have rallied in the Moroccan capital to demand the release of activists who staged mass anti-poverty demonstrations in 2016. 
Magdi El-Gizouli / Arab Reform Initiative (Paris)
Sudan's future transition remains unclear while it searches for a viable democratic alternative. It is important to examine the origins of the contestation forces that shook the country for the last four months and the different phases of their formation.
Ahmad Al-Sholi / Jacobin (New York)
By taking to the streets in mass numbers, Algerians have unseated Abdelaziz Bouteflika, the country's president since 1999. Can they take those protests further?
Protesters plastered giant posters of President Emmanuel Macron carrying the slogan "Macron, President of Polluters" and a banner reading "Scene of Climate Crime" on the glass facade of Societe Generale.
Frances Perraudin / The Guardian (London)
More than 1,000 people have been arrested at Extinction Rebellion climate protests in London, police have said, in what organisers described as the biggest civil disobedience event in recent British history.
Russia's Younger, Poorer, More Left Wing Movement
Ivan Ovsyannikov  / LeftEast (Bucharest)
Today's high-school students act without regard for adults, who are often conservative or have lost any hope for change. Teenagers not only attend protests, but often organize them, give speeches, and resist pressure from police and school administration. 
Nicaragua: Why Youth Oppose Ortega
Sarah Sklaw / NACLA Report (New York)
A year after Nicaragua's massive uprising broke out, youth activists recognize that beyond ousting President Daniel Ortega, their generation must find a new way of doing politics in the country.