Tidbits - May 23, 2019 - Reader Comments: Italy Unions Refuse to Load Saudi Ship; Venezuela Eyewitness Report; Strange Workings of Identity and Adolph Reed Jr.; Boeing Allowed to Decide What Planes Are Safe?; Announcements; more...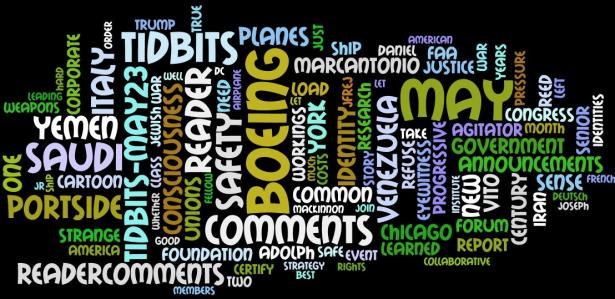 Tidbits - Reader Comments and Announcements - May 23, 2019,Portside
Announcements:
Italy Unions Refuse to Load Saudi Ship in Protest Over Yemen War
May 20, 2019
Reuters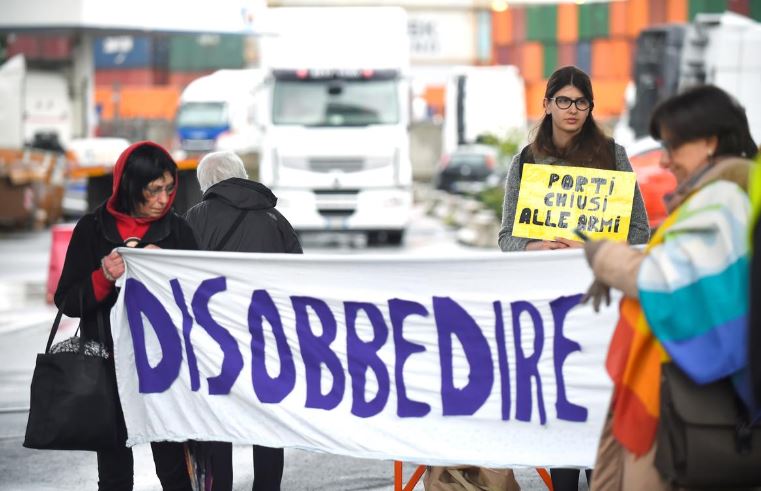 GENOA, Italy (Reuters) - Italian unions refused on Monday to load electricity generators onto a Saudi Arabian ship with weapons on board in a protest against the war in Yemen.
The Bahri-Yanbu vessel loaded arms in the Belgian city of Antwerp earlier this month, but was prevented from picking up another consignment of weapons in the French port of Le Havre following protests by humanitarian groups.
Rights campaigners say the weapons contravene a U.N. treaty because they might be used against civilians in Yemen, where a Saudi-led military coalition is battling the Iran-backed Houthis in a war that has killed thousands.
Unions in Genoa had tried to have the boat banned from Italy, but the ship docked just after dawn, met by a handful of protesters who gathered on the quay.
"No to war" read one of their banners.
Union workers refused to load two generators aboard the boat, saying that although they were registered for civilian use, they could be instead directed to the Yemen war effort.
"We will not be complicit in what is happening in Yemen," union leaders said in a statement. Port officials confirmed the generators were blocked on the quay, but said non-critical goods would be loaded.
The four-year conflict in Yemen has devastated the country, leaving much of the population on the brink of famine.
The vessel was expected to leave Genoa for Jeddah, in Saudi Arabia, later in the day.
Reporting by Paola Balsomini; Writing by Angelo Amante; Editing by Crispian Balmer and Andrew Cawthorne
Women and Lady Justice Assaulted  --  cartoon by Bruce Mackinnon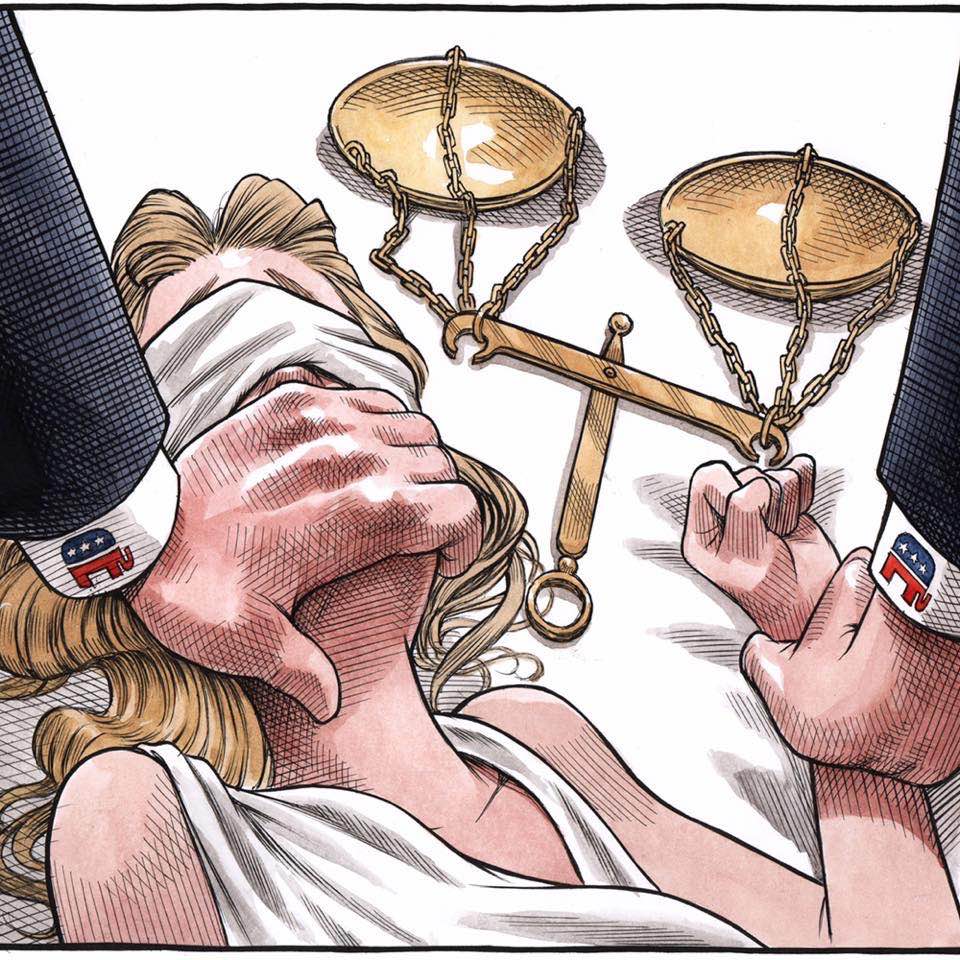 Bruce Mackinnon 
September 29, 2019
The Halifax Chronicle Herald/Canadian Press
The powerful political cartoon shows Lady Justice blindfolded and pinned down as her scales lie beside her, one hand covering her mouth - an explicit reference to how California professor Christine Blasey Ford described an alleged sexual assault by Kavanaugh when they were both in high school in 1982.
Re: Medical Madness: A Mother's Choice Between a Child's Care and Bankruptcy
 
People is the US are still without health insurance. And for good reason. Good insurance costs way too much. Bad insurance doesn't cover what people need. So we are, many of us, forced to make terrible choices. This story has been told before but rarely so well as Sarah Kliff does here. Thanks to Portside for the link. (As Portside posted it, the visuals didn't come through. Why not?)
Daniel Millstone
Posted on Portside's Facebook page
Re: Eyewitness Report: Venezuela Up Close
 
It been clear that the faux events reported as facts by the New York Times and other outlets have been reproductions of US State Department handouts. Steno journalism is a terrible idea. The report here, via Portside confirms what friends on the scene tell me.
Daniel
Posted on Portside's Facebook page
     =====
My friend Pat Fry, who I've known most of my life, was in Venezuela on May Day, and she has written about what she saw there. See the link below. Here is an antidote to the truth-that-is-not-one that the warmongers in both parties in and out of government, and that a wide range of liberal and conservative media outlets, are promoting. Pat and I both learned much of our craft as writers by spending years as labor reporters. Plus, she has a lot of other relevant experience. She knows a thing or two because she's seen a thing or two. And here, she offers, not just her opinion, but a record of what she has seen with her own eyes.
Nobody has to like (or dislike) the current governing administration of Venezuela in order to oppose our own government's plans to double-down on its longstanding assault on that country. We can simply oppose what our government is doing because what our government is doing is wrong. But at the very least, we should not take what our mass media and our leading politicians tell us is true to be true, just because they want us to believe what they tell us they believe. We need all the information we can get, and this essay is a stellar contribution to that cause.
Geoffrey Jacques
Posted on Portside's Facebook page
     =====
Best combination of eyewitness reporting and presentation of facts that I have seen. Should be circulated widely. It's a truly substantive contribution to the battle for global peace and justice.
Mark Solomon
Posted on Portside's Facebook page
Re: The Threat of War with Iran; Saudi Royal Family Urges U.S. 'Surgical Strikes' on Iran
 
Surgical strikes are needed in Riyadh
Earl Marty Price
Posted on Portside's Facebook page
     =====
Trump is desperate...this is another distraction and a dangerous one at that. This will cost lives. Trump needs to be impeached now.
Roberto Rosario
Posted on Portside's Facebook page
Why We Can't Have Nice Things  --  cartoon by Barry Deutsch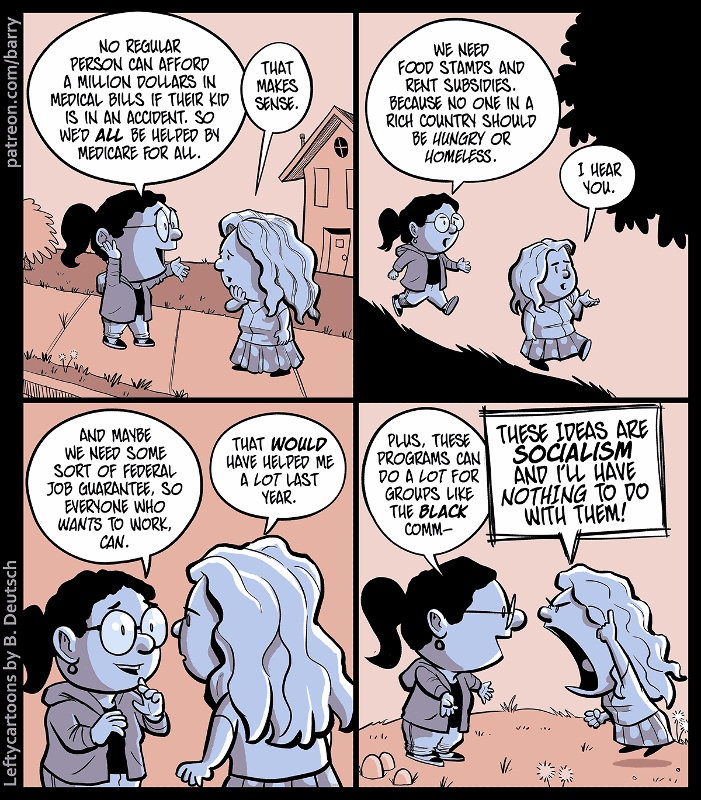 Barry Deutsch
May 6, 2019
Ampersand
In the Shadow of Liberty  --  poem by Seymour Joseph
 
Let the discontented rage.
Let them not be shunned or silenced.
Give them room to grieve where grievance
begs for hearing what slights they must endure
and wounds that fester and cry for cure.
Let us heed their shouts of indignation
to weigh the price we pay for privilege.
Injustice breeds disease at every station,
eats at virtue and feeds hypocrisy.
Might any claim democratic rights while some
are denied democracy -
they who languish in the shadow of liberty,
living on the scraps of opportunity?
There lies the measure of freedom,
not in oaths or the halls of government,
but who may prosper in this prosperous land
and who must suffer at whose hand.
Take pride if you will where pride is due,
at great accomplishment and worth.
But mark as well that slavery scarred this earth,
and inequity poisons it still.
Frail hopes and shattered dreams persist
like weeds on a verdant hill.
So let the discontented rage and lead blind justice
to their cause.
For whoever justice serves it serves the commonweal
and draws the nation closer
toward making `We the People' real.
Seymour Joseph
May 18, 2019
Re: The Strange Workings of Identity and Adolph Reed Jr.'s Thought
 
I think this question is addressed by starting from the fact that we all have identities, and more than one of them at once. Our consciousness is a hologram of conflicting and contending and sometimes mutually supporting identities, plus interests born of relations to production, values, religion and family and gender status and family histories. 'Identity' is not something that someone else has, while you has 'class consciousness' instead. Some of this conglomeration between our ears is the dead weight of the past weighing on the brains of the living, others aspects are progressive and help us towards a new consciousness in a new future social order.
I reject the term 'false consciousness' (Marx never used it) because it implies a 'true' one, which puts you on the slippery path to metaphysics and elitism. In tune with Hegel, WEB Dubois, Gramsci, and others, we all have a conflicted consciousness, albeit in different ways, so we do well to engage one another from that equal starting point, and seek common, progressive ground, helping each other in using our 'good sense' to overcome the old 'common sense,' (in Gramsci's meaning as in ideas 'widely held,' not simply as 'practical.' Belief in angels, for example, is widely held, and thus 'common sense' whether true or untrue. 'American is the greatest country on Earth' is also 'common sense' in this way.)
There is no singular path from 'common sense' consciousness to a revolutionary 'good sense' class consciousness. But if you are blind to your own identities (say, you think you are in the 'white race'), you'll have a very hard time of it. It's also rather common in our current electoral battles. Take Joe Biden. He's mainly running on American identity politics, one with a progressive twist. As he denounces Trump, he yells 'This is not who we are. This is not the America we know and love,' and he usually gets great support from those lines.
Of course, we need to assert more than a progressive identity. We want a core platform in tune with the interests of the working class and its allies. But we should not be so foolish as to think we have no need to deal with identities. We need to tease out what is progressive in them and defeat what is backward.
Carl Davidson
Posted on Portside's Facebook page
Why is Boeing allowed to decide whether its own planes are safe?
 
Tell Congress: The FAA shouldn't let Boeing certify its own planes
Petition to members of Congress:
Thanks to previous budget cuts and Congressional decisions, the FAA has been outsourcing airplane safety to big corporations such as Boeing. Public safety is more important than corporate profit. Beef up the FAA and stop letting airplane manufacturers certify their own planes.
Passengers around the world were shocked and then infuriated when they learned of the safety concerns surrounding Boeing's 737 Max airplane, after two of their planes recently crashed in Indonesia and Ethiopia.
After the plane was grounded, we've learned more about how this problem emerged. It turns out that for years, thanks to budget cuts and political pressure to let corporations "self-regulate," the Federal Aviation Administration has been delegating critical safety reviews to Boeing's own staff.
Unsurprisingly, those staff have come under pressure from company executives looking to cut costs -- and the results may have been devastating for passenger safety.[1]This is unacceptable.
Sign the petition and tell Congress:  
Break up the cozy relationship between Boeing and federal regulators. Corporate profits must never come before public safety!
According to the Seattle Times, "Many engineers, employed by Boeing while officially designated to be the FAA's eyes and ears, faced heavy pressure from Boeing managers to limit safety analysis and testing so the company could meet its schedule and keep down costs."[2]
This isn't just a story about ensuring your plane is safe. This is a story about corporate power and why independent government regulation is so important.
Companies like Boeing have spent huge sums of money on campaign donations and lobbyists in order to get Congress to relax critical oversight. Executives look at the costs of complying with these regulations and see lost profits -- even though the rest of us see those regulations as essential to protect our safety.
In recent decades, Republicans and Democrats have given into this corporate pressure, despite experts and workers warning of the dire consequences. Whether it's airline safety, bank regulation, protecting your rights online, and beyond, the federal agencies that were created to protect the public trust now wind up turning a blind eye to reckless corporate behavior. That's how we got a financial crisis and a recession -- among many other disasters. 
Demand Progress fights hard to push our elected officials and government agencies to do their jobs and take on corporate power. The FAA was created to oversee the airlines and make sure you are safe in the sky. They can't do that by outsourcing their responsibility to Boeing. It's time for Congress to step up.  
Add your name: Tell Congress to stop letting Boeing certify its own planes.
Sources:
1. Politico, "How the FAA delegated oversight to Boeing," March 21, 2019.
2. Seattle Times, "Engineers say Boeing pushed to limit safety testing in race to certify planes, including 737 MAX," May 5, 2019.
Book Presentation of *The Agitator* with author Peter Duffy - New York - May 29 (Vito Marcantonio Forum)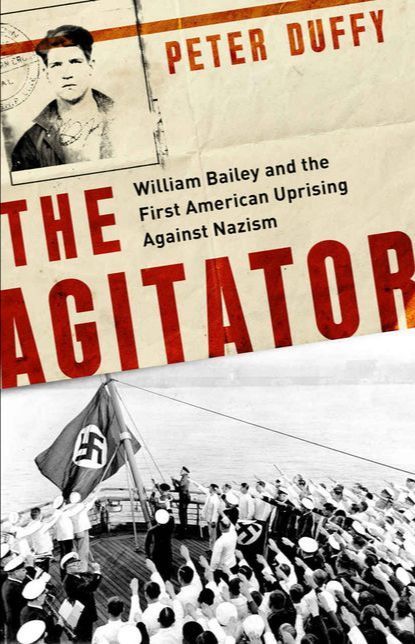 Join us for a Book Party with author Peter Duffy, for The Agitator: William Bailey and the First American Uprising Against Nazism.
Mulberry Street Public Library
10 Jersey St
New York, NY 10012
Wednesday., May 29th at 6-7:30PM.
The Vito Marcantonio Forum is proud to support a presentation for The Agitator, a biography of Bill Bailey, an Abraham Lincoln Brigade vet, who is best known for leading a group of young Communists in 1935 aboard the SS Bremen that was docked in New York Harbor, for the purpose of tearing-down the Nazi Flag.
Subsequently, Bailey and his comrades were arrested on a number of serious charges. Vito Marcantonio, who served as their defense attorney, succeeded in having all charges dismissed. 
This story of an anti-fascist's dramatic and remarkable victory against Nazism is an inspiration to anyone compelled to resist when signs of oppression are on the horizon.
The VMF encourages all of its members and supporters to join us at this free event, and if this is not possible, to purchase The Agitator from the author's website. 

Vito Marcantonio Forum
381 2nd Street -- Apt 4
Brooklyn, New York 11215
Winning Where We Are: Democratic Strategy & The Jewish Left in NYC - June 20 (Jews for Racial & Economic Justice)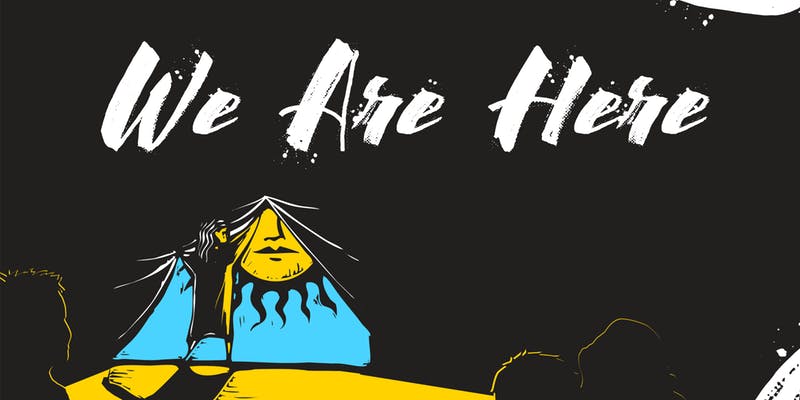 Thursday, June 20, 2019  --  6:00 PM - 9:00 PM EDT
NYC Conference Center at Cornell ILR
570 Lexington Avenue
#12th Floor
New York, NY 10022
Register here.
Join us as we kick off our six month JFREJ Membership Course of Study and Action with a forum and discussion with a few of our most brilliant and visionary leaders and allies. We'll be joined by:
Together, we will learn about and grapple with key strategic questions facing our movement and organization in this moment:
What has become possible and what can we do to build a winning Left Strategy here where we are, in New York City?

Two plus years into the Trump administration, what have we learned about ourselves--about effective resistance and transformative strategy? What have we learned about our opponents and what we're up against?
The event is fully wheelchair accessible. For access requests, including interpretation and childcare, please e-mail rachel@jfrej.org. More accessibility information coming soon.
We Are Here: JFREJ Membership Course of Study and Action
This event kicks off a six month process of study and action for JFREJ members, in partnership with our allies. Our goal is to take stock of the last few years and prepare for 2020 by building strategic alignment and clarity for our organization. We are partnering with the Brooklyn Institute for Social Research, who have created a curriculum, informed by secular and Jewish thought, to deepen our knowledge and analysis. The goal is to provide a shared vocabulary so we can better wrestle together with the big questions we are facing in our work, inside JFREJ and externally. The six month process will include a wide range of opportunities for participation: study and reading groups in September, a day-long Beit Midrash in October, a speaker series throughout the fall, and a membership assembly at the end of the Gregorian year. Stay tuned for the full calendar, and email rachel@jfrej.org if you have questions.
[We Are Here art by Rafael Shimunov]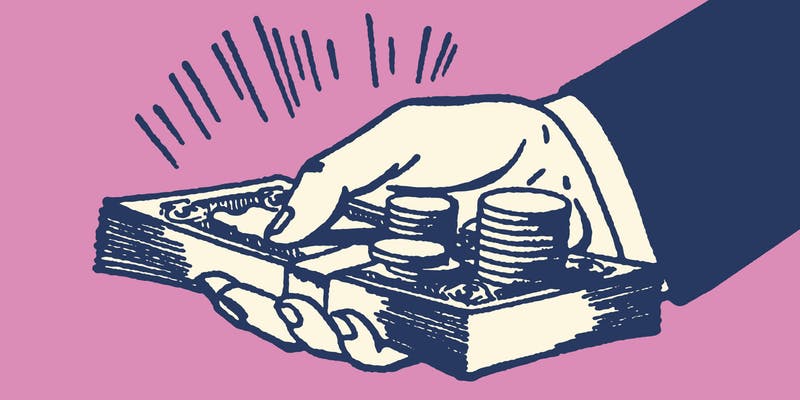 Wednesday, June 12, 2019
9:00 AM – 11:00 AM EDT
Spire Building
750 First Street Northeast
12th Floor
Washington, DC 20002
FREE - Register here.
Whoever the 2020 Democratic nominee for president ends up being, they will no doubt run on a platform of raising incomes and rebuilding the middle class. But what are the best ideas to achieve a high-wage America?
On Wednesday, June 12, leading experts will convene to take a hard look at the details, and debate some of the most promising policy paths: from expanding the Earned Income Tax Credit, to implementing a jobs guarantee and democratizing ownership.
The event is sponsored by The Century Foundation's Bernard L. Schwartz Rediscovering Government Initiative (RGI), with additional support provided by Cornell Research Academy for Development, Law, and Economics (CRADLE) and the Democracy Collaborative.
Featuring:
Keynote Address: U.S. Representative Ro Khanna @RepRoKhanna
D-CA, 17th District
Moderator: Angela Hanks @AngelaHanks
Deputy Executive Director, Groundwork Collaborative
Moderator: Dylan Matthews
Senior Correspondent, Vox.com
Joe Guinian @joecguinan
Vice President of Theory, Research, and Policy and Executive Director of The Next System Project, Democracy Collaborative
Robert Hockett @rch371
Edward Cornell Professor of Law, Cornell University
Jeff Madrick @JeffMadrick
Senior Fellow, The Century Foundation
Director, Bernard L. Schwartz Rediscovering Government Initiative
Sharon Parrott @CenterOnBudget
Senior Fellow and Senior Counselor, Center on Budget and Policy Priorities (CBPP)
Andrew Stettner @pelhamprog
Senior Fellow, The Century Foundation
Pavlina R. Tcherneva @ptcherneva
Associate professor of economics and director, economics program, Bard College Levy Economics Institute
To learn more about this event including speaker biographies, please visit our website.
The Century Foundation NYC
One Whitehall Street
15th Floor
New York, NY 10004
Phone: 212-452-7700
Fax: 212-535-7534
The Century Foundation DC 
2040 S Street NW
2nd Floor
Washington, DC 20009
Phone: 202-683-4800
Fax: 212-535-7534
Socialism2019 - Chicago - July 4 - 7 (Jacobin)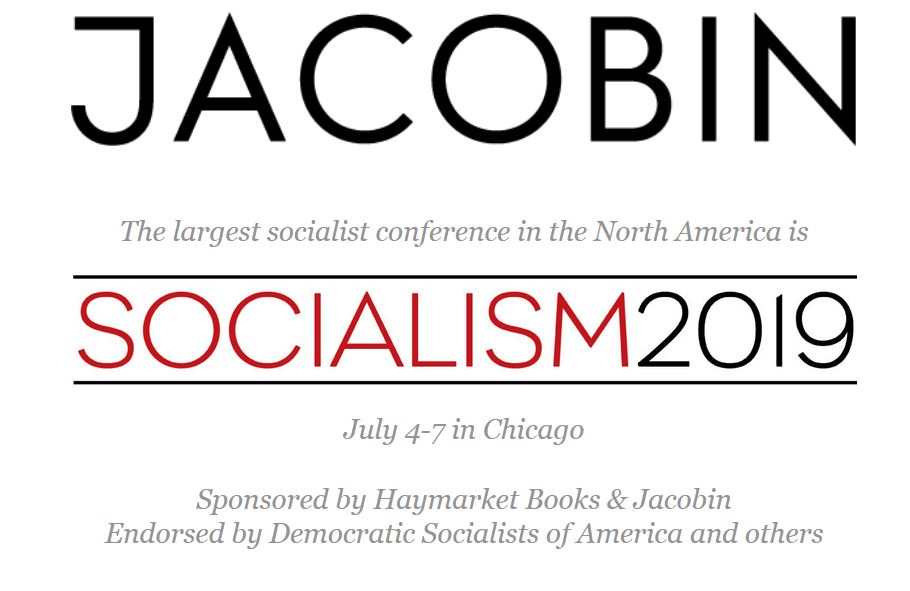 Welcome to Red Chicago
Welcome speakers will include Carlos Ramirez-Rosa, Rossana Rodriguez, and other elected socialists from Chicago; and Jesse Sharkey, president of the mighty Chicago Teachers Union.
Incredible speakers
Naomi Klein & Astra Taylor, Frances Fox Piven, Anand Gopal, Bhaskar Sunkara, Alex Press
Jenny Brown, Eric Blanc, Dave Zirin, Imani Perry, Dan Denvir, and more coming soon.
See our list of Featured Speakers
Hundreds of socialists
Join hundreds of other socialists, activists, and organizers at 100 events over four days.
Learn more - click here.