Solidarity with Cuba Collection: Travel to Cuba Has NOT Ended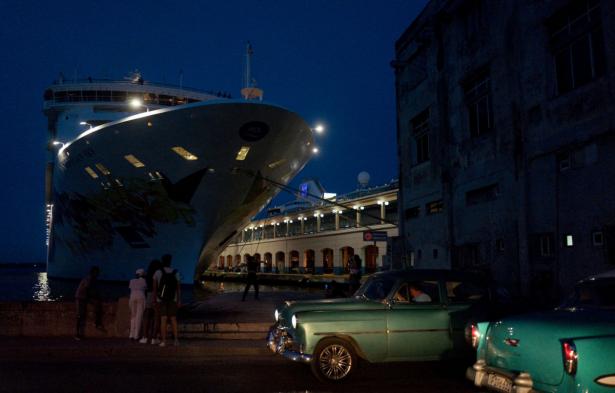 The Norwegian SKY cruise ship seen docked in Havana on June 4, 2019. Under new restrictions U.S. cruise ships can no longer travel to Cuba., Eliana Aponte/VIEWpress/Corbis via Getty Images
Despite his best (worst!) efforts, Donald Trump has not succeeded in ending travel to Cuba. What he has done is harmful, cruel, and "nasty," but he will never stop advocates from visiting Cuba.
On June 4, the administration announced that cruises from the United States were prohibited from sailing to Cuba starting on June 5. Also, the administration eliminated the category of group people-to-people travel, having already done away with individual people-to-people educational travel a year ago. Our friends at Cuba Educational Travel describe the new restrictions as:
An end to authorizing private aircraft and sea vessel travel to Cuba, not including air or sea cargo transport. This effectively ended cruise, yacht, and other sea travel to Cuba and most private flights.

An end to the people-to-people travel category under which the majority of U.S. travelers on cultural and educational trips visited the island.
(However, it's important to note that the end of the people-to-people travel category was accompanied by a grandfathering provision, which means that if the company or traveler had already started planning the trip before June 5th, it can go ahead as planned under the previous rules.)
Cruel? Yes. These measures hurt the average Cuban citizen, especially those who have started private businesses that heavily rely on tourism and educational travel. And they hurt the Cuban economy, thus making life more difficult for all Cubans. Will the measures provoke Cubans to overthrow their government? No. The embargo has failed for more than 55 years to effect regime change, and it won't succeed now.
But rest assured that you can still travel to Cuba. And you can do it legally.
Eleven of the previous 12 categories still exist for US travel to Cuba:
Support for the Cuban people

Public performances, clinics, workshops, athletic and other competitions, and exhibitions in Cuba

Religious activities in Cuba

Humanitarian projects in Cuba

Professional research and professional meetings in Cuba

Educational activities in Cuba for universities (including study abroad)

Journalistic activities in Cuba

Activities in Cuba by private foundations or research and educational institutes

Exportation, importation, or transmission of information technologies or materials

Certain authorized export transactions including agricultural and medical products, as well as tools, equipment, and construction supplies for private use

Official business of the U.S. government, foreign governments, and certain intergovernmental organizations
In addition, family visits to Cuba are unaffected by the new regulations.
Many organizations coordinating group travel to Cuba are adjusting their delegation itineraries to fit the "support for the Cuban people" category, moving lodging from hotels to "casas particulares" (private homes), and will continue providing legal travel experiences. We encourage you to check them out!
If you had plans to travel individually to Cuba, you can still do it. U.S. airlines are still conducting direct flights to Cuba. Call one of the travel agencies that specialize in Cuba travel and work with them to determine which of the eleven still-existing categories fit your needs and plans.
For example, the "support for the Cuban people" category can include:
Staying in a private home instead of a hotel.

Engaging with local businesses and independent entrepreneurs like artists, musicians, food vendors, filmmakers, private taxis, independent tour guides, etc.

Eating at privately-owned restaurants known as "paladares."

Visiting privately-owned museums.

Basically, just about anything that doesn't patronize any of the businesses on the State Department's

list of restricted entities

.
To fit into this category, you should engage in compliant activities for enough hours to fulfill a full-time schedule.
We won't be defeated by the backward-looking, unconstitutional, and vindictive new restrictions implemented by the Trump Administration. We hope you won't be either.
See you in Cuba!
Travel to Cuba Falls Victim to John Bolton's Wrath
Medea Benjamin
This article was produced by Local Peace Economy, a project of the Independent Media Institute.
John Bolton hates the governments of Venezuela, Cuba and Nicaragua, calling them the "troika of tyranny" and the "three stooges of socialism," and is determined to use his time as national security adviser to eliminate the vestiges of socialism in our hemisphere. He has openly stated that the 1823 Monroe Doctrine is "alive and well," conveying that the United States will dictate the terms of governance in the Western Hemisphere, by military force if necessary. Furious that he has been unable to successfully orchestrate a coup in Venezuela, Bolton is now lashing out at Cuba, explicitly punishing the nation for its support of Venezuelan President Nicolás Maduro. The travel restrictions announced on June 4 represent another page from Bolton's "regime change" playbook.
The new travel restrictions will severely limit the ability of Americans to travel to Cuba. The restrictions prohibit group educational trips to Cuba, known as "people-to-people" travel, as well as passenger vessels, recreational vessels, and private aircraft. These bans go to the heart of the Cuban economy, which has become increasingly dependent on tourism.
Despite the island's devastation from Hurricane Irma and increased restrictions from the Trump administration in 2017, Cuba had a record number of visitors in 2018—4.75 million, with the United States and Canada being the largest contributors. In just the first four months of 2019, over 250,000 U.S. visitors traveled to Cuba, an increase of 93 percent from the same months in 2018. Most visitors came from cruise ships, which are included under the new restrictions. Trump's move will impact an estimated 800,000 cruise passenger bookings, cutting the island out of millions of dollars a year in docking fees and payments for on-shore excursions. It comes at a time of severe economic weakness for Cuba, which is struggling to find enough cash to import basic food and other supplies following a drop in aid from Venezuela.
The Trump administration wants to punish the Cuban government, but the restrictions on "people-to-people" travel will be particularly harmful to Cuba's private entrepreneurs who have poured their lives' savings into restaurants and home-based lodgings catering to American travelers, and greatly benefited from Obama-era policies.
While John Bolton insists he wants to spread democracy abroad, his Cuba restrictions violate the freedom of the American people. The United States is the only country that restricts travel to Cuba. Canadians have always traveled freely to the island, as have people from Latin America, Europe and all over the globe. The U.S. also allows Americans to travel to the world's most repressive countries—from North Korea to Myanmar to Saudi Arabia—but unfairly singles out Cuba.
Restricting U.S.-Cuba ties also runs contrary to the will of the American people. Poll after poll shows that the majority of Americans support the normalization of U.S.-Cuba relations, as President Obama discovered when he began re-establishing relations with Cuba over the course of his first term. In 2014, Obama engaged in 18-month-long negotiations with Cuba to restore diplomatic ties. Both countries reopened their embassies, opening the door for normal diplomatic services for citizens of both nations. While Obama was not able to convince Congress to lift the embargo, he was able, by executive order, to ease trade and travel. By the time Obama left office, American travel to Cuba had tripled in size.
The new travel restrictions come on the heels of another Bolton-inspired attempt to strangle the Cuban economy, which is the implementation of Title III of the 1996 Helms-Burton act. This allows Cuban Americans to sue foreign companies in Cuba for property taken from them at the time of the revolution—60 years ago! It is a punitive measure designed to make foreign companies afraid of investing in Cuba, with Bolton stating that he "can't wait for all the lawsuits" that would be filed against companies doing business in Cuba.
The measure is particularly aimed at European and Canadian companies, which have investments in businesses ranging from tourism to mining to agriculture. "The extraterritorial application of the U.S. embargo is illegal and violates international law," said Alberto Navarro, the European Union ambassador to Cuba. "I personally consider it immoral. For 60 years the only thing that's resulted from the embargo is the suffering of the Cuban people." Navarro might have added that the embargo is also hypocritical, given that the U.S. government encourages investments in some of the world's most repressive regimes, such as Saudi Arabia, Egypt and Israel.
Treasury Secretary Steven Mnuchin justified the new measures against Cuba by alleging that "Cuba continues to play a destabilizing role in the Western Hemisphere, undermining the rule of law, and suppressing democratic processes." Yet the U.S. aligns itself with brutal Latin American governments from Honduras to Brazil, and denies refuge to Latin American immigrants fleeing horrific violence.
While the Trump administration claims that there are 20,000-25,000 Cuban security forces propping up the Venezuelan government, Cuban Foreign Minister Bruno Rodríguez Parrilla insists that there are no Cuban soldiers in Venezuela, "only medical staff in humanitarian mission." Cuba has a long-standing agreement with Venezuela to provide doctors and nurses in exchange for Venezuelan oil. This is part of Cuba's "army of white coats," as Cuban officials call them, who are currently working across 67 countries.
While the attacks on Cuba and the other members of the "troika of tyranny" are designed to stop the spread of socialism, they are also aimed at the 2020 elections. They pander to a tiny sector of the U.S. population—conservative Cubans, Venezuelans and Nicaraguans mainly in the Miami area—in a craven effort to solicit their votes in both congressional and presidential elections, where margins of victory can be razorblade thin. The Cuban people, and the rights of Americans, should not be held hostage to brazen partisan politics. And they certainly should not be held hostage to the imperial hubris of madman John Bolton.
Medea Benjamin is the author of Inside Iran: The History and Politics of the Islamic Republic and co-director of the peace group CODEPINK.
Trump's New Travel Restrictions Harm Both US and Cuban People
Truthout,  6/6/2019
https://truthout.org/articles/trumps-new-travel-restrictions-harm-both-…
Escalating his policy to economically strangle Cuba, Donald Trump has imposed new restrictions on travel to Cuba by U.S. persons. The Office of Foreign Assets Control (OFAC) will no longer allow the popular "people-to-people" educational travel and they will deny licenses to cruise ships, the most common way people visit Cuba.
"While this further escalation of the Trump administration's economic war on Cuba is very harmful to the people of Cuba and its private sector, it also directly impacts U.S. people," Art Heitzer, chairperson of the National Lawyers Guild Cuba Subcommittee, told Truthout. "It will limit their freedom to travel, disrupting the lives and jobs of many Cuban-Americans in south Florida."
Ironically, it is the voters in south Florida — many of them expatriated Cubans — whom Trump seeks to please with his shameful Cuba policy. Sen. Marco Rubio (R-Florida) has long been angling for regime change in Cuba. The New York Times called Rubio "a virtual secretary of state for Latin America." Early in his presidency, Trump told administration officials that his strategy on Cuba was to "Make Rubio happy."
In an unprecedented move last month, Trump, egged on by Rubio, decided to allow potentially thousands of lawsuits that will depress tourism and investment in Cuba.
When announcing the administration's new restrictions on travel to Cuba, Treasury Secretary Steven Mnuchin said, "This Administration has made a strategic decision to reverse the loosening of sanctions and other restrictions on the Cuban regime. These actions will help to keep U.S. dollars out of the hands of Cuban military, intelligence, and security services."
But it is the Cuban people who will suffer from restrictions on tourism, which is critical to Cuba's economy. This is an extension of the economic embargo the United States has maintained against Cuba since the Cuban Revolution. A secret State Department memo written in 1960 proposed making life so miserable for the Cuban people, they would overthrow the new Castro government. The memo advocated "a line of action which, while as adroit and inconspicuous as possible, makes the greatest inroads in denying money and supplies to Cuba, to decrease monetary and real wages, to bring about hunger, desperation and overthrow of government." The economic blockade continues to hurt the Cuban people although it has failed in its goal to overthrow the Cuban government.
Mnuchin also claimed, "Cuba continues to play a destabilizing role in the Western Hemisphere, providing a communist foothold in the region and propping up U.S. adversaries in places like Venezuela and Nicaragua by fomenting instability, undermining the rule of law, and suppressing democratic processes."
In fact, it is the U.S. government that is fomenting instability in Latin America. Team Trump is trying to illegally change Venezuela's regime. The U.S. government blames Cuba for their own failed attempts to overthrow the Nicolás Maduro government in Venezuela.
Trump threatened Cuba with "a full and complete" embargo if it didn't "immediately" stop supporting the Maduro government. But Cuban Foreign Minister Bruno Rodriguez stated at a news conference, "This is vulgar calumny. Cuba does not have troops nor military forces nor does it participate in military or security operations of the sister Republic of Venezuela." Rodriguez's denial was confirmed by the CIA, which concluded that Cuba's assistance is much less critical to Venezuela than U.S. officials had claimed, according to The New York Times.
Nevertheless, the Trump administration continues to escalate its economic warfare against Cuba. Now it has eliminated the people-to-people travel license, and prohibited cruise ships and private aircraft from traveling to Cuba, effective June 5, 2019.
New Rules End Person-to-Person Educational Travel License
Congress has established 12 categories of people who can lawfully travel to Cuba under a general license. They include the following:
Family visits;
Official business of the U.S. government, foreign governments, and certain intergovernmental organizations;
Journalistic activity;
Professional research and professional meetings;
Educational activities;
Religious activities;
Public performances, clinics, workshops, athletic and other competitions, and exhibitions;
Support for the Cuban people;
Humanitarian projects;
Activities of private foundations or research or educational institutes;
Exportation, importation, or transmission of information or information materials;
Certain authorized export transactions.
Only Congress can omit or add to any of these 12 categories. But different presidential administrations redefine what is permitted under each category. Trump's newly announced policy narrows the purview of one of these categories. Now "people-to-people" travel will not be licensed under the category of "educational activities."
General licenses had been allowed for travel that facilitated "people-to-people" contact between U.S. and Cuban people. The Treasury Department defines a "people-to-people" license as "an authorization, subject to conditions, for persons subject to U.S. jurisdiction to engage in certain educational exchanges in Cuba on an individual basis or under the auspices of an organization that is a person subject to U.S. jurisdiction and sponsors such exchanges to promote people-to-people contact."
Trump's new policy "kills the people-to people category, which is the most common way for the average American to travel to Cuba," according to Collin Laverty, head of Cuba Educational Travel, one of the biggest companies in the United States that handles travel to Cuba.
Passenger and Recreational Vessels and Private Aircraft Can't Travel to Cuba
Under the new rules, passenger and recreational vessels (including cruises ships, fishing boats, sailboats and yachts) and private and corporate aircraft will no longer be licensed to visit Cuba. Most people who travel to Cuba arrive on cruise ships.
From January to April of 2019, 142,000 Americans stopped in Cuba while on cruises, compared to 114,000 who traveled by airplane. The ban on cruises will be "devastating to the travel industry and the Cuban people," said Tom Popper, president of the travel company insightCuba. Cruise Lines International Association, a cruise industry group, estimates that the new prohibition will affect approximately 800,000 passenger bookings.
Private and corporate aircraft will not be permitted to travel from the U.S. to Cuba. But commercial flights will still be allowed.
The Trump regime has threatened more sanctions against Cuba. It is not clear whether they will impose additional travel restrictions.
Copyright © Truthout. May not be reprinted without permission.  Reprinted with permission.
Marjorie Cohn is professor emerita at Thomas Jefferson School of Law, former president of the National Lawyers Guild, deputy secretary general of the International Association of Democratic Lawyers and a member of the advisory board of Veterans for Peace. Her most recent book is Drones and Targeted Killing: Legal, Moral, and Geopolitical Issues.