labor
Pay Discrimination in Women's Sports Is a Labor Issue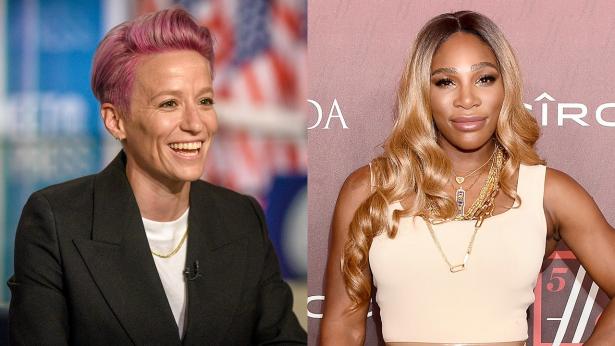 Getty Images // Teen Vogue,
The U.S. Women's National Soccer Team (USWNT) captured hearts worldwide this year for a few very good reasons, including, of course, their fourth straight Women's World Cup victory. There was also co-captain Megan Rapinoe's unapologetic, joyful rebuttal of President Trump's bigotry and bullying. And there was their unflinching demand to get paid what they deserve.
On the field, at victory celebrations, and in press interviews, members of the USWNT returned to a glaringly unfair point: They are pop culture juggernauts and elite professional athletes, and yet their compensation is still only a fraction of what the (much less successful) men's team earns — roughly two-thirds less, according to a lawsuit the team filed against U.S. Soccer earlier this year. This sort of gendered pay discrimination for professional athletes is hardly unusual. Women athletes at the highest levels of play, like tennis superstars Venus and Serena Williams, generally make much less money than their cis male counterparts.
Wimbledon only closed its pay gap in 2007, and the Williams sisters remain fierce advocates for equal pay, particularly for women of color. Professional National Football League cheerleaders, who are often unjustly left out of these discussions, have taken their fight for proper compensation and better working conditions to court, but many are still barely making minimum wage, if that, and sexual harassment remains a pervasive workplace issue.
While there are fewer nonbinary and trans professional athletes, those who play in designated women's leagues often experience the same pay discrimination as cis women athletes. For example, Harrison Browne, a trans man who was the first openly transgender athlete in a professional U.S. team sport, played on a National Women's Hockey League (NWHL) team until his retirement in 2017. In 2015, the year he joined the Buffalo Beauts, the highest-paid player on his team was Megan Bozek, who made just $22,500. The next year salaries were cut by 38%.
The fight to close the pay gap kicked into high gear in the 1970s. In 1972, the pivotal civil rights law Title IX came into effect; the law "protects people from discrimination based on sex in education programs or activities that receive Federal financial assistance," such as school sports teams (and all other aspects of education that receive federal funding). Title IX also required that girls and women be given equal opportunities to participate in sports. Up to that point, only a fraction of young women were involved in school athletics programs; the number exploded post-1972. Pay discrimination was launched further into the spotlight in 1973, when tennis legend and longtime advocate for equality Billie Jean King won the historic Battle of the Sexes match against Bobby Riggs.
But Title IX wasn't a cure-all. The subject of equal pay has factored into some of the biggest labor disputes in recent sports history, including the basketball court, hockey rink, and soccer field.
Professional athletes who are represented by labor unions, like the Women's National Basketball Players Association (WNBPA) or U.S. Women's National Soccer Team Players Association (USWNSTPA), regularly engage in contract negotiations with their employers. Those who are not unionized are represented by organizations like the National Women's Hockey League Players' Association (NWHLPA) or Commission for Equity in Women's Surfing (CEWS), which advocate for their members but do not engage in collective bargaining.
Players who are union members are able to use their collective bargaining agreements to address concerns and push for improvements in pay, benefits, and working conditions, like any other union member. There is also a long history of professional sports teams (mostly men's baseball and hockey) going on strike. It's important to remember that though the pay scale for professional athletes is often above what most people can fathom, they are still workers; they can have greedy bosses, workplace safety issues, and be mistreated or underpaid compared with their peers. And they owe a debt of solidarity to their fellow workers, something that certain men's teams seemed to have forgotten during last year's Marriott hotel workers strike.
But contract disputes are fundamentally different for female athletes, who face structural barriers to undoing the unfair pay system. It's no wonder some teams are taking action and channeling the spirit of labor militancy to get the job done.
Trailblazing trans athlete Browne's tenure with the Buffalo Beauts happened to coincide with a particularly contentious period for U.S. hockey. In 2017, the U.S. Women's National Hockey Team boycotted the International Ice Hockey Federation world championship because contract negotiations — in which pay equity was a major issue — had broken down. Thirteen days after the boycott was announced, the team got a deal, which included travel and insurance provisions commensurate with what the men's national team receives. Earlier this year, after the demise of the Canadian Women's Hockey League left North America with only one women's league, the U.S. National Women's Hockey League threatened to sit out an entire season if their demands over low wages and a lack of health insurance are not met. Less than a month later, they struck a deal, which the player's union hailed as a "breakthrough" on pay.
As these women athletes made clear, direct action gets the goods — and that notion appears to be spreading into other arenas. The WNBA has been embroiled in a labor dispute over salaries dwarfed by what their male peers rake in. As Dallas Wings center Elizabeth Cambage noted on Twitter in June 2018, "Today I learnt NBA refs make more than a WNBA player and the 12th man on a NBA team makes more than a WHOLE WNBA team." Cambage threatened to sit out the season in protest (she laster signed with the Las Vegas Aces), and rumors of a potential strike continue to swirl.
Back on the soccer field, the U.S. Women's National Soccer Team's lawsuit is just their latest attempt to rectify their own shocking salary situation (as SBNation notes, "The highest-paid men's national team player makes nearly $200,000 more than the highest-paid women's national team player"). When the players' bargaining committee, which included Rapinoe, sat down to negotiate a new contract, a grueling process that stretched over four months, the team encountered significant pushback from the federation. The hard-won result, a five-year collective bargaining agreement, gave the players a hefty raise in 2016, yet didn't level the playing field; men still made much more. That same year, five USWNT members filed a complaint with the Equal Opportunity Employment Commission.
In 2019, the team filed a federal lawsuit against U.S. Soccer that alleged "institutional gender discrimination." The federation fought back, arguing essentially that the women did not deserve equal pay because they performed "different work" than the male players. Given the team's sterling track record, this insinuation was laughable at best, and offensive at worst. The players don't seem worried, though; as they said in a press release, "We look forward to a trial next year after the World Cup." After this year's explosive Cup win, they've got a lot of new fans on their side.
When the USWNT was honored with a ticker-tape parade in New York City earlier this month, the streets rang out with the chant "Equal pay now!", and that refrain hasn't quieted since. On July 23, U.S. Reps. Doris Matsui of California and Rosa DeLauro of Connecticut introduced a bill to block federal funding for the 2026 men's World Cup until the USWNT receives "fair and equitable wages" compared with the men's team; a similar bill is already circulating in the Senate.
It will take a combination of worker power, union muscle, and legislative force to make equal pay a reality. However, if these athletes have made one thing clear, it's that quitting isn't an option — they're certainly not giving up.