Global Left Midweek - August 14, 2019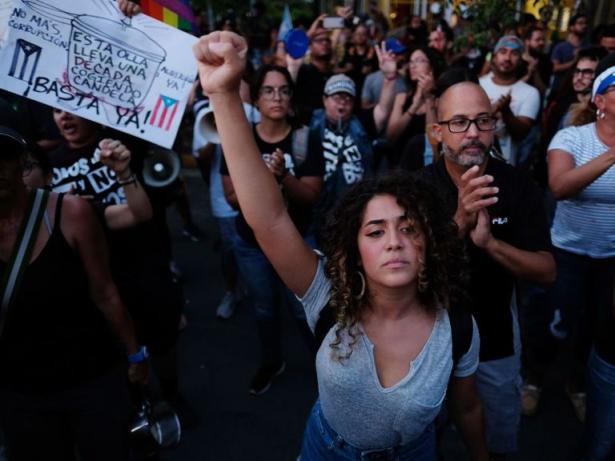 Protest in San Juan, July-29,RICARDO ARDUENGO / GETTY IMAGES
____________
Russia's New Resistance
Dmitry Kartsev / Meduza (Riga)

The Russian capital's government has done its best to ban the protests, and police have dispersed them as violently as ever, but that hasn't stopped thousands of people from taking part even when the marches aren't protected by a permit.
___________
International Repression: Enemies of the State?
More than three people were murdered each week in 2018, with countless more criminalised, for defending their land and our environment.
___________
Argentina: Primary Upset
Tanya Wadhwa / Peoples Dispatch (New Delhi)
Argentines have had enough of Macri's neoliberal and repressive policies and are ready for a more progressive government.
__________
India: Left Parties Protest Modi's Kashmir Incursion
Sumedha Pal / NewsClick (New Delhi)
A massive all-India call was given by the Communist Party of India (Marxist) (CPIM), Communist Party of India (CPI) and the Communist Party of India (Marxist–Leninist) Liberation (CPIML) along with affiliated organisations.
__________
Mexico's Fourth Transformation
Gerardo Otero / Progress in Political Economy (Sydney)
Andrés Manuel López Obrador (AMLO) and his National Regeneration Movement (MORENA) won the elections by a landslide. Significantly, both Congress and the cabinet have gender parity, a first for any Latin American country.
__________
Uganda: Unions Defending Disabled Workers
Ange Gusenga interviews Geofrey Musanje / Public Services International (Ferney-Voltaire, France)
There is significant work in some African countries, and notably in East Africa, where unions are continuously promoting employment for workers with disabilities, as well as legislative and union changes. At a regional level, this work is being used to build capacity and inspire unions in other countries and at an international level for demonstrating the relevance and possibility of trade union action in these contexts.
__________
Puerto Rico: Women Are Leading
Sandra Guzmán / Shondaland (New York)
Underneath the spectacular protests rocking Puerto Rico's government, forcing the resignation of Governor Ricardo Rosselló in July, is a women's movement that began in the days following the devastation of Hurricane Maria.
__________
The Left and Brexit: Two Views 
__________
Spain: Podemos On the Spot
Eoghan Gilmartin and Tommy Greene / Jacobin (New York)
Data theft, spying, fabricated documents. The Spanish state is trying to derail Podemos and its challenge to elites.