Dispatches From the Culture Wars - September 3, 2019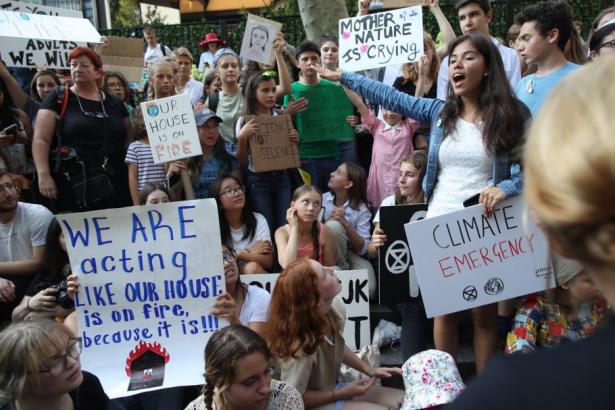 Swedish environmental activist Greta Thunberg, lower center, participates in a Youth Climate Strike outside the United Nations,Photo: Mary Altaffer—AP
Overture to Climate Strike: Greta at UN
By Rebecca Klein
August 30, 2019
Huffpost

Teen climate activist Greta Thunberg joined the rally in New York, a prelude a global youth-led strike to take place in September.
Pitiful Showing for Straight Pride
By John Hilliard, Sarah Wu, Brian MacQuarrie and Aimee Ortiz
August 31, 2019
Boston Globe
Outdone by numbers and noise from thousands of protesters, a few hundred marchers in a controversial Straight Pride Parade were jeered and heckled during a mile-long procession.
Everything We Know About the Drive-By Mass Shooting in Odessa
By Chas Danner
September 2, 2019
New York Magazine
Despite the fact that four of the ten worst mass shootings in American history have been committed in Texas, the state was hours away from enacting multiple new laws that would further reduce gun-control measures as the west Texas shooting was playing out. 
By Jon Swaine and Juweek Adolphe
August 28, 2019
The Guardian
Dozens of supporters of Donald Trump have carried out or threatened acts of violence. Here, the Guardian lists them all.
By John Garry
August 27, 2019
Humungus
How HBO's 'Euphoria' tackled a fear that many men have.
By Ingar Solty
August 2019
Rosa Luxemburg Stiftung
The far right is a friction of the multiple crisis of global financial market capitalism, but it has no solutions or answers to the cause of the problem. 
The Shame of the Border Crisis
By Luis Alberto Urrea 
August 2, 2019
Time
We have gone instantly from the land of "helicopter parents" to the land that chases parents with helicopters.