The Star of the Annual Muslim Convention was a Jewish Man from Brooklyn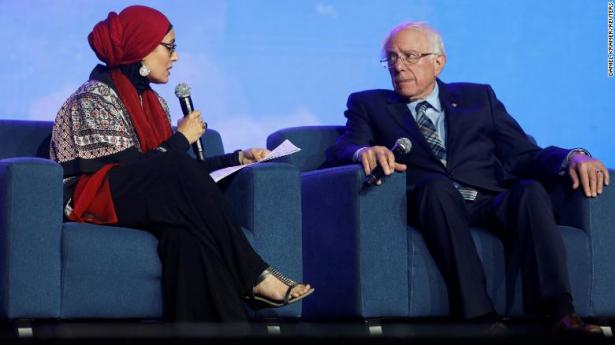 US Democratic presidential candidate Bernie Sanders with Debbie Almontaser, founding principal of Khalil Gibran International Academy at the Islamic Society of North America's Convention in Houston, Texas.,
This Labor Day weekend, thousands of Muslim Americans descended on Houston, Texas, for the annual three-day Islamic Society of North America (ISNA) convention. This year's ISNACON featured many well-known figures, such as Trevor Noah, who shared his story of growing up in South Africa and joked about the ups and downs of "The Daily Show."
Noah wasn't the only draw. Well-known Muslim Americans, including Democratic Rep. Rashida Tlaib and Women's March organizer Linda Sarsour, spoke to large crowds. The most popular person, however, was a 77-year-old Jewish man born and bred in Brooklyn. I'm speaking of 2020 presidential candidate Sen. Bernie Sanders, of course. While Noah, Tlaib and Sarsour attracted the attention of many, Sanders packed the venue that held nearly 7,000 -- receiving several standing ovations.
Fellow 2020 Democratic presidential candidate Julian Castro also spoke. This was part of ISNA's first ever presidential forum, as the Muslim community strives to engage in politics on all levels. Castro, a Catholic, received a great reception from the audience, especially when he declared, "Muslim Americans for generations have been part of the fabric of our American family. They have helped make America the great nation it is, and we need to fully embrace it."

But the night truly belonged to Sanders, or "Uncle Bernie," as many Muslims affectionately refer to the junior senator from Vermont. And the reason for that is simple: Sanders has worked hard to earn the support of the Muslim community. It began during the 2016 presidential primary when he was running against Hillary Clinton. Many in the Muslim community were wary of Clinton, given her support of the Iraq War. Sanders opposed the war -- a fact of which he reminded the audience on Saturday, earning him loud applause.
And, during the 2016 campaign, Sanders was very passionate in standing up for our community and opposing then-candidate Donald Trump's hateful lies about Muslims. For example, in December 2015, when Trump repeated the debunked tale that Muslims in New Jersey had cheered the 9/11 attack, Sanders slammed Trump as a "pathological liar."
Sanders also did something not often heard from mainstream politicians -- and that's speak of Palestinians as human beings. He told the audience at an April 2016 debate with Clinton that if we ever want to achieve peace in the Middle East, "we are going to have to treat the Palestinian people with respect and dignity."
It's no surprise that in the 2016 Michigan Democratic primary, a state that boasts a sizable Muslim population, the Muslim community came out in large numbers for Sanders and were credited with playing a role in his upset victory over Clinton.
And, since 2016, Sanders has also been outspoken on issues that have impacted the Muslim community, including Trump's travel ban, which Sanders slammed as "a racist and anti-Islamic attempt to divide us up." At Saturday's event, he renewed his commitment to rescind that measure if elected president. He also added, "We must speak out at hate crimes and violence targeted at the Muslim community and call it what it is: domestic terrorism," generating even more applause for the 2020 presidential candidate.
Sanders' enthusiastic embrace by the Muslim community serves as a visible contrast to Trump's vile attacks on Rep. Tlaib and Democratic Rep. Ilhan Omar, the two female Muslim members of Congress, whom the President recently accused of hating "all Jewish people" because they question some of the policies of the Israeli government. (Both Tlaib and Omar deny any accusations of anti-Semitism.) Numerous Muslims I spoke to at ISNA expressed the concern that Trump's true goal in attacking the two congresswomen is to divide Muslims and Jews. But the love shown to Sanders by this Muslim crowd was an inspiring rejection of Trump's efforts.
In my conversations over the past few days with a large swath of attendees at ISNA about who they were supporting in 2020, Sanders' name was continually, although not exclusively, cited. Many mentioned interest in Democratic Sen. Elizabeth Warren, with a few mentioning support for former Vice President Joe Biden. And all were greatly appreciative that Castro attended.
But there's no denying that on Saturday night, the audience belonged to a feisty Jewish politician from Brooklyn. He has made a concerted effort to meet with and listen to members of the Muslim community, and he has been at the forefront of advocating for our rights. Other 2020 candidates could benefit from taking a cue from him.
Dean Obeidallah, a former attorney, is the host of SiriusXM radio's daily program "The Dean Obeidallah Show" and a columnist for The Daily Beast. Follow him @DeanObeidallah. The opinions expressed in this commentary are his own. View more opinion articles on CNN.