Detained Immigrants Claim They Were Forced to Work Without Pay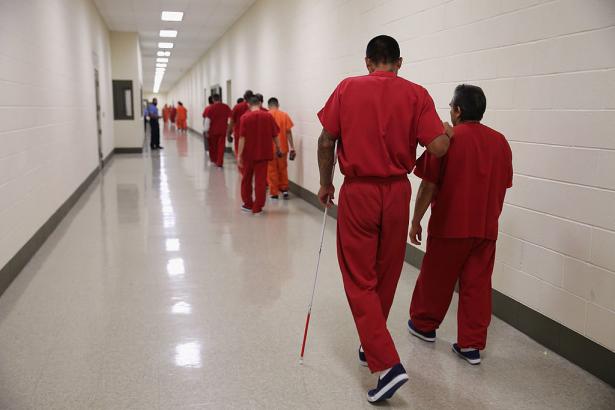 Immigrant detainees at the Adelanto facility.,John Moore/Getty Images
In 2017, Raul Novoa, who had been detained at the Adelanto Detention Center in the Mojave Desert near San Bernardino between 2012 and 2015, filed a class action suit alleging that he'd been forced to work for $1 a day at the facility, which is operated by the GEO Group, the nation's largest for-profit detention firm, whose 2018 revenues totaled $2.3 billion.
Now, Novoa's attorneys are seeking to amend his complaint with new allegations that, as a part of company policy, GEO forces immigrants in its custody to work for no compensation at all in at least 14 U.S. Immigration and Customs Enforcement detention centers under threat of serious harm. A victory for Novoa, or for the plaintiffs in any of eight other similar lawsuits against GEO and its slightly smaller competitor, CoreCivic, could have far-reaching consequences for the companies' profits — and for the Trump administration's immigration policies. The alleged threats include the use of pepper spray, solitary confinement and the reporting of misbehavior to ICE or immigration courts. This forced work is separate from the $1 a day work program over which Novoa sued.
ICE rules say that detainees can only be obligated to make their beds, straighten their papers and keep their floors and beds free of clutter, but plaintiffs' attorneys note that GEO believes its "Housing Unit Sanitation Policy" falls within the regulations.

In an August 16 court filing, the attorneys point to the case of Abdiaziz Karim, a Somali asylum seeker who is currently detained at GEO's 1,940-bed Adelanto facility. Karim said that about a year ago a GEO officer threatened him with solitary confinement for refusing to work cleaning windows, floors, showers and other areas for no pay. The same guard "tossed" Karim's cell, "throwing his belongings and papers in disarray," according to his complaint.
Novoa's lawyers say Karim was also forced to work six-hour shifts in the Adelanto kitchen for a month in exchange for a total of $1. Under ICE's Voluntary Work Program, detainees are paid about $1 a day, for which ICE reimburses GEO and other private firms that use detainee workers. ICE rules specify that detainees cannot be required to work, but Novoa's lawsuit says his labor was not voluntary and seeks back pay and damages for both $1 a day workers like Novoa and another class of perhaps hundreds of thousands of detainees who, like Karim, were compelled to work for free.
Novoa, who worked as a barber and janitor, was allegedly threatened with solitary confinement if he didn't work or encouraged others not to work or complained about his pay. His complaint contends that he was served "rotten meat, moldy bread and inedible produce," and got headaches from drinking the water at the detention center, which "sometimes ran black for days." Thus his need for a $1 daily wage to buy food, water and hygiene supplies that GEO failed to provide, despite its contractual obligation to do so, the complaint says.
GEO faces three other lawsuits similar to Novoa's, while five are pending against CoreCivic.  In all of the cases so far, detainees allege they do virtually all the manual labor required to operate their own lock-ups.
All of the five lawsuits in which judges have ruled on motions to dismiss have survived the dismissal motions, and in the oldest case, filed in 2014, a Colorado judge ruled that the case could move forward as a class action on behalf of some 60,000 former detainees
"For these class action lawsuits against GEO and CoreCivic to have gone this far, it's pretty obvious the firms made some big mistakes and might now have to pay for them," wrote Jacqueline Stevens, a Northwestern University political science professor in her States Without Nations blog. Stevens directs the university's Deportation Research Clinic and has researched and written extensively on detainee labor.
*   *   *
"This litigation is an attempt to cripple ICE, which has relied on contract facilities for decades under both Democratic and Republican administrations," a spokesperson for GEO wrote in a statement to Capital & Main.
Indeed, ICE is dependent on for-profit prison firms – especially GEO and CoreCivic — to operate the U.S. immigrant-detention system. A record number of 55,000 men and women currently live in ICE detention. Together, GEO and CoreCivic hold close to half of them in their facilities, and provide transportation for detainees and office space for ICE officials. Without their detention beds and the infrastructure these companies provide, the Trump administration's current detention and deportation push would come to a screeching halt.
ICE is also worried about the lawsuits. In internal ICE correspondence obtained through a Freedom of Information Act request made by Jacqueline Stevens, a deputy chief in ICE's Office of Principal Legal Advisor wrote last August, "ICE has significant concerns about the potential impact on ICE equities if adverse decisions are entered in these cases."
A former senior ICE official who asked not to be named said that GEO and CoreCivic would likely be unwilling to bear their own legal costs, much less back pay and damage awards. Thus the recent requests that the companies have made for more government funds could eventually reach Congress, whose appropriations committees have in the past mostly acquiesced to ICE requests.
Now, however, the mood on Capitol Hill may have shifted somewhat. Presidential candidate and Senator Elizabeth Warren (D-MA) has asked the Department of Homeland Security inspector general to investigate allegations that the ICE work program is voluntary in name only. And Congressmen Elijah Cummings (D-MD), who chairs the House Committee on Oversight and Reform, and Jamie Raskin (D-MD), chair of the oversight committee's subcommittee on Civil Rights and Civil Liberties, have begun an investigation of the Trump administration's increasing use of for-profit contractors for immigration detention.
* * *
GEO and CoreCivic also depend on ICE, and free detainee labor has contributed handsomely to both companies' bottom lines. Capital & Main estimates GEO would have saved about $47 million dollars —as much as the company earned in profits in the second quarter of this year —by using detainee workers and not hiring paid employees
The estimate is a conservative one and is based, among other factors, on information GEO provided in court documents about detainee hours worked at its Northwest and Aurora detention centers. It also relies on Freedom of Information Act data obtained by Jacqueline Stevens.
Top GEO executives had demanded more than a year ago that the government intervene in the lawsuits, and pay its legal costs, which its chairman and CEO, George Zoley, put at as much as $20 million in a May 2018 letter to ICE's then-acting assistant director, Peter Edge.
"We urgently implore DOJ [Department of Justice] to take over the defense of these lawsuits and reimburse GEO for its costs," Zoley pleaded.
"GEO cannot bear the costs of this defense on its own," wrote GEO senior vice president David Venturella to then-ICE Director Thomas Homan in a February 2018 letter. Venturella, a former senior ICE official, immediately requested that ICE pay $2.5 million the company had incurred in legal costs. "The federal government needs to defend its Congressional mandates and its policies against these suits, which are designed to force changes in federal immigration policy by targeting the federal government's private contractors."
Last week, the U.S. Department of Justice weighed in on GEO's side in one of the lawsuits—filed by Washington State Attorney General Bob Ferguson. In a statement of interest, the department calls the AG's demand that GEO pay detainees the state minimum wage "an aggressive and legally unjustified effort by the state of Washington to interfere with federal immigration enforcement."
U.S. District Judge Robert J.Bryan had ruled against GEO when it claimed it was simply carrying out government orders in paying detainees $1 a day, and that federal law preempted state law, but has now agreed to reconsider his previous decision at a September 12 hearing.
* * *
ICE's media office did not respond to emailed questions about the work program or whether it has reimbursed GEO for legal fees. A Democratic congressional staffer said a recent notification by the Department of Homeland Security stating its intention to transfer funds to ICE from other agencies to cover ICE's cost overruns didn't include requests for legal fee reimbursements to private companies.
GEO has contended that the plaintiffs have pursued the wrong defendants, that ICE is actually the party responsible for the dollar-a-day work program.
"This is not and has never been a program implemented unilaterally by service providers like GEO, and the wage rates associated with this federal government program are stipulated under long-established guidelines set by the United States Congress," a GEO spokesperson wrote to Capital & Main. He didn't respond to a request for comment on the new allegations of off-the-books forced labor.
But now plaintiffs' attorneys who seek to expand their claim to include Abdiaziz Karim and other allegedly unpaid GEO detainee workers nationwide say evidence shows GEO forces detainees to work without pay as a matter of corporate policy. GEO senior vice-president Venturella and Adelanto warden James Janecka testified in June 2019 depositions that the company requires immigrant detainees to wash walls, clean bathrooms, furniture, windows and floors in their housing areas without paying them for their labor, the attorneys say in their complaint. As in the case of Karim, detainees who refuse to clean the facility face serious harm, the attorneys allege.
The new allegations could complicate the company's request for reimbursement from the government – blowing a potential hole in its argument that it is being sued for simply complying with its ICE contracts.
Meanwhile, U.S. District Judge Jesus Bernal will rule on whether he will allow plaintiffs' attorneys in Adelanto to amend their complaint to add the new forced-work allegations and a new class of perhaps hundreds of thousands of current and former detainees seeking back pay and damages. The move would raise the stakes considerably for both sides in the battle over detainee labor.
Robin Urevich is a journalist and radio reporter whose work has appeared on NPR, Marketplace, the San Francisco Chronicle and the Las Vegas Sun.
Copyright Capital & Main  Reprinted with permission.