labor
Hundreds of Amazon employees plan to walk out of work in protest of Amazon's environmental policies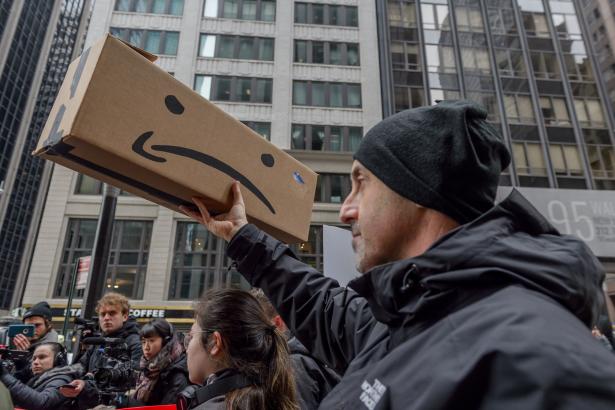 Amazon employees are planning to walk out in support of a global strike against climate change on September 20.,Erik McGregor/Pacific Press/LightRocket via Getty Images
Amazon employees are planning to walk out in support of a global strike against climate change later this month. The strike is part of a larger youth-led day of action in over 150 countries to pressure governments and corporations to address what participants call a growing climate crisis.
The organizing by Amazon's corporate employees marks the first time tech workers at the e-commerce giant have planned a mass protest, in a significant escalation of worker activism at the company. In recent years, tech's rank-and-file have pushed back against their employers' controversial projects with the military, immigration agencies, and foreign governments. And in November, 20,000 Google employees walked out of work, demanding the company stop sexual harassment and discrimination in the workplace. Now, it seems to be Amazon's turn to face public criticism from its employees, who are demanding the company reduce its carbon footprint and stop supporting politicians who deny the existence of climate change. 
"Playing a significant role in helping to reduce the sources of human-induced climate change is an important commitment for Amazon. We have dedicated sustainability teams who have been working for years on initiatives to reduce our environmental impact," reads a statement from an Amazon spokesperson in part, which pointed to Amazon's existing initiative to reduce shipment emissions. The company also said it plans to share Amazon's carbon footprint later this year.

Employees organizing with the group Amazon Employees for Climate Justice began circulating an email last week to colleagues, encouraging them to join the walkout, which is planned for September 20, and asking them to sign a form pledging their support. So far, the group says 941 employees plan to join the protest.
"We need bold, immediate climate action," reads an informational letter sent by Amazon Employees for Climate Justice to a group of employees, "As a large, global company, we must demonstrate real climate leadership."
Organizers' stated goals are for the company to have zero carbon emissions by 2030, stop custom AWS cloud computing contracts with fossil fuel companies, and stop funding "climate-denying" lobbyists and politicians. 
The letter states that Amazon funded 68 members of Congress last year who voted against climate legislation 100% of the time. 
In recent years, Amazon's employees have pressured the company to become more environmentally friendly. In February, Amazon announced its Shipment Zero program to make 50 percent of all shipments net-zero by 2030. But its employees have continued to press the company to do better on reducing its carbon footprint and greenhouse gas emissions. A group of employees submitted a shareholder proposal that tasked Jeff Bezos with creating a comprehensive climate-change plan for the company. The proposal was voted down at the Amazon shareholder meeting in May but won significant support with around 30 percent of shareholder votes in favor, excluding abstentions. As of September, over 8,000 employees signed a public petition supporting the proposal and asking the company for bold climate change leadership. 
Organizers also sent a link to a YouTube video that features Amazon employees sharing their reasons for participating in the protest.
"[I'm walking out] because Amazon does not demonstrate the same leadership on climate change that I'm expected to demonstrate every day on the job." said one employee in the video.
"I know Amazon is capable of quick and bold action, and I believe the world needs Amazon to take big steps to avert the climate crisis." said another.