Trump Signs Executive Order Giving Him Control of Weather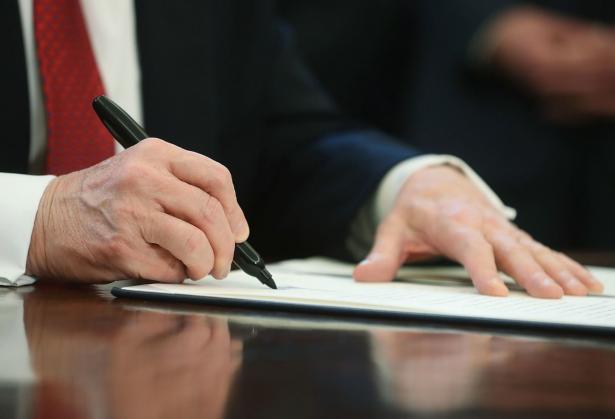 , Mark Wilson / Getty
WASHINGTON (The Borowitz Report)—In what some congressional Democrats are calling a flagrant example of Presidential overreach, Donald Trump on Tuesday signed an executive order giving him total control of the weather.
Under the terms of the order, Trump would assume the unilateral power to create all meteorological conditions, including but not limited to hurricanes, tornadoes, tsunamis, hail, sleet, and wintry mix.
After signing the order, a beaming Trump pronounced "total victory" over the weather, which he called "the enemy of the people."
"I have been treated very unfairly by the weather," Trump said. "The weather is a horrible person."
On Fox News, Sean Hannity praised Trump's decision to seize control of the weather and compared it favorably to former President Barack Obama's weather policy, which he called "a trainwreck."
"Obama just let the weather run wild," Hannity said.
Although Trump's executive order is certain to face legal challenges, White House sources indicated that the President was ready to press forward with an additional order giving him dominion over all living things, the planets, and the stars.
Andy Borowitz is a Times best-selling author and a comedian who has written for The New Yorker since 1998. In 2001, he created The Borowitz Report, a satirical news column that has millions of readers around the world, for which he won the first-ever National Press Club award for humor. The Borowitz Report was acquired by The New Yorker in 2012. His two most recent books were both best-sellers: "The 50 Funniest American Writers," which became the first title in the history of the Library of America to make the Times best-seller list; and a memoir, "An Unexpected Twist," a No. 1 best-seller, which Amazon named the Best Kindle Single of 2012. As a comedian, he has performed sold-out shows around the world and has made numerous television and radio appearances, including on National Public Radio, VH1, and Comedy Central. His solo comedy show, "Make America Not Embarrassing Again," began touring the U.S. in 2018, and he is featured in the new PBS prime-time series "Retro Report," which débuts in 2019. He has been called a "Swiftian satirist" (the Wall Street Journal), "America's satire king" (the Daily Beast), "one of the country's finest satirists" (the Times), and "one of the funniest people in America" (CBS News' "Sunday Morning").