Dispatches From the Culture Wars - September 17, 2019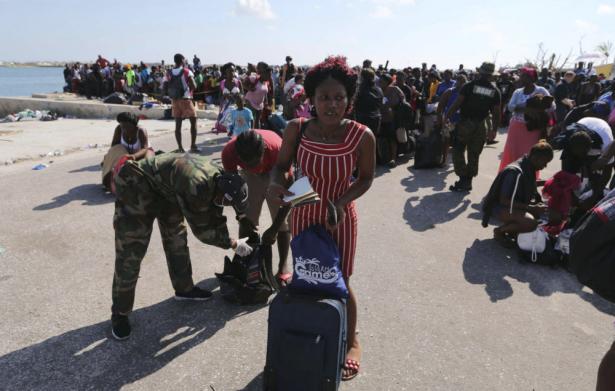 A Bahamas Army officer registers the people prior boarding a ferry to Nassau at the Port in Marsh Harbor, Abaco Island, Bahamas,Photo: Fernando Llano/AP
More than 1,600 Polling Places Closed

By Julia Conley
September 10. 2019
Common Dreams
The Leadership Conference Education Fund's study, "Democracy Diverted," revealed that nearly 1,200 of the polling places were closed between the 2014 and 2018 midterm elections.
By Greg Palast
September 15, 2019
Truthout
North Carolina targeted half a million voters (561,693) based on the measurably racist and absurdly wrong Crosscheck list. The vote scam showed that well over 100,000 voters were wrongly purged for supposedly being registered or voting in two states.
Austin Voted to Fund Abortion Access
By Carter Sherman
September 11, 2019
Vice
In a red state long hostile to abortion rights, this is believed to be a first-of-its-kind program for any U.S. city.
The Problem with Canceling the Arnautoff Murals
By Michele H. Bogart
September 16, 2019
New York Review of Books
Adopting the hashtag #paintitdown, anti-mural groups insisted that the Board of Education accommodate its desire for a safe space by destroying them. The events set off a furor, still in progress, pitting concerns about history, censorship, and education against demands for respect, social justice, and redress. 
By Andrew Cockburn
October 2019
Harper's
In big cities across the country, traditionally punitive prosecutors' offices are being taken over by enlightened newcomers.  These electoral results have been fueled, to a considerable extent, by the fury directed at police shootings, and the newly elected prosecutors have pledged to make their offices accountable to the communities they serve.
After Dorian, a Glimpse of Ecofascism
By Miles Howard
September 10, 2019
WBUR
As I watch the video of those distraught Bahamian ferry passengers being told they're suddenly not welcome here in the U.S., I see glimpses of a once-dormant but now resurgent movement that's best described as ecofascism.
Immigrant Camps: Nazism on Display
By Chauncey DeVega
September 12, 2019
Salon
Trump's supporters are attracted to his cruelty because of their cult-like relationship with him — a relationship that represents a dire threat to the safety of our country and the future of our democracy.
Sotomayor: SCOTUS is Doing "Extraordinary" Favors for Trump
By Ian Millhiser  
September 12, 2019
Vox
The Trump administration thinks the court is its personal fixer. The court isn't doing much to disabuse it of this idea.