labor
With Go Ahead from the Office of Personnel Management, Agencies Press Forward With Efforts to Cripple Federal Unions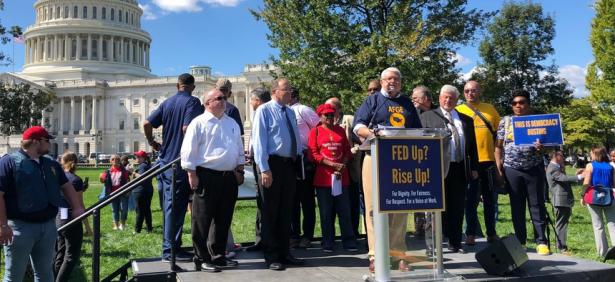 "Any attempts by agencies to enforce these provisions outside of the collective bargaining process will be met with immediate legal challenge by the union," warned J. David Cox, AFGE's president. Cox, above, speaks at a union rally in late September. ,AFGE
The Trump administration has directed agencies to begin implementing the president's executive orders targeting federal employee unions and their disciplinary processes, with some departments already moving forward with threats to evict the labor groups from their government offices. 
The memorandum from Office of Personnel Management Director Dale Cabaniss came days after a court injunction blocking implementation of Trump's orders expired following a prolonged legal battle that is still ongoing. While employee unions are vowing to continue their fight against the orders, agencies are taking steps to strip the groups of their previously enjoyed rights and perks. 
The three executive orders will shorten the length of performance improvement plans to 30 days, exempt adverse personnel actions from grievance proceedings, streamline collective bargaining negotiations and significantly reduce the number of work hours union members can spend on official time. A federal appeals court last month vacated a previous ruling that struck down many elements of the orders, concluding the unions must take their fight to the Federal Labor Relations Authority. 

In her Oct. 4 memo, Cabaniss said OPM's guidance that briefly implemented the orders last year is now back in effect. That guidance instructed agencies to renegotiate collective bargaining agreements at the "earliest date permitted by law" and to consult with their legal offices about putting in place provisions of the orders that conflict with existing contracts. Cabaniss said further guidance is forthcoming, but in the meantime agencies "should immediately review the EOs to ensure that they are fully compliant with all requirements or are taking steps to become compliant with requirements at the soonest feasible opportunity." 
The Veterans Affairs Department on Friday notified the American Federation of Government Employees it would begin rescinding government space and other resources from the union "in most circumstances." In addition to office space and equipment, the revocations will include parking spaces, IT services and eliminating "department reimbursement of expenses for employees performing non-agency business" unless required by law. 
VA said it would bargain with AFGE over the changes if the union makes such a request. A department spokeswoman declined to elaborate on the specifics of the reforms it will implement, saying only that VA will comply with OPM's guidance and its collective bargaining agreements. In a statement, the department said implementing the orders could lead to the repurposing of hundreds of thousands of square feet of office space and spending the $49 million it paid employees on "official time" to other uses such as suicide prevention. 
"These executive orders will help VA continue to improve by ensuring our employees and resources are focused squarely on serving veterans," said VA Secretary Robert Wilkie. The secretary has repeatedly butted heads with AFGE, and earlier this year proposed a new contract that would limit telework, official time and child care programs. 
AFGE emphasized that its contract remains in force until the conclusion of term bargaining, so it does not expect any eviction notices or other immediate changes while its contract remains active. In OPM's 2018 guidance, however, then-Director Jeff Pon directed agencies to implement the provisions of Trump's orders immediately upon the expiration of a contract, even if negotiations are still ongoing. 
"Any attempts by agencies to enforce these provisions outside of the collective bargaining process will be met with immediate legal challenge by the union," warned J. David Cox, AFGE's president. "We remain concerned that the administration's intent is not to improve service delivery to our nation's veterans or taxpayers, but rather to remove unions from the worksite and make it harder for our members to report mismanagement or other abuses that affect veterans' care." 
Michael Abboud, a spokesman for the Environmental Protection Agency, said the agency will implement the provisions of the executive orders but wait until the next round of contract talks to do so. Earlier this year, EPA unilaterally implemented a new contract for its AFGE-represented employees after accusing the union of dragging its feet on negotiations. The contract severely limited telework, evicted union representatives from agency office space and restricted employees from filing a grievance over disciplinary actions, among other changes.
"The agency is currently in negotiations with its unions at various stages of the bargaining process and will incorporate these recent developments as bargaining progresses," Abboud said. "The EPA remains committed to good faith negotiations with all of its unions."
A spokesperson for the Health and Human Services Department, which is currently in the throes of a legal battle with the National Treasury Employees Union, declined to spell out how the implementation of the executive orders will impact its negotiations. 
"HHS is working with employees and their union representation to improve the operations of the department with the aim of making the federal government a better place to work and better able to deliver the services to the American people," the spokesperson said. 
Tony Reardon, NTEU's president, called the implementation of Trump's orders a "sad day for employees who serve this country." He added federal workers are committed to doing their jobs regardless of what actions their agencies take as they institute the administration's desired reforms. 
"NTEU and other federal sector unions will continue to fight these illegal executive orders through whatever means available," Reardon said. "In the meantime, it is important to point out that federal employees remain committed to their jobs, their agencies and their fellow taxpayers. Even as the administration disparages them and their contributions to our country, federal employees are carrying out their duties with professionalism and they are to be commended."
Erich Wagner contributed to this report.