Global Left Midweek - The New October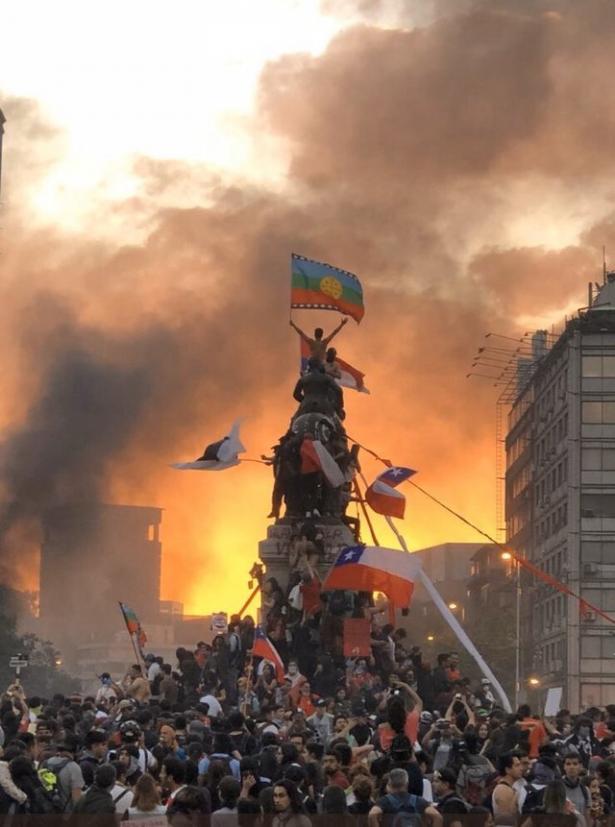 Protesters hoist the Mapuche flag in Santiago de Chile, Photo: Susana Hidalgo (su_hidalgo on Instagram)
__________
Worldwide Protest
Silvia Swinden / Pressenza (International)

We are witnessing a moment of widespread social mobilisation in many cities around the world. It all becomes a deep clamour: this system has to change.
__________
Haiti Video: Insurrection Now
Peoples Dispatch (New Delhi)
Since early September, Haiti has been experiencing a complete people's uprising against the government of Jovenel Moïse. We spoke to Chavannes Jean Baptiste, a founding member of the Peasant Movement of Papaye and key leftist leader in Haiti.
__________
Chile October 2019: Historic Moment
From "Happy Face" to "Joker"  Lili Loofbourow / Slate (New York)
Frente Amplio  Andrew Richner and Abigail Gutmann-Gonzalez / Jacobin (New York)
__________
Left Electoral Victories in Latin America
Argentina  Natalie Alcoba / Al Jazeera (Doha, Qatar)
Bolivia  Greg Wilpert / The Real News (Baltimore)
Colombia  Will Freeman / NACLA Report (New York)
Uruguay  Luisa Leme / Americas Society (New York)
__________
Revolution and Counterrevolution in Rojava
Fouâd Oveisy / Socialist Project (Toronto)
Retrograde critiques bash Rojava's cooperation with the US in Syria but do this without offering workable alternatives against the threat of Turkey and ISIS. Their 'radical' critique always entailed a choice for Rojava's people between dying and dying.
__________
Turkey: PKK's Fatalities
Berkay Mandıracı / International Crisis Group (Brussels)
Turkey's ruling party sees recent battlefield and electoral gains as vindicating its hardline policies toward the PKK. But these same policies fuel the Kurdish grievances that keep the fighting going.
__________
Resistance in Tunisia
Mounir Mrad / Rosa Luxemburg Stiftung North Africa Office (Tunis)
Interview with Tunisian political thinker and activist Maher Hanin, who supports the hypothesis that a society of resistance in Tunisia is breaking with traditional politics of the left. 
__________
Lebanon: Women in the Vanguard
Finbar Anderson and Abbie Cheeseman / Middle East Eye (London)
The women's frontline has braved security forces and the violence of Hezbollah supporters to keep demonstrations as peaceful as possible. (NOTE: Prime Minister Saad Hariri announced on Tuesday he was resigning following two weeks of demonstrations against his government and widespread corruption in the country.)
__________
Iraq in the Streets
Omar Sirri / Jadaliyya (Beirut)
Mass demonstrations have taken over cities and towns across central and southern Iraq. Protesters are calling for an end to the political system established in 2003.
__________
Cuba Must Be Defended
Yassel A. Padrón Kunakbaeva / La Joven Cuba (Matanzas)
We cannot strike the Cuban government as if it were an immense bronze bell. In reality, it's a bell made of glass, and if we break it, we might just be left unprotected forever.