labor
New Forms of Worker Organization to Free Democracy From Corporate Clutches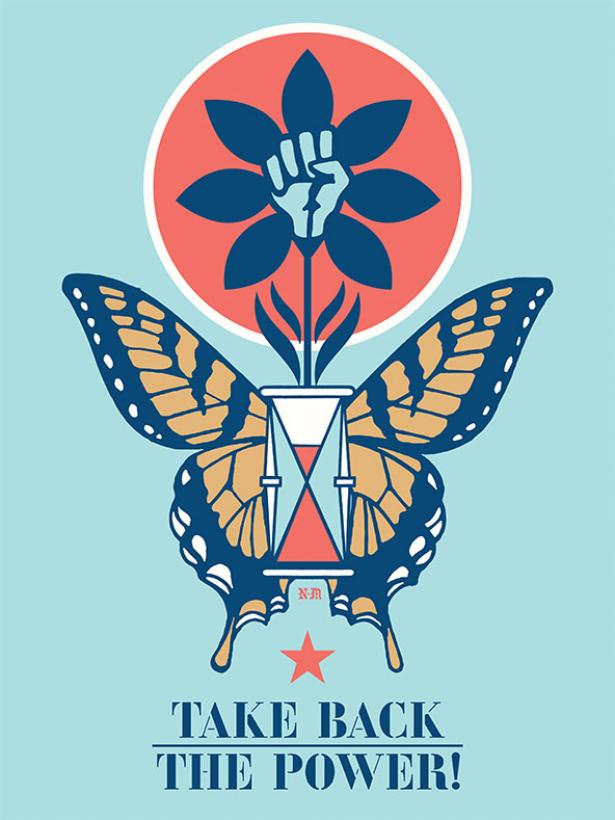 Art by Never Made.
Healthy, inclusive democracies and economies need working people to thrive. In the United States, 80 percent of working people currently live paycheck to paycheck. Full-time jobs with benefits are increasingly a relic of the past. Private equity firms currently own businesses employing close to six million people, and the largest US employers, like Walmart and Amazon, amass private power that rivals that of the state and destabilizes democracy. Corporate and financial sector giants use profits generated in part by those who work to enrich already-wealthy executives and shareholders instead of investing back to people who work. To rebalance our democracy and economy, a real system of economic checks and balances must exist to ensure that working people have power in their workplaces.
In response to catastrophic levels of inequality, economic instability, and imbalance of power, working people are taking direct, collective action. They are challenging their employers to raise pay, increase stability, and address structural racial and gender inequality in the workplace. These decentralized movements increasingly espouse critiques of concentrated power and use workplace organizing to contest it. They link immediate kitchen table economic issues to how corporate and financial sectors are governed and operate, extending to their broader social, economic, and environmental impacts. These emerging movements are winning concrete gains by challenging the corporate and financial sectors' power that is causing inequality.
These campaigns are led from the bottom up with support from emergent labor and community groups building new organization models as well as traditional unions. They are aided by social and digital media platforms that have created a context where millions of working people can share their experiences, build a shared consciousness of their experiences at work, and create distributed online and on-the-ground actions. Some of these movements are organic; others receive focused organizational support from groups like United for Respect (UFR) and Coworker, Jobs with Justice, Bargaining for the Common Good, and traditional unions.

Using social networks and internal communications networks within corporations themselves, people are claiming virtual space to link dynamically with on-the-ground power building and collective action directly aimed at corporate decision makers. Organizing outside of the traditional union infrastructure has opened up new approaches for institutionalizing the power of working people. As these efforts begin to take shape, there has also been the strengthening of organizational infrastructure to support organizing led by working people. Broad public support for people taking workplace action is growing.
At Coworker and UFR, we have experienced an unprecedented increase in requests for support and training on how to campaign, talk to coworkers, and understand workplace rights and labor laws.
Impact in a New Moment
Coworker is a digital-first organization that supports worker-led organizing using a campaign platform, social technology tools, and media strategy in combination with direct leadership support. We support organizing where there's otherwise no infrastructure or entry point to the labor movement. We have nurtured the growth of digital collectives of people working at places like Starbucks, Uber, REI, and Publix, assisting people working in the mostly low-wage service sector.
Over the last couple of years, we have heard from tech workers across the industry who are concerned about the human rights impacts of the technology they are building. They are concerned about the potential for tech to enable surveillance, harassment, and detainment of marginalized populations. At Google, employees have organized around a host of issues, including diversity and equity policies, opposing the use of artificial intelligence for drone surveillance, and equal treatment of contract workers. This employee-led organizing has demonstrated possibility to people working across the tech sector, setting off a wave of organizing in other companies and significantly altering the way stories about them are reported. The tech press has become more critical, more probing of the power of these companies. In companies like Google, which exercise social, political, and economic power that rivals that of the state, employees are one of the few checks on the continued expansion of that power. This work is part of a wave of pro-democracy organizing that demands shared governance over institutions with outsized power and influence. 
UFR is a national organization that merges online and on-the-ground organizing strategies to reach, connect, and activate the 16 million people who work in the retail sector. Retail clerks, stockers, and others are facing some of the most devastating economic pain and instability in the United States as the industry consolidates, Walmart and Amazon grow and destabilize and dehumanize the workplace, and smaller retailers are driven out of business as a consequence of extractive investment and competition with a monopoly. UFR has a base of hundreds of thousands and a reach of millions of people working in low-wage jobs.
UFR's Toys "R" Us campaign demonstrates how we execute fast, deep engagement in the service sector workforce and politicize issues of jobs and the economy among women and working-class voters. Last year, 33,000 people were forced out of their jobs after private equity firms bankrupted the company. In a few short months, UFR leaders and organizers reached more than 10,000 Toys "R" Us workers online, conducted over 2,000 one-on-one organizing conversations, carried out 400 actions, and developed 150 leaders. Toys "R" Us workers actively engaged nationwide, from taking direct action in their stores to giving public testimony at pension fund meetings, in the fight to win severance pay from the private equity owners. Their activism led to a historic settlement with the private equity firms for a $20 million hardship fund.
In the aftermath, UFR leaders worked closely with Senator Elizabeth Warren and other key elected leaders and partners, including Americans for Financial Reform, to introduce the Stop Wall Street Looting Act of 2019 to create guardrails for the industry. With the trail of private equity-driven retail bankruptcies that followed Toys "R" Us, from Shopko to Gymboree to Sears, it was clear that there needed to be federal regulation that curbed the industry's worst practices and investment strategies. The Stop Wall Street Looting Act has provisions to mitigate these dangerous investment strategies and ensure that portfolio companies, consumers, workers, and investors are protected. This historic bill levels the playing field for those who have felt abused by private equity, whether it is retail workers facing job loss, public pension funds struggling to get greater fee disclosures, or those challenging private equity's profiteering from immigrant detention facilities. The voice of working people who had been directly impacted has been critically important to the development of regulation that we hope will grow and evolve a more equitable business model that does not profit at the expense of people or the planet.
A Brave New World
What ties all this and similar campaigns together is people using their collective voice to impact working conditions and corporate decision making on issues of existential importance, rewriting the rules so that they work for all of us. Teachers went on strike for increased pay, reduced class sizes, and expanded student programs. Tech programmers at Amazon used their voice as shareholders to push on sustainability practices. Wayfair tech workers demonstrated to protest their employer's role in supplying furniture to immigrant detention centers. Nurses have long campaigned for quality patient care for those they serve and universal health care. Bank tellers and loan officers called for changes to compensation so that pay is not tied to extractive sales quotas, as well as a role in regulation. From teachers to bank tellers to programmers, working people are wielding their voices and power to challenge core decisions on how government and corporations—which could not function without their labor—are run.
These new movements will strengthen existing organizations and inspire new ones. They also create a moment for introspection and reflection to move forward: How can labor and movement organizations respond to this spike in interest and willingness? Can we translate that popularity into lasting power? How can working people rewrite the rules of how we build and hold power where we work, win economic stability, and fundamentally transform the ways we govern corporations? How do we embrace the tremendous reach and energy of social media and digital tools and build infrastructure that institutionalizes them into lasting bases of power?
We can win only by unifying campaigns for power and democracy in the workplace to social movements. To create multiracial, participatory, and equitable institutions owned by working people, we need to question the fundamental principles and design of our current democratic and economic systems.
This article appeared in the Winter 2020 issue of the magazine with the headline: "Workplace Power"
[Andrea Dehlendorf is co-executive director of United for Respect.
Michelle Miller is the cofounder and codirector of Coworker.]