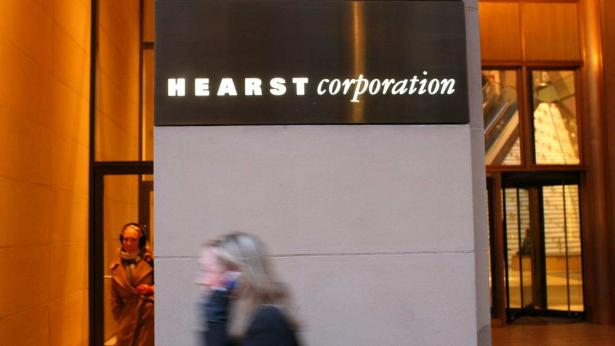 NYDaily.nyc
In 1934, San Francisco slid to a grinding halt during a general strike; at its climax, mobs attacked workers in their own neighborhoods. Responding to the conflict, media baron William Randolph Hearst likened the strike to a "civil war" in his San Francisco Examiner column. "Thank God the patriotic citizens of California have shown us the way," he wrote in a piece headlined "Americanism Versus Communism."
The old man is likely rolling over in his grave right now. On November 11, the editorial, social, video, photo, and design staffers of 24 out of at least 30 Hearst Magazines and digital properties — including Cosmopolitan, Elle, Esquire, and Harper's Bazaar — announced their intent to unionize with the Writers' Guild of America, East. (Full disclosure: I'm a member of WGAE via my previous employer, Gizmodo Media Group.)
The announcement, according to Seventeen Snapchat editor and organizing committee member Stacey Grant, was around a year in the making. Grant, who previously helped organize the MTV News union with WGAE in 2017, cited several reasons for the Hearst organizing drive, including ongoing unionization efforts at other companies and a desire for more transparency from management. (MTV News voluntarily recognized the union in February 2017, although it unceremoniously laid off most of its editorial staff just a few months later after "pivoting to video.")

Right out of the gate, the Hearst union announced that a "strong majority" of would-be unit members had signed cards approving it. Presented with this, Hearst brass could have voluntarily recognized the union and entered into contract negotiations with its staff, or fought the effort. It chose the latter.
As part of its efforts to stop the union, Hearst has retained lawyers from the notorious union-busting firm Proskauer Rose. Several days after the union went public, New York reported that management was taking a hard line against the union and asking staffers to withdraw their union cards (Grant said that to her knowledge, only one staffer has revoked their support for the union). This month, Vice reported that Hearst had created its own website, ominously headlined "Facts to Consider," targeted at staffers with classic anti-union talking points: voluntarily recognizing the union "would take away your rights," that only a union representative could approve an extra day off, and that an election — which would be overseen by the increasingly conservative National Labor Relations Board, on which three of four members were appointed by President Donald Trump — "gives everyone a free and fair choice." (Forcing an NLRB election adds another step towards legally forming a union; with voluntary recognition, an election can be avoided entirely.)
The NLRB election process is by nature heavily skewed towards employers, primarily to delay the process and demand concessions from employees — such as reducing the size of the bargaining unit — in order to mitigate further delays. And as an example of how a Trump-dominated NLRB stacks the deck even further towards employers, last week it took steps to drastically lengthen the electoral process; NLRB board member Lauren McFerran, the lone board member appointed by Barack Obama, said it would more than triple the amount of time to complete unionization via an NLRB election.
In a strange and curious twist, another union called the Hearst International Employees' Association filed in December to intervene in the election, claiming that it's already open to Hearst employees. The newly organized union seeking to affiliate with WGAE described this as yet another delay tactic, perhaps even a Potemkin union of sorts — according to a Bloomberg interview with WGAE spokesperson Jason Gordon, "the secrecy of the union and its location is suspect" and could be "indicative of a 'company union,' referring to an illegal union run through employer influence that's often meant to prevent independent unions from forming."
In an ideal world with fair labor practices, the decision of whether a union is recognized wouldn't be left up to bosses in the first place. The Employee Free Choice Act, a proposed reform to labor law which has been long sought after by progressives, would make certification of a union mandatory once a majority of workers agreed to join. The closest the act came to passing was 2009, the last time the Democrats held both Congress and the presidency, but conservative Democrats blocked the passage of the provision, which wascosponsored by a majority of House members at the time.
The major labor-reform law Democrats are currently proposing, the Protecting the Right to Organize (PRO) Act, would make right-to-work — laws passed in 27 states preventing unions from collecting dues from workers who don't want to join the union, yet enjoy the benefits that the union provides — illegal. It would also stiffen penalties on union-busting employers, among other reforms. However, as the Intercept reported earlier this month, the House Democratic leadership has thus far slow-walked the bill while pushing a new trade deal with Canada and Mexico.
INDUSTRY UNCERTAINTY IS AN EVEN STRONGER REASON FOR WORKERS TO TRY TO EXERCISE SOME CONTROL OVER THEIR FATES, AND HEARST HAS RESPONDED IN KIND BY TELLING EMPLOYEES THAT THEY DON'T GIVE A SHIT.
Still, the obvious question remains: presented with a nearly impossible fight to stop a union from happening, and with a demoralized workforce that has banded together to make their workplace better, why are companies like Hearst so resistant to voluntary recognition in the first place, when it would obviously make employees happier, and thus more likely to be loyal and dutiful workers?
There are obvious reasons for Hearst's opposition. The most plain one is that Hearst believes it can change the mind of its employees and win an NLRB election if it applies just the right amount of pressure. The choice employers have of whether to recognize a union or force an election is what the left-leaning Center for Economics and Policy Research called, in a 2012 paper looking at the long-term decline of unions in the United States, a "built-in delay." "The longer employers know about a union campaign, the longer they have to counter with an anti-union campaign," the paper says.
There's also the reality that even for the rare profitable company like Hearst — earlier this year, the company said it had reached "record profits for the eighth consecutive year," and that revenue was at $11.4 billion — media and publishing is a much more tenuous industry than most, especially as companies try to figure out a way to make digital media profitable. Last year, former Hearst Magazines President David Carey told Recode — rather proudly — that two-thirds of the company's profits were still coming from print, and that focusing on digital "denigrates the core business." The New York Post reported last week that Carey, who was succeeded by Troy Young in running Hearst Magazines, had returned to the company amid the union melee as a "senior vice president of public affairs and communications."
Industry uncertainty is an even stronger reason for workers to try to exercise some control over their fates, and Hearst has responded in kind by telling employees that they don't give a shit, that they must obey their overlords because that is what is actually good for them. The "Facts to Consider" website is just part of a multi-layered approach the company is taking to stop the union from getting off the ground. Grant said that the company has been holding meetings with teams and individuals in order to persuade them not to join the union. "I did not anticipate this kind of pushback," she said. "It was disappointing when the majority of [Hearst Magazines] said, 'This is what we want,' and the higher ups didn't pay attention to that." (Hearst did not respond to The Outline's multiple requests for comment.)
In November, Sarah Jones at New York reported that one worker was told "that if I didn't trust them, I didn't have to work there." More recently, Jones reported that Hearst was attempting to split the union into six bargaining units instead of one. The union told New York Hearst's tactics were meant "to delay and divide us. It will not work."
A new report from the left-leaning Economic Policy Institute found that in 2016 and 2017, employers were found to have violated federal law in 41 percent of all union elections supervised by the National Labor Relations Board; those violations include retaliating, threatening, disciplining, and even firing those involved in union activity. Hearst's tactics so far have been standard fare among employers wary of unions, but there's little disincentive for them to go even further.
Report co-author and EPI economist Ben Zipperer said that one reason union-busting employers break federal law so much is that the penalties are essentially nonexistent. "For example, if the NLRB determines that you shouldn't have been fired, what is offered is back pay, minus any wages you've earned in the meantime, because you had to have another job in order to survive," Zipperer told The Outline. "So there aren't punitive measures you find in civil or criminal proceedings that are used as a way to disincentivize employers from pursuing these illegal tactics in the future."
Hearst is not the first media company to push back against unionization. Digital giant BuzzFeed and its CEO Jonah Peretti have argued against its unionization since at least 2015; earlier this year, however, the staff of BuzzFeed News organized with the NewsGuild of New York. After a prolonged battle with management that included a vote by 90 percent of eligible employees to unionize, plus a walkout in order to force BuzzFeed to the table, the union finally gained voluntary recognition from the company in July and avoided an NLRB election."We stayed strong in the face of fierce resistance from BuzzFeed management," organizing committee member and deputy culture editor Rachel Sanders said at the time. "Now that we're finally recognized, I'm excited to bargain for a contract that will not only make this a stronger newsroom and company, but raise the bar for how workers are treated across our industry."
Other companies have forced their employees to gain recognition via an NLRB election. Staffers at the Los Angeles Times overwhelmingly won an NLRB election in 2018; staffers at the Arizona Republic followed this year. And earlier this month, following NBC News' digital staffers voted on whether to unionize;in spite of a truly cringeworthy social media anti-union campaignreportedly run by some staffers, the union won with 69 percent of the vote.
In a small number of cases, such as that of news site DNAInfo and theBaltimore City Paper, the outlets' owners shut them down completely. Given that Hearst is a multi-billion dollar company and not a local news website or alt-weekly run by rich people or mega-conglomerates as a hobby, it seems exceedingly unlikely that the company would shut down dozens of magazines rather than allow them to unionize. But at its core, the desire is the same: to avoid sharing power and profits with employees.
But although it might be intuitive for owners, CEOs, and other management types to reflexively resist a unionization effort, what if they tried something different, something radical, something that could improve their workplaces and, logically, their product? What if they just simply put on their big-kid pants and respected the will of their employees to unionize? What if they accepted the fact that they are cogs in the machine of large corporations, and that part of their job is dealing with change not just in technology and business, but in the needs of the very employees whose work makes their paychecks possible? What if they just recognized a union?
Many of the arguments for why unions are directly antithetical to the well-being of employers — that unions make running a profitable business impossible; that unions aren't "flexible" enough to adapt to changing circumstances; that unions are only good for workers in the union, and bad for those outside of it; and that they aren't good for the economy — have been proven time and again to just simply not be true. A study published last month by EconoFact found that unions "lead to a less uneven distribution of compensation within firms," and that despite the rap unions get about reducing productivity, they can "can also serve to increase efficiency through increasing worker voice and countervailing employer market power."
Aside from that, the study also found that unionization has a substantially positive impact on reducing income inequality — for both unionized and non-unionized workers. And in hard times, unions have always shown themselves to be willing to make deep sacrifices in order to keep their employers viable; without the work, after all, there is no worker.
"THE CREATIVE WORKERS OF THE INTERNET ARE A FORCE. I'D RATHER BE ON THEIR SIDE THAN THAT OF THE SOULLESS CONGLOMERATES SO MANY OF THEM WORK FOR."

— Gawker Media founder Nick Denton, in response to Gawker's union drive in 2015
There are also other benefits for companies that voluntarily recognize a union, Zipperer said, such as reducing turnover. In his own experience as a member of EPI's staff union, good-faith negotiations between the union and management "bring a lot of goodwill to the workplace."
In this way, Hearst could stand to learn a lot from Gawker Media founder Nick Denton, who approached unionization at his company with a blasphemous apathy. When his company's union effort was first announced in 2015, Denton told Politico that he was "intensely relaxed" about the effort; when the overwhelming vote to unionize came through, he was more than conciliatory. "The creative workers of the Internet are a force," Denton told the New York Times. "I'd rather be on their side than that of the soulless conglomerates so many of them work for."
Zipperer said there are also other reasons for employers to not have an inherent opposition to unions. "In particular, unions solve an HR problem," he said. "Whatever's in the contract [agreed to by the employer and the union] — working conditions, pay, whatever — that's suddenly off the table, because it's already been decided."
By delaying the inevitable, Hearst is setting itself up for a long, drawn-out, morale-ruining fight with its own employees, one which will likely require costly legal representation from union-busting law firms in order to intimidate workers into letting go of any potential collective agency. Unless there's a massive change of heart among Hearst workers as a result of the company's anti-union pressure campaign, it's probable that the real fight in this case will be at the negotiating table over the actual contract binding Hearst to the union, which could take years. (The EFCA would have forced arbitration between the employer and its workers on a first contract if one wasn't agreed to within 120 days of recognition).
But based on the available evidence, the company is counting on wearing the union down over a long period of time and never getting to that point at all. Hearst is digging in its heels, drawing an impressive amount of negative attention to itself so far in the month since the union went public. The company's website prominently features two quotes from CEO Steven Swartz, talking about how it "has an ability to embrace change" and strives for "a higher standard, operating good businesses that also do a significant amount of good." Doing right by its workers would be one way to prove that's not total bullshit.