Stop War With Iran – Now!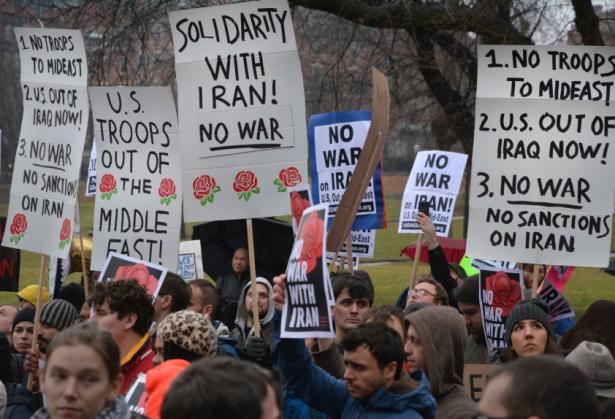 People hold signs during an anti war protest at Park Street Station January 4, 2020 in BOSTON, Massachusetts.,Chris Christo/MediaNews Group/Boston Herald
I'm outraged by the escalating possibility of war with Iran. 
The Trump administration is dragging us into further illegal, endless war, this time potentially with Iran. We can't let this happen again. More pain, loss, and death for civilians in Iran, probably in Iraq, and likely all across the Middle East. 
We have to start shouting and we need to do it right now: No war in Iran.

We're teaming up with Win Without War and other progressive organizations to speak out urgently and let Congress know that we need them to stop war in Iran. We need diplomacy, not war.
I remember the night President George W. Bush launched an illegal assault on Iraq in 2003. It marked the beginning of a drawn-out and endless war that continues to this day, with hundreds of thousands of people killed and millions made homeless, continuing over almost two decades. It ushered in a new level of anti-Muslim, anti-Arab hate in the U.S. which also continues to this day. 
We need to act now and act fast… and do more than we've done before to fill the streets in broad anti-war protests and pressure our members of Congress.
Trump's assassination of Qassem Soleimani, a senior Iranian military leader, was an act of war, and it launched without Congressional authorization. We need our members of Congress to stand up to Trump, defend their Constitutional power, and put an end to this. Now.
Tell Congress: Stop Trump from going to war in Iran.
This cannot wait.
In solidarity and peace,
Phyllis Bennis
Institute for Policy Studies and Jewish Voice for Peace Board Member