film
Why I Left 'Knives Out' With Emotional Whiplash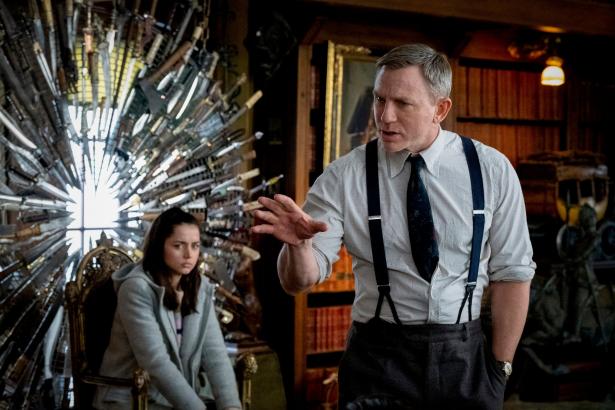 Ana de Armas and Daniel Craig in "Knives Out.", Claire Folger/Lionsgate, via Associated Press
In "Knives Out," the writer and director Rian Johnson pays tribute to Agatha Christie and "Clue" in a star-studded whodunit that begins with the mysterious death of the wealthy author and patriarch Harlan Thrombey (Christopher Plummer). Almost every one of his heirs falls under the suspicion of the private investigator Benoit Blanc (Daniel Craig) at some point, including Harlan's caretaker, Marta (Ana de Armas), a woman so pure of heart, she can't lie without becoming physically ill. True to the form, no one's stories seem to add up, the plot thickens, and twists and turns are thrown in and at the center of the movie.
The film has been marketed as a "fun, modern-day" murder mystery, and the many rapturous reviews have echoed this sense of whimsy. But as "Knives Out" unfolds, Mr. Johnson reveals that he's not interested solely in entertaining his audience for a couple of hours — he has something to say about class and politics in a bold, direct way that is rare in major American studio movies. 
Unfortunately Mr. Johnson's ambitions on this front reminded me that sometimes, well-intentioned art can backfire and offend (and even hurt) those it's intended to champion. Through the character of Marta, "Knives Out" has a tendency to exploit its story's immigration angle, which left me feeling uneasy as strangers at the screening I attended laughed at real-life issues I'm genuinely frightened of.
Marta is someone the Thrombeys can show off to make them seem more progressive than they actually are. Eventually, their ease with quoting "Hamilton: The Musical" gives way to a full-on display of their prejudices. None of them seems to know or care where she's really from, each time guessing a different country. This is played as a running gag that is ostensibly intended as a critique of white upper-class liberalism. Yet Mr. Johnson keeps Marta's background a mystery to the audience as well, never allowing her any cultural specificity beyond being vaguely Latina. (Ms. de Armas is Cuban.) 
By denying Marta a part of her cultural identity, the movie perpetuates the myth of Latino homogeneity, that our countries and customs are interchangeable, mashed together to fit neatly into a census box.
The film takes pains to cast Marta as an outsider in other discomforting ways. During a family argument, the youngest in the family, an alt-right troll, calls Marta an ethnic slur. In another scene, she's called upon to clarify whether her family came to the United States legally, or "the right way," as one of the Thrombeys puts it. Another member of the family hints that he could have her mother deported because she's undocumented. Several family members assert, patronizingly, to Marta that they have "always taken care of" her. 
I can imagine Mr. Johnson views this pile-on as a way to call attention to the microaggressions working-class immigrants face daily, but the family's cruelty felt stifling — it's troubling to see Marta saddled with so much real-world baggage. Most of the Thrombeys (with the exception of the alt-right teenager) have their own idiosyncrasies and don't feel like thin stand-ins for a political point. 
Maybe Mr. Johnson, who is white and American-born, wasn't apprehensive about pushing the matter of deportation so far — presumably, his proximity to the subject isn't the same as it might be for a brown person who is undocumented. But an immigration story line isn't exclusive to immigrant directors of color. Sean Baker and Shih-Ching Tsou's "Take Out" and Jim McKay's "En el Séptimo Día" follow undocumented immigrants working hard to live in New York City, and even though both face high-stakes situations because of their immigration status, neither of the characters feel limited by it.
After viewing "Knives Out," I became visibly upset as I tried to explain to a group of mostly white friends that I felt as though I had seen an entirely different movie from the one they were raving about. I've been in some of the situations Marta endures — being asked to prove my citizenship, feeling unsafe speaking Spanish — and the movie brought up so many of these unpleasant memories repeatedly to little narrative effect. Instead of enjoying the twists and turns of an entertaining film, I left the theater with emotional whiplash caused by what felt like empty virtue signaling.
My reaction reminded me of how I felt when I got out of the subway one morning last June to find a chain-link cage with a child-size mannequin under a foil blanket. The project, No Kids in Cages, was a pop-up protest staged by the Refugee and Immigrant Center for Education and Legal Services and the advertising agency Badger & Winters. I know the groups sought to shock well-meaning liberals out of passivity and into action, but I can't help but think of the shock it gave me and probably others who are worried about the day they or loved ones might be seized and forced into these terrible conditions.
For many of us, issues like immigration and family separation are on our minds wherever we go. Violence and hate crimes against Latinos have risen to their highest levels in almost a decade. This month, the police say, a Peruvian-born American was splashed with acid by a stranger who yelled at him to "go back" to his country. In August, a white man walked into a Walmart to kill Latinos to prevent what he saw as a "Hispanic invasion of Texas." Between the constant news of deportations and families torn apart, it's no wonder some of us are feeling emotionally drained and scared for our families.
It's not that art can't take on difficult topics. It's that creators have an obligation to consider some of the unintended effects doing so may have on their audience, especially those creators least likely to be directly affected by the issues they raise. Many of us dealing with these fears firsthand don't want a vivid reminder on our way to work or in a darkened theater surrounded by the laughter of strangers at something that makes us cry or keeps us up at night. 
The problem with using shock or repetition to drive the point home is that it can signal to those who are meant to feel visible that the creator doesn't actually have them in mind. That alienation can make us feel like outsiders, but we're in the audience, just like you, and this art can be made for us, too.
Monica Castillo was the film writer for Watching, where she covered movies available to stream online. She also covered the New York Film Festival, Cuban cinema and issues of representation in film.