Global Left Midweek - January 15, 2020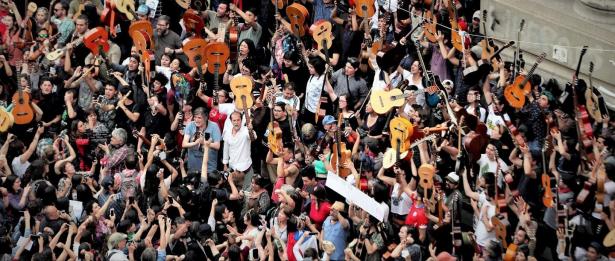 Around 100 Chilean musicians at an anti-government demonstration pay tribute to the singer-songwriter Víctor Jara, who was tortured and killed during the Pinochet dictatorship. 25 October 2019, Santiago, Chile, Photo: AP/Esteban Felix
__________
The Great Strikes: India and France
VIDEO: India's Workers Intensify Struggle  / Peoples Dispatch (New Delhi)
France's General Strike in Context  Gabriel Rockhill / CounterPunch (Petrolia CA)
__________
Tricontinental Dossier: Between Crises and Protests
Tricontinental: Institute for Social Research
Where is the world today? This year opens up with a detailed consideration of austerity, the bipolar world order, neoliberalism's exhaustion, and a planet of protest.
__________
Iranians Protest the US and Khamenei
Reza H Akbari / The Guardian (London)
Just a week ago, Iranians appeared to be united in mourning the loss of a revered general but today they are taking to the streets against the ruling elite. The authorities have a history of holding state-sponsored rallies and boosting numbers at them by incentivising attendance, but to claim everyone who came out to mourn Suleimani was forced to do so is implausible. Individuals who are protesting against the government are risking much more than those who attended state-sponsored memorials. But why are we assuming that there is no overlap?
__________
Iraqi Protesters in the Crossfire
Azhar Al-Rubaie / Vice (London)
Since early October, tens of thousands of protesters have been challenging corruption in Iraq and Iranian involvement in local politics. What do they think of the recent tensions?
__________
United Left Leader Joins Spanish Government
Eoghan Gilmartin and Tommy Greene / Jacobin (New York)
Alberto Garzón, a newly appointed government minister, speaks about what it means to be a communist today and how Spain's social movements can shape the next government's agenda.
__________
Bolivia: Coupsters Suppress MAS
Emily Achtenberg / NACLA Report (New York)
With new elections scheduled in Bolivia, the MAS party under attack, and the resurgent right fortified by the de facto interim government, left-Indigenous unity is needed more than ever.
__________
Africa's Pressure Points
Shaban Abdur Rahman Alfa / Africanews (Pointe-Noire, Congo-Brazzaville)
2019 had her fair share of protests from North, West, East and Southern Africa. The reasons for these protests were largely political, followed by economic and then demands for human rights in some instances, not to forget issues of ethnic tensions and insecurity.
__________
A Win for Co-Resistance in Palestine
Oren Kroll-Zeldin / Truthout (Sacramento)
In a nonviolent direct action, a group of over 150 Palestinian, Israeli, and diaspora Jewish activists reclaimed and rehabilitated Ein Albeida, a spring near the West Bank village of Al-Tuwani.
__________
Lebanon: Cedar Revolution?
Breaking the Banks  Tom Perry / Reuters (London)
The October Uprising  Elia El Khazen / Historical Materialism (London)
__________
World Music Rises to the Occasion
Mathilde Dorcadie / Equal Times (Brussels)
Today, at political protests in places like Chile, Algeria and Hong Kong, the classics of protest music can be heard alongside songs taken from popular culture, often from the most unlikely of sources. At the same time, new songs by socially engaged artists are also making history as the new revolutionary anthems of the turn of the decade.