Maryland State Senate Panel Briefed on Disparity in Incarceration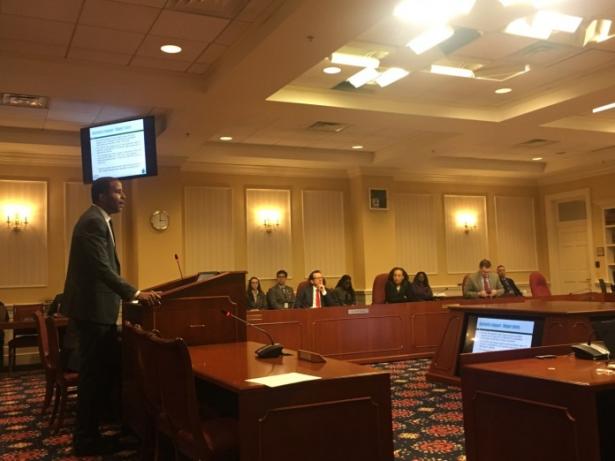 Keith Wallington of the Justice Policy Institute addresses the Senate Judicial Proceedings Committee during a briefing on race and gender disparity in incarceration.,
Maryland has the highest incarceration rate in the nation of black men aged 18 to 24, according to a November report issued by the Justice Policy Institute. The second highest incarceration rate for young black men is in Mississippi. 
"No disrespect to Mississippi," said Senate Judicial Proceedings Committee Chairman William C. Smith Jr. (D-Montgomery), "but this should be something that raises everyone's eyebrows throughout the entire General Assembly, and especially in this committee."
Representatives of equity organizations and state agencies joined the committee at a briefing Thursday to discuss age, race and gender disparities in the Maryland correctional system.

Executive Director of the Justice Policy Institute Marc Schindler testified that, while only 31% of Maryland residents are black, more than 70% of Maryland's prison population is black, a percentage that is more than twice the national average. And about 80% of people serving 10 years or more in Maryland prisons are black. 
A sizable portion of the people serving those longer terms are black men who were sentenced before turning 25, and a disproportionate number of people serving life sentences at Maryland's Jessup Correctional Institution are black, Schindler said.
"Just to give sort of a sense of how this plays out, I recently met with a group of lifers at Jessup," he said. "I asked for a show of hands how many of them had gone into prison before the age of 25, and almost every hand in the room went up."
Schindler cited similarly jarring statistics for arrests in Baltimore City. In 2019, 82 percent of 20,000 arrests in Baltimore and 91 percent of 4,455 young adult arrests made in Baltimore last year were of black men and women.
"The disparities that we see are the result of a multitude of factors," he said, "and these include decades upon decades of under-investing in communities of color."
Schindler said that people aged 18 to 24 — a period he called "the knucklehead years" — have underdeveloped brains and are the main offenders and victims of violent crime.
"We can all think back to those years, … what we were doing," he told the committee. "There are things that I did that were highly risky, that were influenced by my peers, … crazier than what I did when I was 14 or 15."
"This is a population that is high-risk, but we can also do much better because right now we can hardly get worse in how we respond to them."
Schindler asked the committee to consider raising the age limit for charging people as juveniles to older than 18 for some offenses. He also suggested enacting a "youthful offender statute" that would provide shorter sentences and sealed records when offenders are young and likely to lack good judgment. And he suggested creating special rehabilitation units for young people in prison.
More investment in public services in underserved neighborhoods could enhance public safety and "stop the acceleration" of criminal behavior, Schindler said.
"The data that we're seeing today in Maryland is and should be alarming, and it should be a call to action," Schindler said.
Keith Wallington, the Justice Policy Institute's state-based strategist, said many of the state's youngest and oldest prisoners have suffered similar inequities.
As an example, Wallington pointed to a group of prisoners who served long terms based on convictions delivered as a result of improper jury instruction practices that took place before 1981. Known as "the Ungers" for their inclusion in a lawsuit brought by Merle Unger, who was convicted under those practices, those persons were granted new trials under a 2012 decision of the Maryland Court of Special Appeals.
About 200 of them have been released, and, as of 2019, they have a low recidivism rate. Wallington said there is virtually no difference between them and the rest of the aging prison population.
"The only difference between the Ungers and many of the other … individuals were the Ungers were given the opportunity to come home," he said.
Wallington said Maryland's unusual parole process is an issue. 
Maryland is one of three states that require the governor to approve before an inmate sentenced to life can be  paroled.
During the "tough on crime" climate of the mid-1990s, former Maryland Gov. Parris N. Glendening (D) stopped paroling persons sentenced to life terms, setting a precedent largely followed by each succeeding governor until Gov. Lawrence J. Hogan Jr (R) took office in 2015.
As of December 2019, Hogan had approved parole for eight lifers convicted as adults and three convicted as juveniles.
State lawmakers have looked at removing the governor from the parole process several times, including recently.
Wallington said that gubernatorial involvement politicizes the parole process and he cited a Maryland parole study from 1935 that recommended removing the governor from the process. 
"By injecting politics in the parole process, we now have a system where the executive branch is not honoring the spirit and intent of the legislative and judicial branches, and it's an issue we'll continue to work on," he said.
Sen. Charles E. Sydnor III (D-Baltimore County) asked the representatives of the Institute whether an inmate's ability to express remorse is a major factor surrounding parole eligibility.
Schindler called release decisions a "complex issue." He said there are a number of reasons why convicted individuals may have issues expressing remorse, including to maintain their innocence and because they have difficulty expressing themselves.
"We're putting so much weight on those types of things — whether someone adequately expresses remorse … we have to think about how it's considered in the context," he said.
Lila Meadows of the University of Maryland Gender Violence Clinic said that this is not only an issue for male offenders.
It also is a problem for many women serving sentences for intimate partner homicide as a result of domestic and sexual violence, for women convicted of sex trafficking charges while they were trafficked, and for women in prison under the felony murder rule — which allows people to be charged with first-degree murder when they did not kill a person themselves. 
Meadows said the state's system is getting better at recognizing symptoms of domestic violence as a driver in the crimes some women commit. But she said decision makers need a better understanding of how issues of remorse affect people who may have committed an offense under the law, but did so as victims.
"You're either a victim or you're an offender: You cannot be both," she said, further stating that the context is important to consider when looking at what decisions were made at that point in these women's lives.
"We need to think about parole reform," Meadows said. "Everything from educating our commission on trauma and domestic violence, and making sure that they're prepared to recognize and respond to those things appropriately in parole hearings."