Turning Up the Pressure for Integration, NYC Students Plan Citywide School Boycott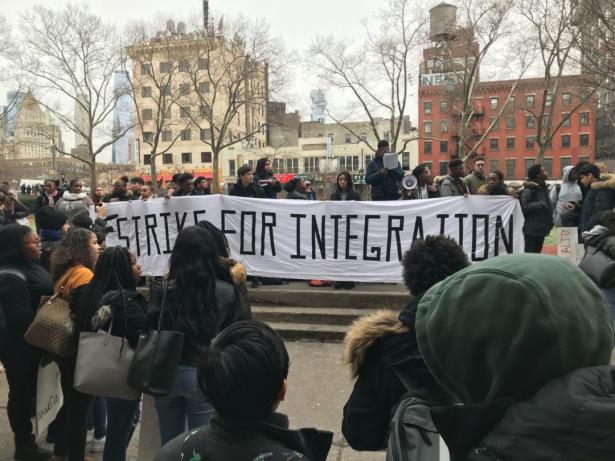 Students from PACE High School rally on Dec. 16, 2019, with Teens Take Charge as part of weekly protests aimed at moving the needle on school integration.,PHOTO CREDIT: Reema Amin/Chalkbeat
Students went on strike at one Manhattan campus to protest admissions practices that had segregated them into different schools within the same building. A few weeks later at another campus, students walked out to highlight how schools with mostly black and Hispanic students often lack access to sports teams. 
This spring, students plan to ramp up the pressure by taking their strikes citywide. Two student-led organizations — IntegrateNYC and Teens Take Charge, which has led the weekly actions — are joining forces for a daylong walkout planned for May 18. 
"It's just addressing the inaction by the city government, but I think more importantly, it's also about building youth power," said Emma Rehac, a Manhattan high school student with IntegrateNYC, who is helping organize the boycott. "If you walk out, you're taking the power into your own hands." 

Both student groups have pushed the de Blasio administration to take a more systemic approach to desegregation within the nation's largest school system. But the mayor, who until recently refused to say the word "integration," has prefered to follow the lead of local activists fighting for school-by-school changes, or tweaking admissions only within local districts. 
"There hasn't been enough progress," said Taylor McGraw, an adult advisor with Teens Take Charge. "Students across the city are united… and are calling for more, and faster." 
The student activists say they aren't bringing any new demands to the table with their latest protest — because the mayor already has a menu of policy options to choose from, following years of planning led by local communities, city-appointed task forces, and reams of academic research on possible solutions.
IntegrateNYC, for example, was part of an advisory group appointed by the mayor to make recommendations on how to integrate schools. More than five months after the group issued its latest report, the mayor has yet to respond or implement the proposals. 
"We want our schools to get better," Rehac said. "We want to learn more. We're saying that's not happening in school right now."
Teens Take Charge wants the city to implement the group's proposal to overhaul high school admissions so that every campus enrolls a similar share of high-performing students and those who struggle academically. In New York City, students must apply to high schools, which in turn can set their own competitive admissions criteria — a process that many blame for deepening segregation.
By taking their protests citywide, teens are following in the footsteps of history. On Feb. 3, 1964, nearly half a million New York City students refused to attend school to demand that city leaders act boldly to integrate classrooms — one of the largest civil rights protests in history. 
The May walkout is planned on the anniversary of the Plessy vs. Ferguson decision in the Supreme Court, which upheld the doctrine of "separate but equal" establishments for black and white citizens. It was overturned more than 60 years ago in Brown vs. Board of Education.