Dispatches From the Culture Wars - March 3, 2020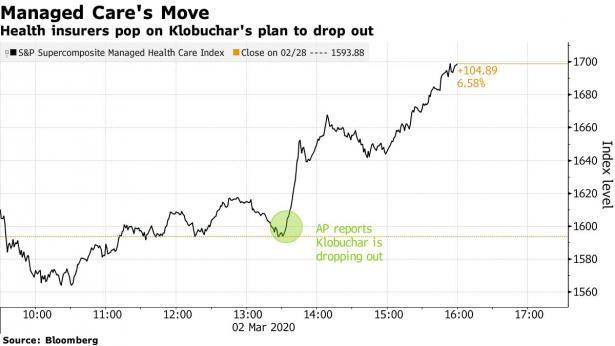 By Ambrose Evans-Pritchard
February 27, 2020 
The Age

His systematic destruction of the US pandemic defences - policy vandalism of the first order - and his surreal efforts to conjure away the virus with denialist spin suddenly brings an unthinkable prospect into play.
By David Smith
March 1, 2020
The Guardian
It came from abroad and infected America. It can spread from person to person and is potentially fatal. When symptoms emerge, it may already be too late. The virus of socialism has broken out again, the biggest annual gathering of US conservatives was told this week, and it puts everything they hold dear at risk.
By Tim Horley, Anne Meng, and Mila Versteeg
March 1, 2020
The Atlantic
About one-third of all presidents who reached the end of their term made a serious attempt to overstay. Two-thirds of those who made the attempt succeeded.
Health Insurance Stocks Spike After Centrists Close Ranks
By Eoin Higgins
March 2, 2020
Common Dreams
Observers suggested the surge may be from an expectation that a Biden victory could stop Sen. Bernie Sanders and his progressive movement, which has made universal, Medicare for All healthcare a centerpiece of the race.
By Nicole Cooke
February 28, 2020
The Conversation
A bill pending in Missouri's legislature calls for establishing review boards to determine whether materials in libraries contain or promote "nudity, sexuality, sexual conduct, sexual excitement, or sadomasochistic abuse," and would root out materials lacking "serious literary, artistic, political, or scientific value." Defiant librarians would be subject to misdemeanor charges, fines upward of US$500, and a potential jail sentence up to one year.
By Ashawnta Jackson
February 26, 2020
CrimeReads
Blaxploitation spoke to a new era of films and a new kind of filmgoers, namely the ones who wanted to see stories that centered black actors, directors, and often, Black stories and lives (even if not representing a whole community), and the soundtrack for that had to be as bold as the images on the screen.
By Betwa Sharma
February 28, 2020
HuffPost
Mohinder Singh took exceptional steps to ensure the safety of residents in one of the worst-hit neighbourhoods in the Delhi Riots.
A Jersey Gets Garth in Trouble
By Austin Anderson
February 29, 2020
Sporting News
When Garth Brooks performed in Barry Sanders' football jersey, some of Garth's fans confused the Detroit Lions star with democratic socialist Bernie Sanders.
When You Give a Mouse a Welfare State
By Rebecca Christie
February 28, 2020
Slate
If You Give a Mouse a Cookie has been criticized, and lauded, as a parable of the welfare state. Both sides have it wrong.