labor
EMS Unions: New York State's Death Plateau From Virus May Be a Mirage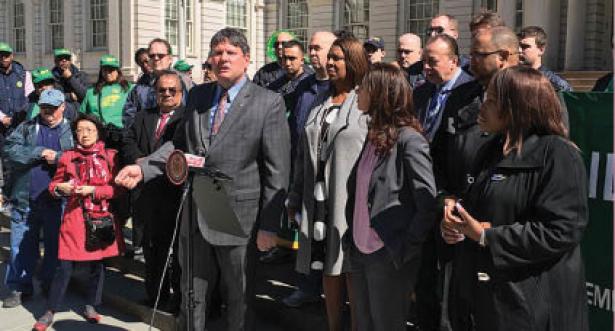 "This pandemic is not just playing out in the hospitals, but in the community and in people's homes," says Vincent Variale, president of Local 3621, which represents EMS officers in New York City.,Photo by George Burbano, The Chief-Leader
Emergency Medical Service union leaders are claiming that the "flattening" of the coronavirus curve Governor Cuomo has said may be occurring based on declining deaths April 4 and 5 may be illusory because it is based on hospital statistics that don't reflect a sharp increasing in the number of patients dying at home. 
Mr. Cuomo pointed to a drop from 630 COVID-19 deaths statewide April 3 to 594 the following day, and then a small uptick to 599 that Sunday as evidence that "you are seeing a plateauing" in which the death toll had peaked and was beginning to move downward.  
Hospitalizations Down 

He also pointed to declines in COVID-19 hospitalizations, admissions to intensive care units and intubations—the insertion of a breathing tube hooked up to a ventilator—as more proof of a "possible flattening of the curve." 
On April 6, the Governor during his daily briefing said that while the death toll had jumped to 731, it was "a lagging indicator" and continued to maintain cautious optimism. But the following morning, city officials reported that 727 people in the five boroughs alone died over the previous 24 hours, and Mayor de Blasio acknowledged that the official numbers probably represented an undercount.
EMS union leaders and rank-and-file members said that the preceding weekend had been marked by a horrific spike in fatal cardiac arrests in people's homes—and their claims were borne out by Fire Department statistics.
Union members on social media indicated that where in the past they would typically get one or two cardiac-arrest calls per shift, they were now responding to several, and in one case 13. 
'200 Dying Daily'
Those accounts were consistent with FDNY statistics, according to Deputy Commissioner for Public Information Frank Dwyer, who said via email, "So in simplest terms, a year ago—same time frame—we were seeing an average of 54-74 cardiac-arrest calls per day, with 22-32 deaths. Now, in this pandemic, we are seeing more than 300 cardiac-arrest calls each day, with well over 200 people dying each day." Those comparisons spanned March 20 through April 5 in 2019 and this year.   
Unlike with the hundreds of COVID-19 deaths occurring in the city's hospitals, there is no tracking of the deceased tended to by FDNY EMS personnel without being transported to hospitals. 
"Our members have been saying they just are not seeing this flattening of the curve if you look at call volume and the crazy increase in cardiac deaths," said Vincent Variale, president of District Council 37's Local 3621, which represents EMS officers. "This pandemic is not just playing out in the hospitals, but in the community and in people's homes." 
Mr. Variale, who just recovered from coronavirus, was concerned that the pandemic would not be brought under control without comprehensive testing for both the living and the dead. 
'Inadvertently Spread'
"We are never going to get ahead of this disease until we know who has it," he said. "Even now, first-responders don't have access to testing, and so we can inadvertently spread the disease when we are asymptomatic to the very people we are trying to help." 
The statistics also showed that the number of cardiac-arrest cases that proved fatal had also spiked, from roughly 40 percent last year to more than 70 percent recently.   
"We started tracking this when it was in China, producing a high volume of deaths and reports of how suddenly people were dying," said Oren Barzilay, president of DC 37's Local 2507, which represents Emergency Medical Technicians. "I don't think people see the magnitude of this virus...my concern is that data does not reflect the actual body count out in the community where we work."  
Don Faeth, a former EMS Paramedic and Local 2507 vice president who is now an EMS instructor with LaGuardia College, said in a phone interview, "In my 35-year career, the most cardiac arrests I saw in a shift was three. I heard one EMS officer handled 20 during this pandemic. The disconnect here is that we are getting a false sense of where we are with this virus because the way they are charting progress ignores what the EMS is seeing occur on the street."  
Stopped Bringing Them In
As a consequence of city hospitals being overcrowded with coronavirus patients, for the first time EMS crews recently were ordered not to bring in cardiac-arrest victims if they had not been able to restart the patient's heart at the scene. 
Mr. Faeth said that by not incorporating those victims into the fatality count, public-health officials would miss the link between coronavirus cases and contributing factors like asthma and diabetes that are particularly prominent in predominantly minority neighborhoods where access to health-care services is often more limited.  
"We know that medical experts say it is these people with these co-morbidities that are at a much higher risk of getting killed by COVID-19," he said.