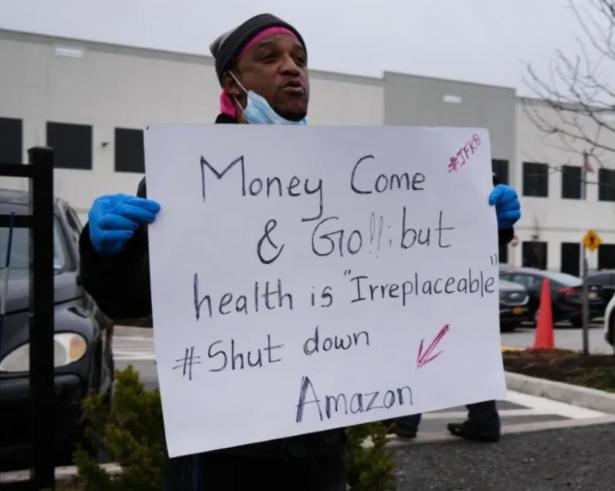 Amazon employees hold a protest and walkout over conditions at the company's Staten Island distribution facility, Spencer Platt / Getty Images
Daniel Steinbrook's job at Whole Foods has changed completely as a result of the coronavirus pandemic. His store is mobbed. Many customers come in wearing masks. Steinbrook, who works at a Whole Foods in Cambridge, Massachusetts, hasn't been given a mask by his employer and was told he couldn't wear a scarf over his face for added protection.
"It's been extremely stressful," Steinbrook said. "And it's grown increasingly stressful over time as the pandemic has advanced and the risks have gotten higher."
On March 31, he and his fellow Whole Foods workers across the country went on strike, orchestrating a mass sick-out to protest what they say is a lack of protections for employees and customers alike. It's the first national collective action ever staged by Whole Foods employees.

They are one of a number of groups of workers who have gone on strike in recent weeks. Amazon warehouse workers walked off the job in Detroit, Chicago, and New York City; in the latter, they've now staged two strikes in as many weeks over safety and pay concerns. Workers at fast-food restaurants such as McDonald's, Burger King, KFC, Checkers, Domino's, and Waffle House have gone on strike in California, Florida, Missouri, North Carolina, Tennessee. They've been joined by workers at companies where workers have never gone on strike before, such as Family Dollar, Food Lion, and Shell gas stations. Instacart shoppers held a national strike on March 30, refusing to accept orders. Workers for Shipt, Target's same-day delivery service, organized a walkout on April 7. The unrest has even spread to bus drivers, poultry workers, and painters and construction workers.
The stakes are high. Many of these workers have been deemed essential as their employers stay open. But, striking workers say, their employers are not doing enough to protect their health and keep them financially afloat. Already, grocery workers have started to die from Covid-19.
This marked the first time that Steinbrook took part in workplace activism. "I'm not someone who ever gets involved in things like this," he said. "I normally just shut up and do my job."
Finding out that Whole Foods's paid sick leave policy requires a positive Covid-19 test even though the company isn't covering the costs of tests galvanized him. "It incentivizes employees to come into work sick," he explained. And, he pointed out, Whole Foods's policy runs counter to guidelines issued by the Centers for Disease Control.
Steinbrook is also worried that his employer is putting the rest of his community at risk. "A number of the existing policies are frankly dangerous for employees and customers and the public at large," he said. "Any transmission within the store will grow exponentially within the community, and it will put people's lives at risk."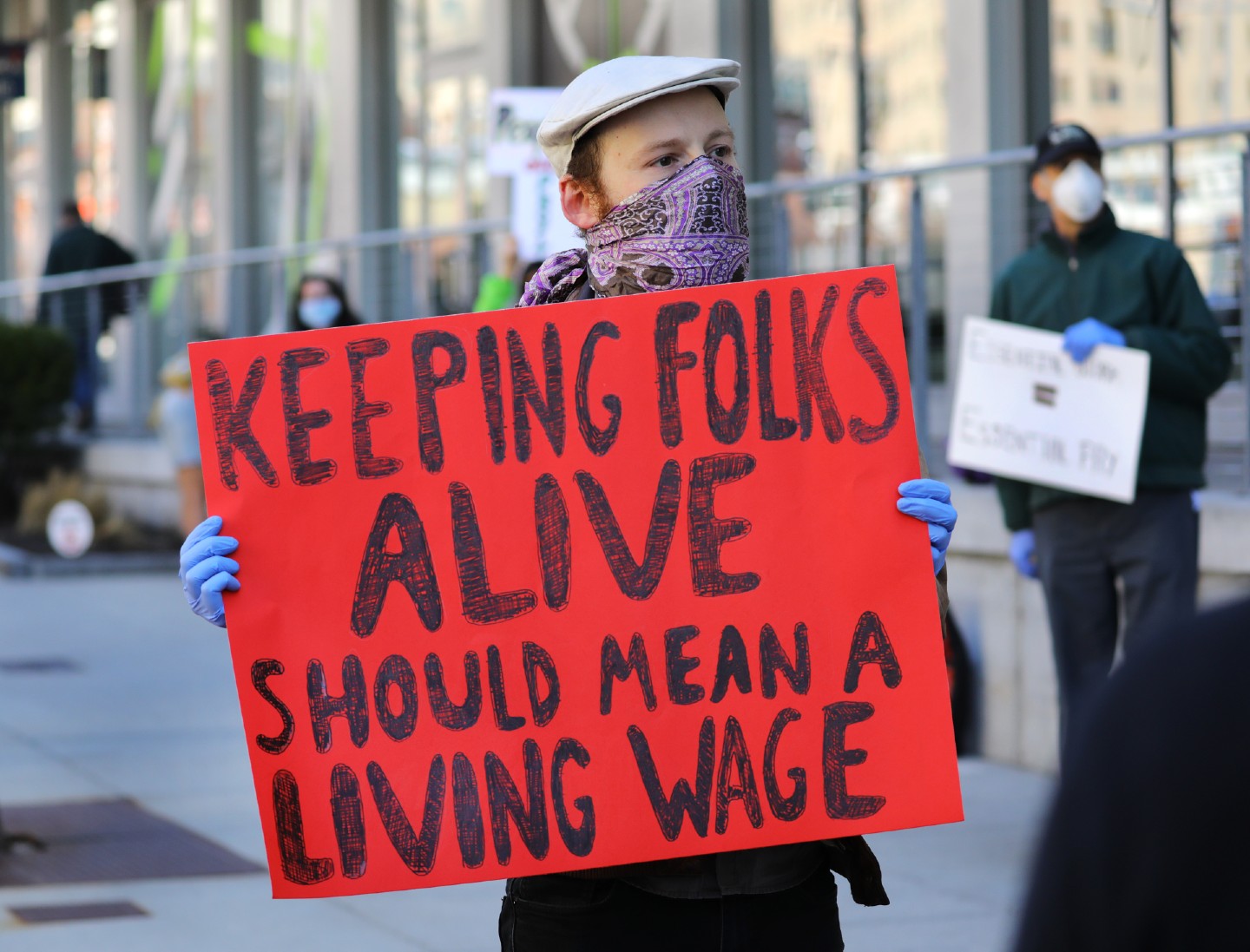 Grocery store workers and others stage a protest rally outside the Whole Foods Market, in the South End of Boston. (Pat Greenhouse / The Boston Globe via Getty Images)
So Whole Foods employees have issued a set of demands: paid leave for anyone who isolates or self-quarantines, health care for part-time and seasonal employees, company coverage of coronavirus testing and treatment for all workers, double hazard pay, new policies to facilitate social distancing in stores and ensure adequate sanitation, and an immediate shutdown of any store where an employee tests positive with pay for all of its employees.
The company did not respond to a request for comment. In response to the pandemic, it has increased hourly pay by $2 an hour.
Bryce Covert is a contributor at The Nation and a contributing op-ed writer at The New York Times. Her writing has also appeared in The Washington Post, the New Republic, New York magazine, Slate, and others, and she won a 2016 Exceptional Merit in Media Award from the National Women's Political Caucus. She has appeared on ABC, CBS, MSNBC, NPR, and other outlets.
EDITOR'S NOTE: The Nation believes that helping readers stay informed about the impact of the coronavirus crisis is a form of public service. For that reason, this article, and all of our coronavirus coverage, is now free. Please subscribe to support our writers and staff, and stay healthy.