Dispatches From the Culture Wars - April 28, 2020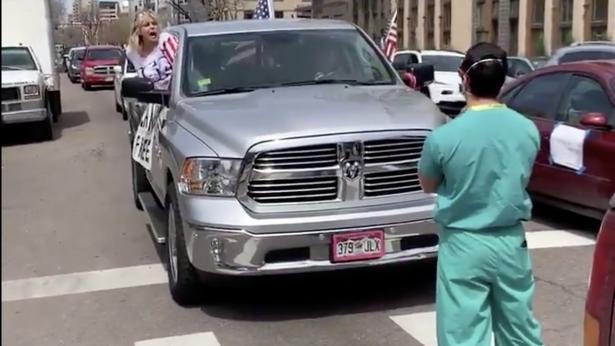 A healthcare worker in a standoff in Denver with a protester who wants the stay at home orders lifted, credit: Scott Dworki/Twitter
Healthcare Workers Confront Lockdown Protesters
By Bill Hutchinson
April 23, 2020
ABC News

From Arizona to Virginia, health care workers tell protesters to "stay at home."
Anti-Vaxxers Join Anti-Quarantine Demos
By Will Sommer and Jackie Kucinich
April 22, 2020
The Daily Beast 
The rallies in state capitals are featuring lots of the same language and some of the same people involved in the movement to scare the public against vaccinations.
Unions Are Saving Our Lives Every Day
By Liza Featherstone
April 27, 2020
Jacobin
Union members have been fighting for their own lives, as they should be, but also for all of us, whether or not we are union members. If not for their efforts, many more people would surely be dying.
Big Pharma Wants All the Action
By Diana Falzone
April 24, 2020
Vanity Fair
A Yale researcher poised to start a crucial clinical trial received an ominous email from a pharmaceutical company. "There is undoubtedly a financial motivation," he said—and there could be millions on the line.
By Natasha Lennard
April 25, 2020
The Intercept
With millions unable to pay for housing next month, organizers plan the largest rent strike in nearly a century.
The Virus and Anti-Asian Violence
By Marina Fang
April 24, 2020
HuffPost
Advocates have collected nearly 1,500 reports of anti-Asian racism in the U.S. over the past month.
GOP Strategy - Pimp Trump or Slime Biden?
By Alex Isenstadt 
April 24, 2020
Politico
Senior Republicans and President Donald Trump's campaign are wrestling with how to best position him for November as the coronavirus poses a grave threat to his reelection.
Can the Park Slope Food Co-op Survive? 
By Leah Koenig
April 24, 2020
New York Magazine
Over its 47-year history, brownstone Brooklyn's bastion of 1970s idealism has stayed remarkably resilient. But the coronavirus has shaken the community-minded store to its very foundation.
By Poppy Noor
April 24, 2020
The Guardian
"Ticked Off Vic" DiBitetto is a performer, so he's used to drawing in a big crowd – but he didn't quite expect that a recent video he made would be viewed over 10 million times.