labor
The Long-Neglected Online Labor Organizing Space Is Getting More Crowded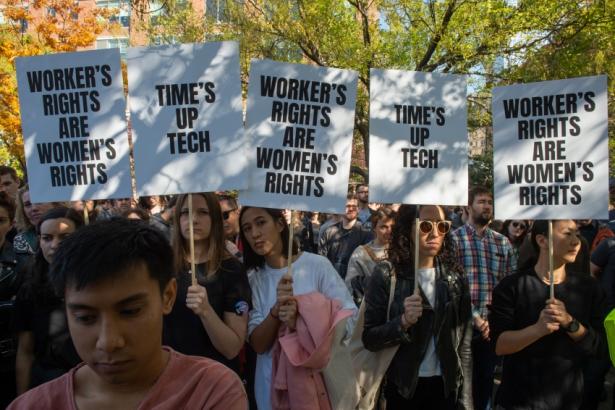 Google employees stage a walkout on November 1, 2018, in New York, over sexual harassment.,(BRYAN R. SMITH/AFP via Getty Images)
A glance at the website of various unions will tell you that organized labor is not always the most tech-savvy field. It has been clear for years that organizing at scale in the modern world will require a lot of online organizing—it is, as they say, where the workers are. The coming launch of two new online organizing tools could signal a new age of healthy competition in a space that should be a hive of activity, but is not.
The internet has been America's dominant communications medium for decades now. Despite this, the attitude of traditional unions towards using the internet as an organizing tool has been, very broadly speaking, disinterested. Union organizing is a field with a history stretching back more than a century, tightly constrained by labor laws, and always under attack from hostile forces; it is inherently suspicious of new methods. For that reason, unions and other labor groups are, for the most part, an afterthought in online culture. The AFL-CIO has fewer Twitter followers than Steak-Umm.
It is easy to see why this is a problem. Union membership has been declining for more than a half-century. The demographic most positively disposed to unions is younger people, who spend their lives online. Reaching the next generation of union members means online organizing. It also means taking a much more flexible approach to organizing—one that does not restrict itself to only traditional union campaigns. The raw materials are millions of hard working, younger people who are at ease online, and who have the general political and moral tilt that would make them prime candidates for organized labor, but who don't know much about unions, or how to connect their day-to-day work issues with what organized labor does. The attitude of traditional unions has often been that these working people should beat a path to their door. Instead, the labor movement needs to bring its tools to the people.

The most well established online organizing platform is Coworker.org, a site that allows workers to start and run campaigns in their workplace—not union campaigns, but issue-based campaigns, which have won workers at a wide range of companies everything from wage increases to the right to wear beards. Founded in 2013, the site has hosted campaigns for a million workers, including more than 300,000 in the past month who have participated in a slew of workplace campaigns related to the coronavirus crisis, many of them seeking hazard pay and safer working conditions. Coworker has also been intimately involved in the organizing that led to the Google walkout and other prominent labor actions in the tech industry in recent years.
Michelle Miller, an SEIU veteran who is the cofounder of Coworker (and a friend of mine), says that the site's value is not only in its ease of use, but also in the organizing expertise that its staff earned by working on hundreds of successful campaigns. "Historically, the labor movement has thrived when we were able to meet people in the spaces they were convening—in the early part of the last century those spaces were the backrooms of bars, churches and synagogues, parks and, eventually, we built union halls where people could gather for both meetings and celebrations," Miller says. "Online spaces should be considered no different. They are places people gather to talk about what matters to them and a savvy, thoughtful labor movement is part of those conversations."
Coworker, a 501(c)3 nonprofit funded by donations and foundations, does not run union campaigns per se. But a new site set to launch soon aims to do just that. Unit.work, formed as a benefit corporation to support worker rights, allows workers to make an account, sign union cards, and form an independent union at their workplace, which Unit staffers then help to administer. It is not allied with any existing unions; rather, it aims to make it easy for people who work in the nooks and crannies that organizers often don't have the time or resources to reach—small companies, out-of-the-way locations, industries without strong union interest—to unionize and administer their own union with one set of centralized resources. It's an intriguing model. And if it works, it could help solve the omnipresent problem of how to unionize workplaces that major unions don't consider to be worth the effort.
Unit's founder is James White, a self-described "tech guy" with an MIT degree, who found himself drawn to labor by witnessing campus union actions in Boston and the rise of Occupy, and by reading white papers about the need for more virtual organizing. White worked on the tech and business sides of a medical device company when he graduated, but left a year ago to dedicate himself to building Unit, which he hopes to formally roll out later this year.
On one hand, those who work in the labor movement may dismiss tech people like White as neophytes; on the other hand, the labor movement could certainly use as much tech competence as it can get. White notes that the weakness of organized labor is manifesting itself online every day. Since the coronavirus crisis began, he says, Google searches for "layoffs" have increased seven times over, but searches for "labor union" and "strike" have barely risen at all. That's indicative of a problem. "Tech tools can lower the barriers," White says, "but ultimately power comes from the worker led actions." Though unions can often be territorial, he sees himself as filling a gap, rather than competing with existing unions. He grew up in a small town of 5,000 people in Texas, and dreams of helping people in places like his hometown unionize, even though there may not be any union locals for miles around.
Another new entrant into the field is GetFrank.com, which just launched in an early beta phase. The site, a for-profit company that aims to eventually support itself via subscription revenue, has a model similar to Coworker: Workers subscribe, organize and create campaigns privately, and then "Frank helps to privately send your campaigns to management and works to ensure you are heard." The company is being built by a team of tech industry veterans, based in Chicago.
It remains to be seen whether the uneasy overlap of tech industry funding mechanisms and labor organizing cause any problems. The more products that launch in the online organizing space, the more we will be treated to a natural experiment of what works and what doesn't. Coworker, the nonprofit, must raise its funding from the world of foundations; Unit, the benefit corporation, will operate essentially as a labor side labor consultant, seeking capital but also legally obligated to fulfill its pro-labor mission; and there's Frank, the regular for-profit firm, which is hoping that there is a high, untapped demand for these services which the market has yet to fill. (There is also UnionBase, a free social network for union members run by Larry Williams, who is the head of the Progressive Workers Union, which qualifies as a fully pro-union project.)
In the big picture, 90% of American workers are not union members, and the vast majority of them are not even involved in workplace organizing in any form. Competition for primacy in online organizing, at this stage, is a good thing. It means that there are more chances for someone to stumble upon a way to organize and become inspired. As Michelle Miller says, "Workers need all the help they can get."
---
Help In These Times Continue Publishing
Progressive journalism is needed now more than ever, and In These Times needs you.
Like many nonprofits, we expect In These Times to struggle financially as a result of this crisis. But in a moment like this, we can't afford to scale back or be silent, not when so much is at stake. If it is within your means, please consider making an emergency donation to help fund our coverage during this critical time.
Hamilton Nolan is a labor reporter for In These Times. He has spent the past decade writing about labor and politics for Gawker, Splinter, The Guardian, and elsewhere. You can reach him at Hamilton@InTheseTimes.com.