Black Folk Musicians Created the Soundtrack for a Movement-And Helped Bob Dylan Find His Sound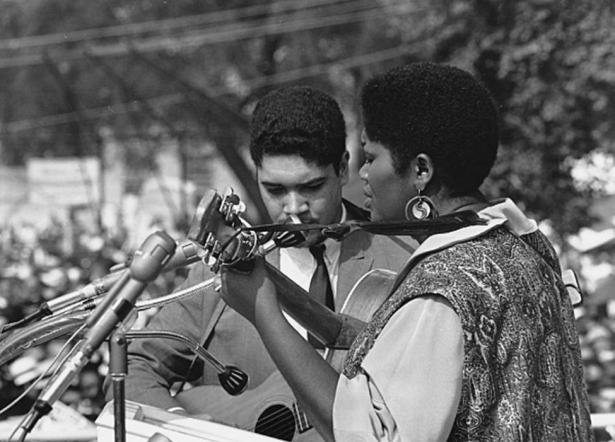 Odetta sings at The March on Washington for Jobs and Freedom, August 28, 1963.,credit: National Archives
I had a conversation about music recently with a white friend, a "folkie" who annually attends the folk music festivals that take place frequently here in the northeastern part of the United States. We were talking about the annual Clearwater Festival held in New York, which is not happening in 2020 due to a combination of financial issues and COVID-19. My friend mentioned that they rarely saw any Black people at these festivals, hypothesizing that "perhaps that's because most folk singers and banjo players are white."
I did a bit of a double-take, because I hadn't thought of folk music that way—probably because I grew up surrounded by folk music and folk musicians of all colors, many of whom were Black. Instead, I always thought of their music as inextricably entwined with the politics of protest.
So, to continue my pandemic-driven series focusing on music, I'm offering a sampling of the vast repertoire that Black folk musicians have contributed, both to the genre and the struggle for freedom and justice.

With that conversation and my own childhood in mind, I did a quick Google search for "Black folk singers." I found a list of familiar faces, a few of whom I wouldn't consider "folk." (Or in the case of Pete Seeger, Black.) One key artist was missing from the results: Leon Bibb, who always let me call him by his first name as a kid, so I hope you don't mind if I do so now. When Leon died in October 2015, I wrote about his life for both Motley Moose and Black Kos.
I was blessed to grow up with parents who surrounded me with political activists. Among those activists were actors and musicians. When we moved to Hollis, Queens NYC when I was going into the 5th grade, a few blocks away from us was the home of friends of my parents—Leon Bibb, his wife and children. I got to spend a lot of time in and out of that home—the Bibbs had twins, Eric and Dorie, four years younger than I was ,and a younger daughter Amy. Through their doors would come Paul Robeson (Eric's godfather), Theodore Bikel, Peter, Paul and Mary, and numerous other performing artists, including Leon's brother-in-law pianist and jazz composer John Lewis.

I have to thank Leon's influence for exposing me to folk music, black folk songs, as well as to white leftist singers whose music helped shape my world.

Though he has been gone from this country since 1969 when he left the U.S. for Canada, his music and the memories of my young adulthood are with me still. I only got to see him once during the intervening years. He is gone, but his music lives on.
The New York Times also posted a lengthy obituary for Leon.
Leon Bibb, an actor turned folk singer whose powerful, elegant baritone voice made him a prominent figure in the folk-music revival and a stirring performer at the landmark civil rights demonstrations of the 1960s, including the third march from Selma to Montgomery, Ala., in 1965, died on Friday in Vancouver, British Columbia. He was 93.

[…]

It was the dearth of parts for black actors that motivated Mr. Bibb to remold himself as a folk singer in the mid-1950s, drawing on the spirituals that one of his aunts had sung to him as a child in Louisville, Ky. Albums like "Leon Bibb Sings Folk Songs," released by the Vanguard label in 1959, and frequent performances on the television show "Hootenanny" made him one of the more prominent folk singers of the era. A regular at clubs like the Bitter End and the Village Gate in New York and the hungry i in San Francisco, he sang at the first Newport Folk Festival in 1959 and reached a broad television audience that same year when he sang "Sinner Man," one of his signature songs, on "The Ed Sullivan Show."

Mr. Bibb became involved in the civil rights movement early on, taking part in voter-registration drives in the South and performing at the 1963 March on Washington. In 1965 he performed in front of the statehouse in Montgomery with Joan Baez, Oscar Brand and Harry Belafonte, whom he had known since their acting days at the American Negro Theater in Harlem. "He was really committed to the cause of civil rights, and he was hugely inspiring," Mr. Belafonte said in a telephone interview. "Between him and Mahalia Jackson, we had all the music we needed for the movement."
This tweet about Harry Belafonte may not identify the young man between him and Joan Baez, but the Smithsonian blog does. That's "Harry Belafonte, Leon Bibb, and Joan Baez singing at Selma to Montgomery March, 1965."
Many readers might be too young to remember Hootenanny, the short-lived ABC TV show dedicated to presenting folk music to a national audience. The show fell apart quickly—first due to artist boycott when the network blacklisted prominent folk artists who were under attack because of their leftist leanings, like Seeger, and later due to the rise of the British Invasion.
Here's Leon performing "Rocks & Gravel" on Hootenanny in 1963.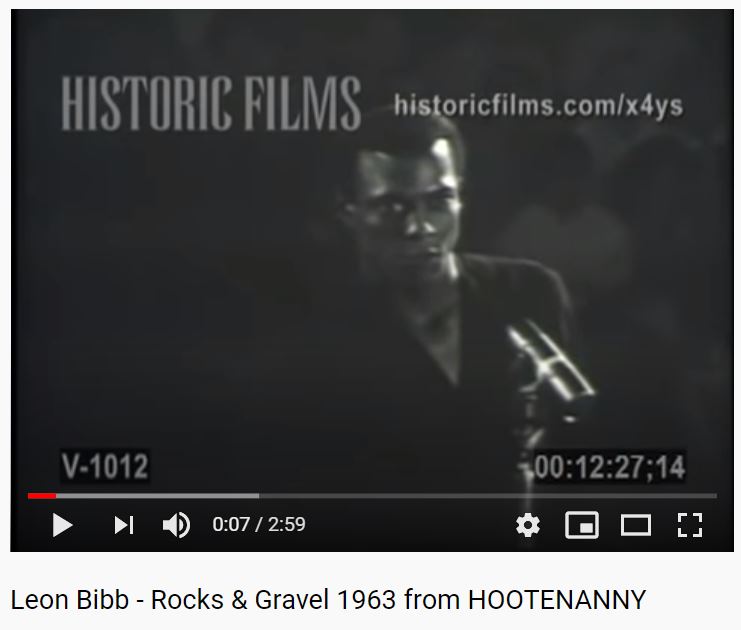 Listen here,
Leon first recorded "Rocks and Gravel" in 1958. Many folk music fans are aware of a different song with the same title recorded by Bob Dylan; there has been discussion about the songwriter credit since it's often listed as "written by Bob Dylan" despite the roots of many work songs and chain gang songs being part of a history of Black enslavement and Reconstruction era oppression. 
Leon's version of "Rainbow Round My Shoulder" was also a song that originated in the chain gangs, as compiled by John and Alan Lomax in American Ballads and Folk Songs. Both "Rocks and Gravel" and "Rainbow on my Shoulder" would later be immortalized in dance by famed Black choreographer Donald McKayle.
 
Listen here
I mentioned growing up with the Bibb family, including Eric, who grew up to be twice Grammy-nominated and a well-known musician in his own right in both Europe and the U.S.
Father and son recorded several albums together, most notably A Family Affair. Below, both generations come together to sing "Swing Low, Sweet Chariot."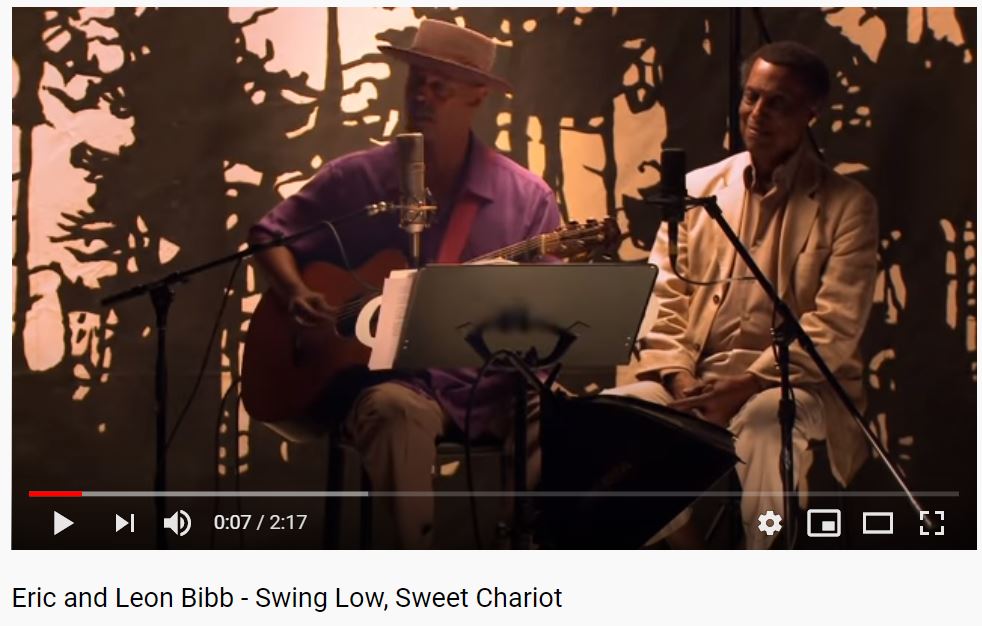 Listen here.
The Bibbs also teamed up to record a tribute to Paul Robeson. Eric offered a written homage in the liner notes.
Paul Robeson was my Father's friend and mentor both musically and philosophically. Leon's admiration of Robeson lead to Paul becoming mine and my twin Sisters Godfather. We were inspired to make this tribute album by a devise to celebrate the life and music of Paul Robeson and his great contribution to peace and brotherhood. in a time where conflict in the world has reach an all time high. "Praising Peace" is the only way forward."

"To be free - to walk the good American earth as equal citizens, to live without fear, to enjoy the fruits of our toil to give our children every opportunity in life - that dream which we have held so long in our hearts today the destiny that we hold in our hands." —Paul Robeson
Just days ago—May 4— Eric posted a tune perfect for a pandemic: "Better Times Will Come," written by Janis Ian. As Ian notes, the performance is part of a larger effort to soothe us all and keep our hope alive.
In troubled times, art is often all that stands  between us and chaos. In that spirit, I decided to offer a lot of "free stuff", and invited colleagues to contribute versions of my song "Better Times Will Come." Please share with friends and social media. Everyone here hopes the downloads and videos will bring a bit of hope. Special thanks to my colleagues for allowing their work to be used! Thank you; stay safe.
Enjoy.
 
Listen here.  
As I continue to consider my own Black folk music education, two other names stand out. The first is Odetta. Trained as a child in classical music, Odetta Holmes Felious would become a guardian of folk tradition and influence the course of American music. It's hard to believe that there is only one major biography of her life: Odetta: A Life in Music and Protest. Even more baffling? The book was only released last month. As Josephine Livingstone asserts in The New Republic, Odetta has been "largely forgotten by younger generations." Her biography aims to address that knowledge gap.
Born Odetta Holmes on the last day of 1930, she took her stepfather's last name, Felious, but dropped it in favor of a mononym as soon as she began performing. She was ridiculed as a child for being big and tall, and internalized that teasing. She was trained in opera, but hit the big time after falling in with the folk crowd in the early 1950s, singing spirituals and old traditional tunes like "John Henry." In Zack's biography, Pete Seeger recalls coaxing Odetta to join a hootenanny singalong some time in the '50s. She was shy at first, but "when she was persuaded to sing, power, power, intensity and power!" Odetta's voice was a force to make you tremble.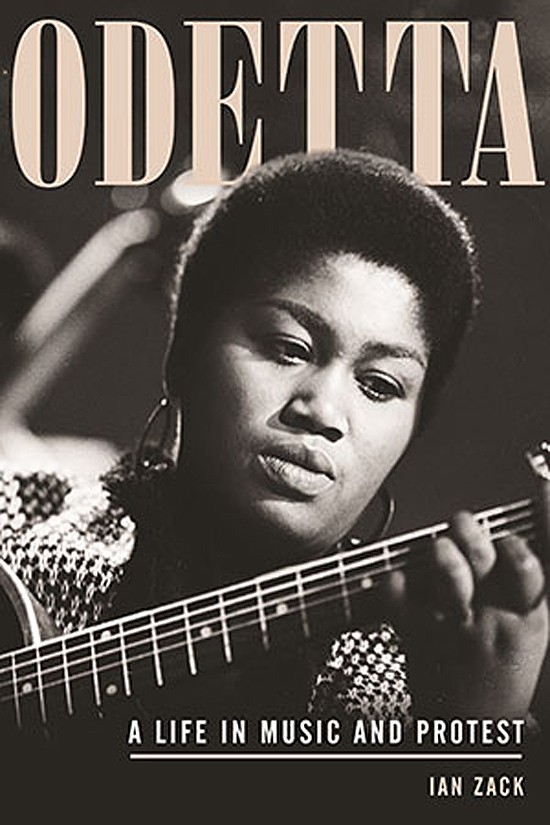 National fame came in 1957 with her album of spirituals and traditional ballads, Odetta Sings Ballads and Blues.  When Odetta appeared on TV, singing songs from the canon of black grief, the intensity of her spirituals hypnotized the (mostly white) audience. She sang classic work songs like "Take This Hammer" with as much solemnity as Paul Robeson, but lit up by the gusto and passion of something rawer, less formal.
In the video below, Odetta's performance of the "Freedom Trilogy" is set to images from her remarkable life—both in music and in protest.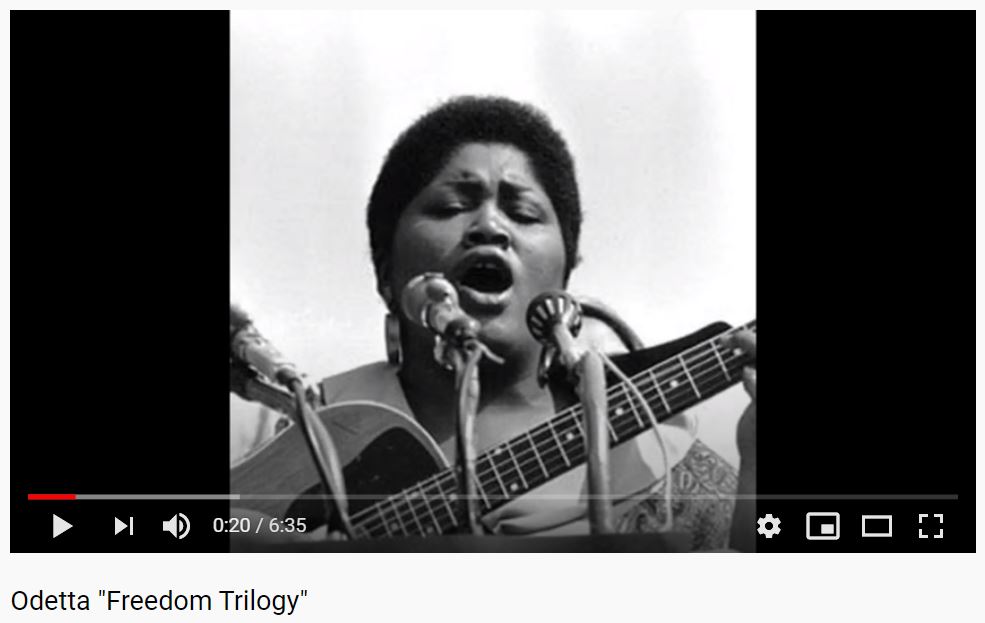 Listen here.
Peggy Bulger, director of the American Folklife Center, interviewed Odetta in 2003. She talked about her early musical heroes and role models, like Paul Robeson and Marian Anderson, who she said "represented the dignity of Black women." Reflecting on the early part of her career, she spoke of her selection of material, noting: "One of the things that helped heal me, and the hate that I had for everything and everybody, including myself, were the prison work songs […] I was able to get my rocks off, the venom out." In later years, Odetta remarked that as she grew as a woman and an artist, she shifted to more world music and global issues.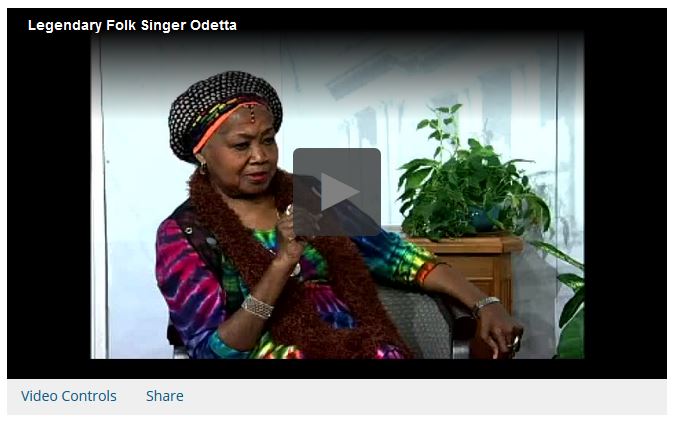 Listen here.
Though I knew Odetta's songs and owned her albums, I did not know or recognize the impact she had on other artists. I learned something new when I read We All Owe a Debt to Odetta: 15 Facts About the Legendary Folk Musician and Activist.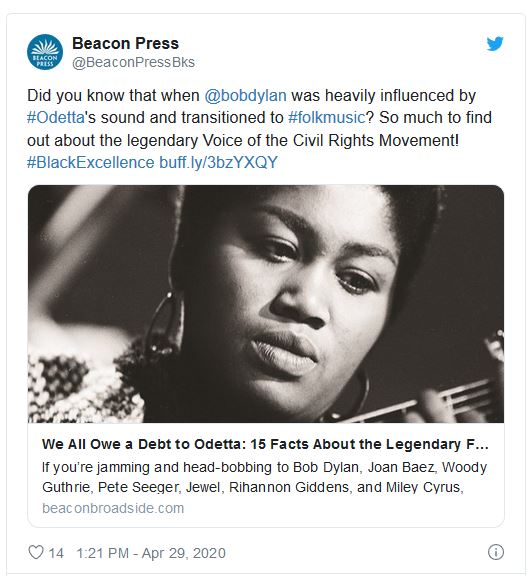 Take a look at the listed facts and let me know which ones you didn't know. Personally, as an early Afro wearer I didn't know my former hairstyle was first named "the Odetta." Christine Kelly wrote about Odetta's appearance for Zapruder World's fourth volume of Performing Race.
Odetta appeared on stage with little but a long, plain dress and her guitar to accompany her. She stood in the center of a pool of bright light that contrasted sharply with a dark stage, forming an air of solemnity that the black-and-white medium of television broadcast made all the more pronounced. Her hair was thick and short, free of any attempts to flatten or straighten it. Later, a civil rights-inspired African ethnic beauty revival would popularize the "Odetta," as the hairstyle was originally called, renaming it the "Afro." But for now, the performer stood alone as the first household name to don such a daring do.

With eyes tightly shut, Odetta belted out the lyrics to what television critic Chestyn Everette described as the "triumph of the evening": her rendition of the African-American slave and prison labor song, "Water Boy." "Water Boy!," Odetta cried, which she followed with a dramatic pause and sharp guitar strum, "Water Boy! If you don't come right here / Gonna tell pa on you / There ain't no hammer that ring like mine, boy . . . There ain't no hammer that ring like mine."
No one who has ever heard Odetta's performance of "The Waterboy" could forget it.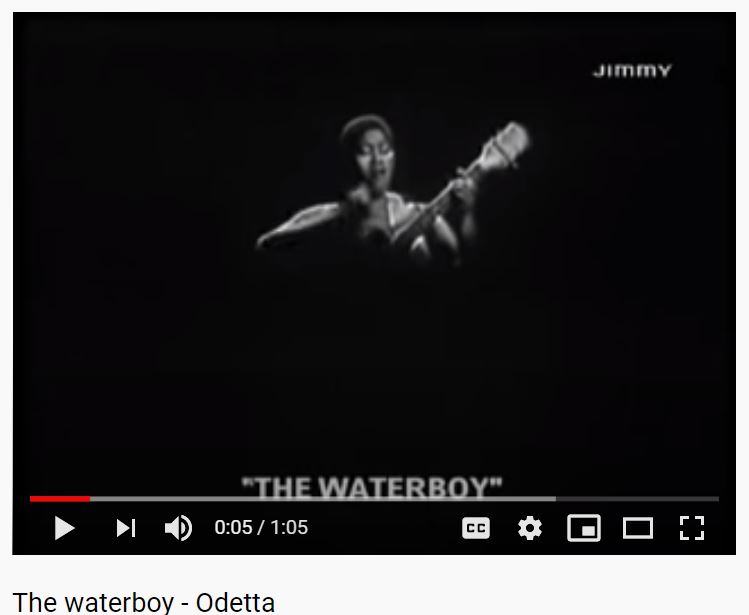 Listen here.
Odetta's obituary in The New York Times spoke of her importance to the movement.
Odetta's voice was an accompaniment to the black-and-white images of the freedom marchers who walked the roads of Alabama and Mississippi and the boulevards of Washington to end racial discrimination.

Rosa Parks, whose refusal to give up her seat to a white passenger led to the boycott of segregated buses in Montgomery, Ala., was once asked which songs meant the most to her. "All of the songs Odetta sings," she replied.

One of those songs was "I'm on My Way," sung during the pivotal civil-rights March on Washington on Aug. 28, 1963. In a videotaped interview with The New York Times in 2007 for its online feature "The Last Word," Odetta recalled the sentiments of another song she performed that day, "Oh Freedom," which is rooted in slavery: "Oh freedom, Oh freedom, Oh freedom over me/ And before I'd be a slave, I'd be buried in my grave/ And go home to my Lord and be free."
If the Library of Congress video above was too long for you, watch the "The Last Word" feature below and listen to Odetta tell her story herself in just seven minutes.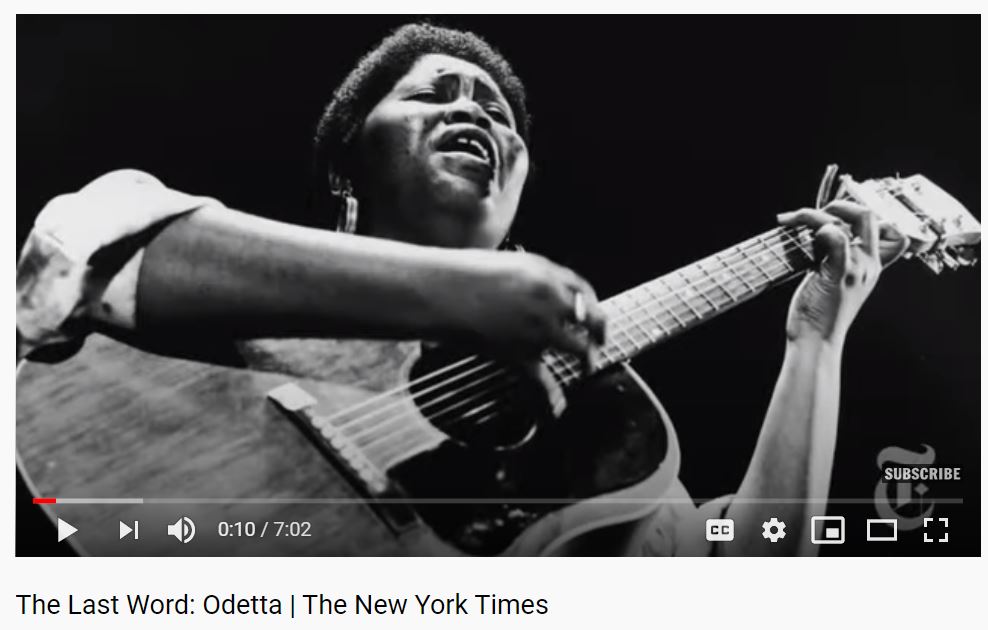 Listen here.
Until I started reading more of her story, it never occurred to me that Odetta might be the person who would change the course of Bob Dylan's musical life.
We all know the story of Bob Dylan going electric at the 1965 Newport Folk Festival: the boos, the cheers, Pete Seeger overheard backstage wishing that he had an axe to chop through the microphone cable. It's one of the great American artistic-origin myths. As Excalibur was to Arthur, so the Fender Stratocaster was to Dylan, the tool that unlocked a destiny. But what most of us don't realize is that Dylan started out electric, playing with his band as a teen-ager in Minnesota. His first big musical transformation was going acoustic, moving from rock to folk, and that, as he told Ron Rosenbaum in an unusually sincere interview in a 1978 issue of Playboy, happened because of the great African-American singer Odetta.

It was 1958. Dylan was in a record store, and put on "Odetta Sings Ballads and Blues," her first album, released a couple of years before. "Right then and there, I went out and traded my electric guitar and amplifier for an acoustical guitar, a flat-top Gibson," he told Rosenbaum. Four years later, a baby-faced Bob put on a pageboy cap and a shearling jacket to pose with that Gibson, his very own fascist-killing machine, for the cover of his self-titled début album, and a folk star was born.

Of course Odetta influenced Dylan. She influenced just about everybody in the folk scene.
Listen to Odetta cover Dylan's "Masters of War" and note, as The New Yorker describes, how "Dylan's most famous protest songs (are) transformed by a woman whose lived experience was so marked by the particular brand of American injustice that Dylan had observed at a remove."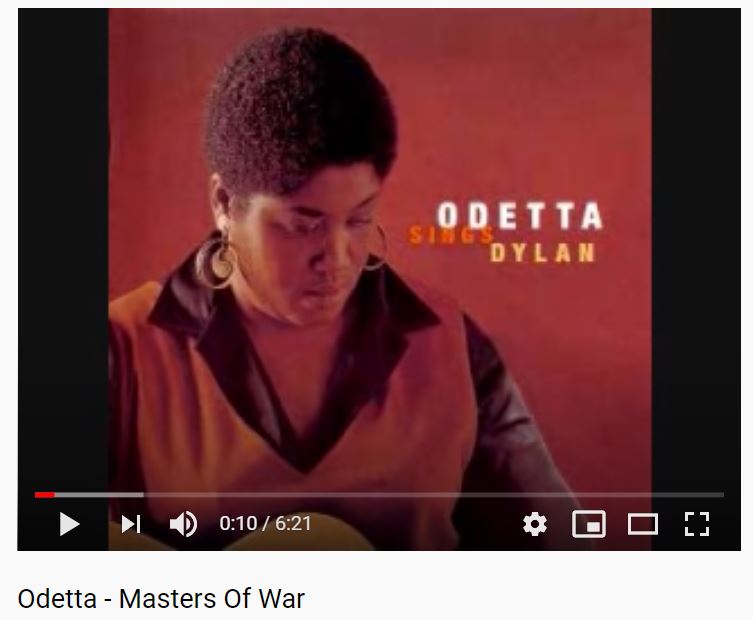 Listen here.  
Like Odetta, another Black woman would be part of the civil rights movement and go on to collect and disseminate Black folk music to the world: Dr. Bernice Johnson Reagon, who believes strongly in the connective tissue created by music.
These days, I come as 'songtalker,' one who balances talk and song in the creation of a live performance conversation with those who gather within the sound of my voice.
As a student leader and activist in the Albany Movement, I sang and stood in the sound of the congregational singing of the freedom songs charging the air we breathed. For the first time, I understood how the singing not only pulled us together, but became our articulate collective testimony to all who stood within the sound.
The Smithsonian Folkways biography of Reagon details Reagon's early life.
Bernice Johnson Reagon, singer, song leader, civil rights activist, and scholar, is a profound contributor to African American culture. Bernice was born in Albany, Georgia, in 1942. She recorded her first solo album, Folk Songs: The South, with Folkways Records in 1965. As she writes, "My history was wrapped carefully for me by my fore-parents in the songs of the church, the work fields, and the blues. Ever since this discovery I've been trying to find myself, using the first music I've ever known as a basic foundation for my search for truth."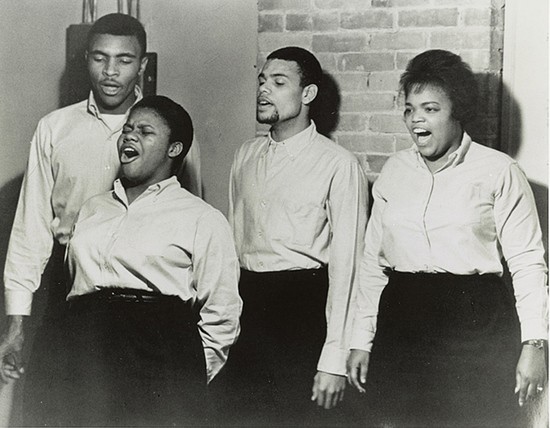 In the 1960s, Bernice was an integral part of the African American struggle for civil rights. Her work started in her hometown of Albany, where protests and marches were often accompanied by massive arrests. She found inspiration in the songs elders would sing at mass meetings and community gatherings, and music took on greater meaning for her. She writes, "As a singer and activist in the Albany Movement, I sang and heard the freedom songs, and saw them pull together sections of the Black community at times when other means of communication were ineffective. It was the first time that I knew the power of song to be an instrument for the articulation of our community concerns."
Along with Cordell Reagon, Rutha Harris, and Charles Neblett, Bernice founded the SNCC (Student Nonviolent Coordinating Committee) Freedom Singers, the first group of freedom singers to travel nationally. The SNCC Freedom Singers recognized that singing provided an outlet of protest for those who might normally have been intimidated by racist authority or mobs, and allowed those outside the struggle to become directly engaged.
Here's a clip of the Freedom Singers with a powerful performance of "I Woke Up This Morning With My Mind Set On Freedom."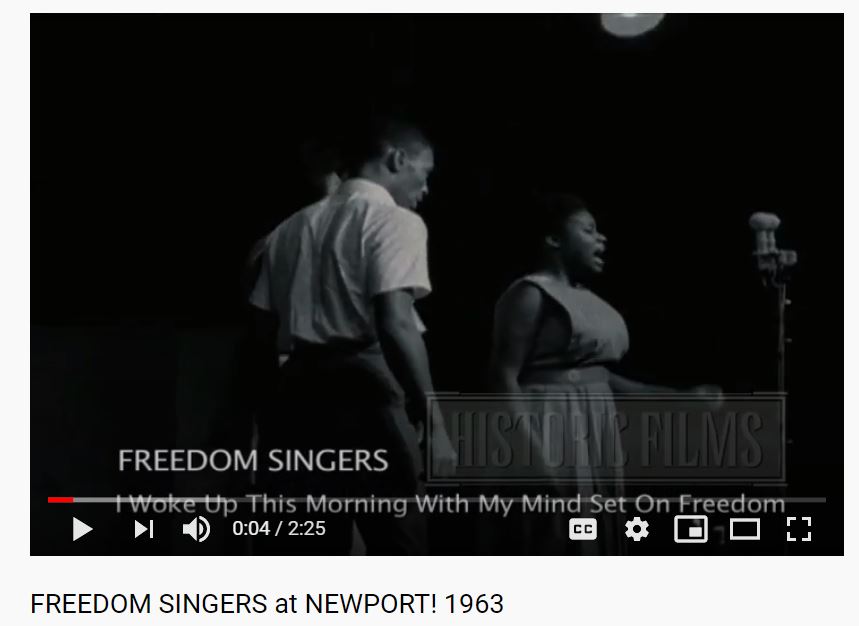 Listen here.  
Watch the Freedom Singers captivate the crowd at the March on Washington with their rendition of "We Shall Not Be Moved."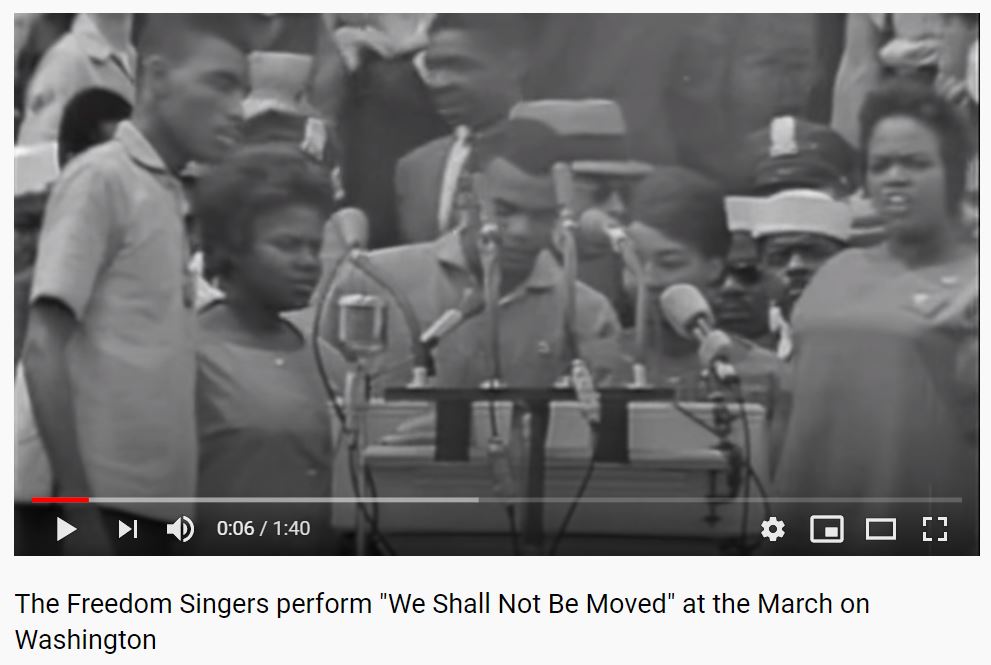 Listen here  
The Student Non-violent Coordinating Committee (SNCC) digital portal further explores Reagon's activism.
When SNCC organizers Charles Sherrod and Cordell Reagon came to Albany in the fall of 1961, they found the students at Albany State ready for action. The two field secretaries started poking around campus, talking with students. Johnson remembered that Sherrod approached her and asked her the join SNCC. She was at first put off. "I told Sherrod that they needed to find another name for the organization … the term nonviolent did not name anything in my experience." But something was happening "and I didn't want it to happen without me."

That November, the Albany Movement was organized in reaction to the arrests of Bertha Gober and Blanton Hall for testing the Interstate Commerce Commission's ruling ordering the desegregation of interstate buses and trains. Johnson was now pouring almost all of her time into the local Movement. She served on the program committee, she planned meetings, and provided music. At one of the first mass meetings in Union Baptist Church, Johnson was asked to lead the participants in song. She started to sing "Over my head, I see Trouble in the Air," but she quickly realized that "trouble" wasn't the right word for the occasion. "So instead I put in freedom and by the second line everyone was singing."

Johnson was suspended from Albany State for her activism. She spent a semester at Spelman College in Atlanta before joining SNCC's newly-formed Freedom Singers in 1962. She married the group's co-founder Cordell Reagon. The Freedom Singers toured the country to raise money for SNCC projects in the Deep South. The group also moved in and out of movement hotspots, using their music to provide a spark for local activism. "Basically the singing was the 'bed' and the 'air' of everything," remembered Johnson. "I had never heard or felt singing do that on that level of power." In 1966, Johnson Reagon founded the Harambee Singers and in 1973, she formed Sweet Honey in the Rock, an all-women, African American a cappella group that sought to effect change and portray the Black experience through their voices. Johnson Reagon continued to use her powerful singing to allow others to study the African American oral tradition in radio, film, and concerts across the country.
The first album I ever owned that features Reagon's voice was Give Your Hands to Struggle, which was recorded in 1975 and rereleased in 1997 by Smithsonian Folkways. I wore out several copies.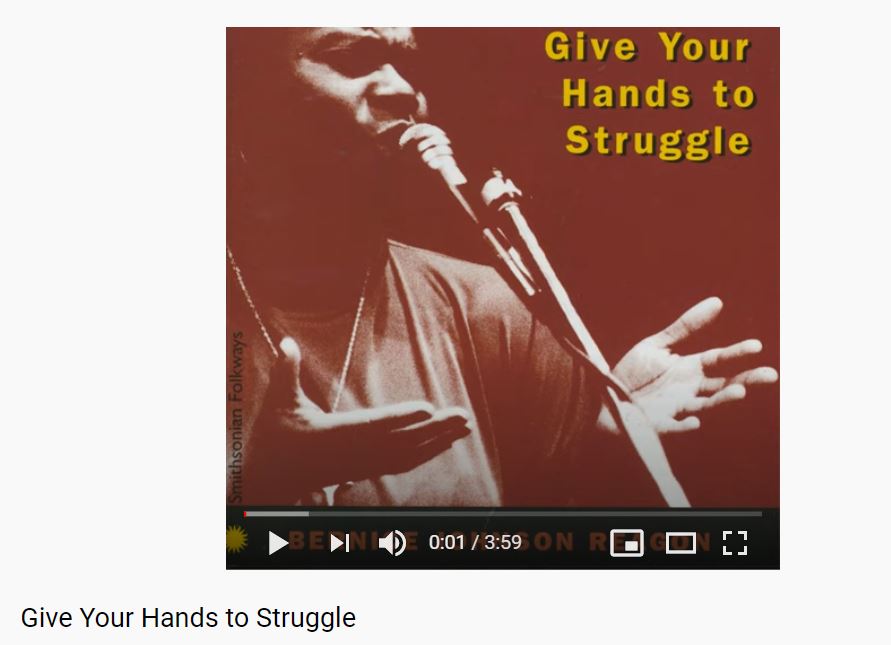 Listen here.
In 1977 I was living in Washington, D.C. I was part of putting the first Black-controlled Pacifica radio station on the air that year. We had the good fortune to have a group formed by Reagon in 1973 while she was a graduate student at Howard University, Sweet Honey in the Rock, come to the station and cut promos for us. We aired a lot of their music, and it remains a mainstay for me in times that are good, and when I need music to tide me over when things are rough … like right now.
In 1999, Dr. Reagon received the International Lifetime Achievement Award from the Folk Alliance. In this interview to commemorate the high honor, she talks about the founding of Sweet Honey in the Rock and the key role music plays in our struggles.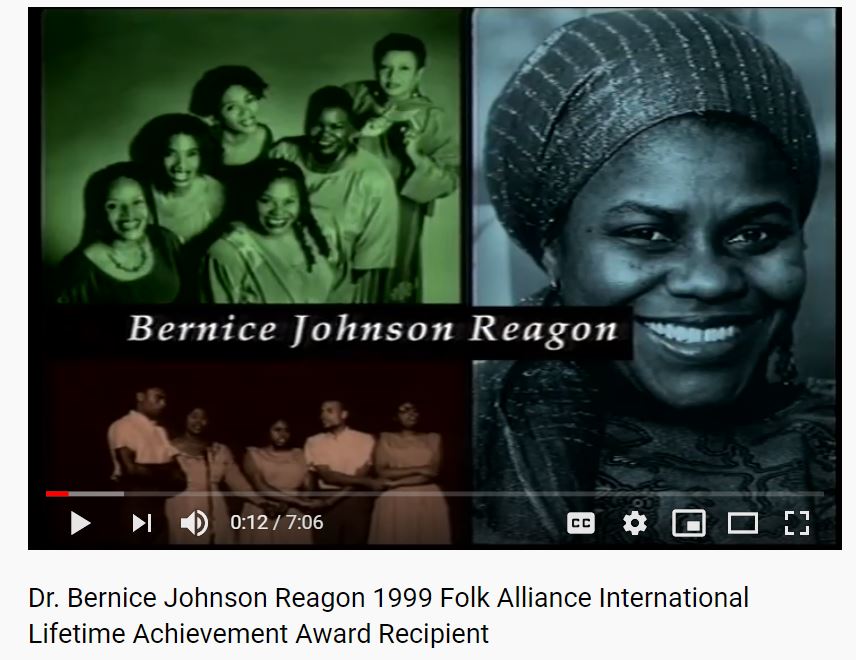 Listen here.
 
I got up today thinking about the wanton murder, lynching, and slaughter of a young Black jogger named Ahmaud Arbery, who was shot down in Georgia by white domestic terrorists. His life was taken just three days before the anniversary of the slaying of Trayvon Martin. It's on mornings like this that the words of "Ella's Song" come to mind.
We who believe in freedom cannot rest

We who believe in freedom cannot rest until it comes

Until the killing of Black men, Black mothers' sons

Is as important as the killing of White men, White mothers' sons
We still can't rest.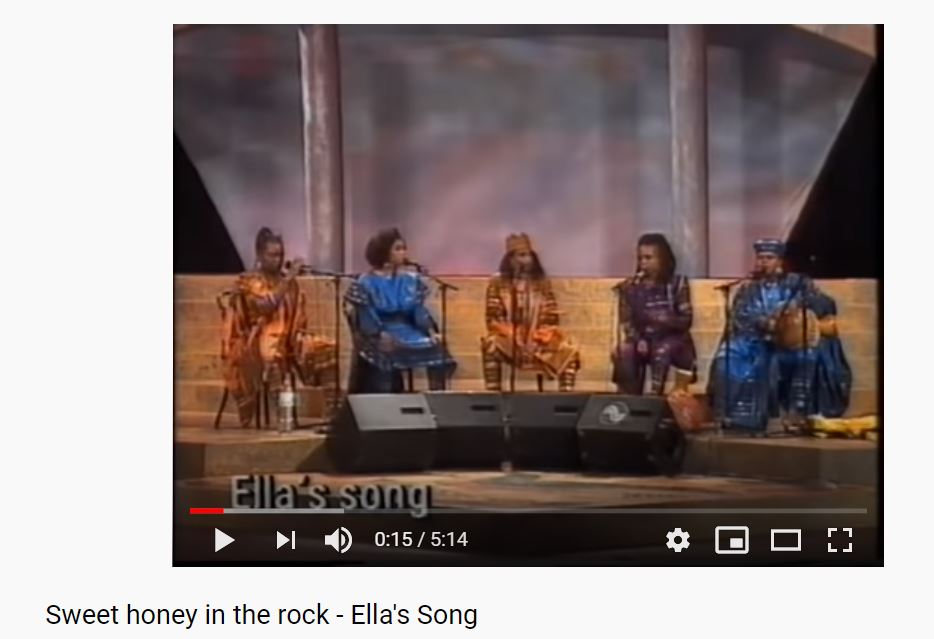 Listen here  
Like Leon Bibb's son Eric, Dr. Reagon's daughter has continued in the folk and protest tradition. Meet Toshi Reagon.
Listen here.
I'll close with this rousing performance of "Ain't Gonna Let Nobody Turn Me Round" featuring Toshi and her mom at the 2018 Smithsonian Folklife Festival.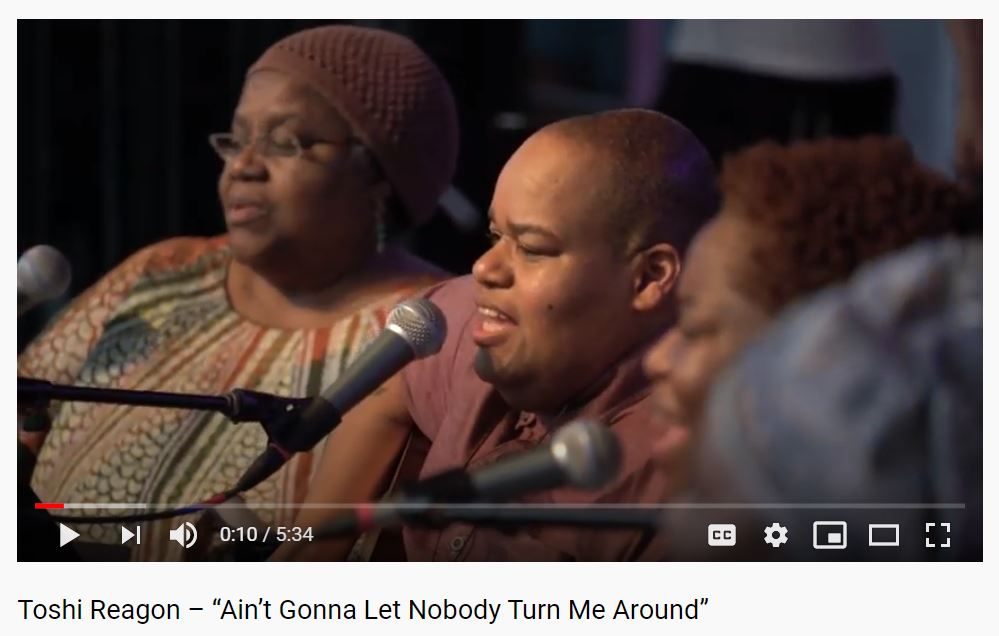 Listen here  
 
Yes, the women use music to taunt ICE agents and decry misogyny, homophobia, and transphobia, but what got me standing up and shouting "amen" during that last song was Toshi's closing exhortation to the audience to join in a cappella. It's a reminder that we can make music with our voices, and our hands, and our feet; we don't always need to be plugged in. 
The beauty and power of so much of our African-ancestored folk music is in its simplicity. Call-and-response creates community bonds—something we could use a lot more of these days.
Ain't gonna let nobody turn us round. Can I get an amen?
I've barely scratched the surface of Black folk music intersections today. Since our quarantine isolation situation isn't going away any time soon—despite Donald Trump's stupid demands that we get back to a "normal" that no longer exists—please tune in next Sunday for even more music along these lines. (Though I have a feeling we'll be spending some time with the folk-blues.)
[Denise Oliver-Velez is currently an adjunct Professor of Anthropology and Women's Studies at SUNY New Paltz. She is a Featured Writer for Daily Kos, and is an editor of Black Kos. She has been a political activist and community organizer for more than 40 years, was in the civil rights movement, women's movement, AIDS activism movement and was a member of both the Young Lords Party and the Black Panther Party.]