labor
Art Staffers Seek Managment Recognizition of a Union, Avoiding the Need for a Vote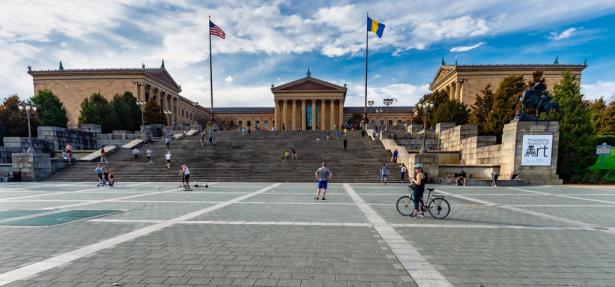 People at the Philadelphia Museum of Art on March 20, 2020. ,Gilbert Carrasquillo/Getty Images.
Employees at the Philadelphia Museum of Art are launching a campaign to unionize, the latest in a wave of such efforts at major institutions across the US. On Friday, staff announced their intent to unionize in affiliation with District Council 47 of the American Federation of State, County, and Municipal Employees (AFSCME DC 47).
Employees filed their request with the National Labor Relations Board and have written a letter to museum management seeking voluntary recognition, which would eliminate the need for a vote. Employees have already collected authorization from a "supermajority" of eligible staff, and are waiting to hear back on the request. Their statement notes that voluntary recognition of staff unions was recently granted at the Museum of Contemporary Art, Los Angeles and The Shed in New York. Such a move would clear " the way for more expeditious and collaborative bargaining," they write.
The museum said in a statement that it received the employees' letter and it "recognizes the right to organize," adding that it "will give the letter close attention."

By unionizing, the employees say in their statement that they are taking important steps to ensure that the eventual reopening of the museum prioritizes both visitor and staff safety, as well as empowers employees "in the face of harassment and discrimination"—a reference to issues documented in the New York Times earlier this year. (According to reports, museum officials failed to respond to complaints that a manager named Joshua Helmer, who resigned in 2018, had made advances toward numerous female staffers during his tenure. Helmer, who had moved on to a position as director of the Erie Museum, resigned from that job in January.)
Employees say the unionization effort also aims to prevent the financial impact of the museum's current closure "from landing on programs that serve our community and workers who are already the most vulnerable."
Conversations about organizing first started roughly a year ago, Nicole Cook, program manager for graduate academic partnerships, and a member of the union organizing committee, told Artnet News. The first conversations happened when a widely circulated art museum "transparency" Excel spreadsheet made the rounds in the art world last May, she said. "That opened an honest conversation not only about compensation but also about more tangible benefits, as well as about equity and inclusion in the workplace, which very organically led to conversations about organizing for better conditions."
So far, the museum has not had any layoffs related to its closure, which is currently in effect until June 30, the end of its fiscal year. Instead, the museum implemented salary cuts for all workers making $30,000 and up.
"I think I speak for everyone in my unit when I say that we're very grateful for what the museum has been able to do for us and we're excited to work in collaboration with upper management," said Cook. "We very much hope that they will decide to voluntarily recognize us… and start working toward a contract."
Cook, who has been working at the museum for two and a half years, added: "This is coming from a place of sincere love and respect for the institution and we really do think a more empowered staff will lead to a better museum."