Stop Police Crimes - Enact CPAC for Community Control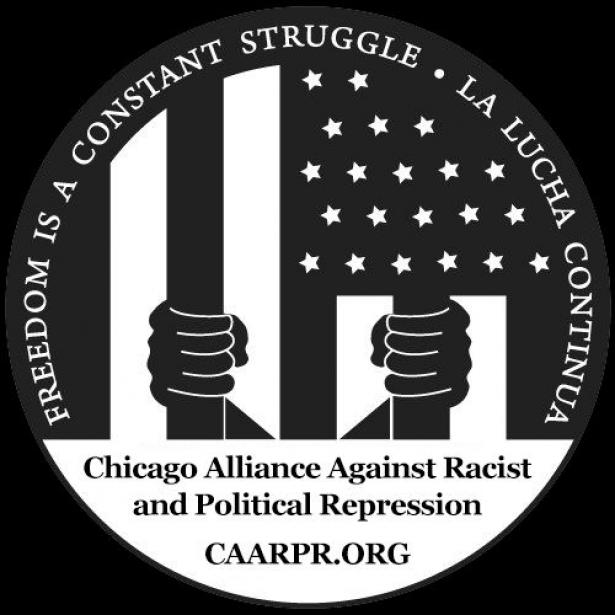 STOP POLICE CRIMES - ENACT CPAC FOR COMMUNITY CONTROL
CPAC stands for Civilian Police Accountability Council.  Our CPAC ordinance is currently in the public safety committee in Chicago City Council and, if enacted, it will create a democratically-elected Council to oversee the Chicago Police Department. 
SUPPORT CPAC
We have 60,000 people across the city who support our CPAC legislation! You can join them by signing our petition (link coming soon).
CPAC AND CITY COUNCIL
There are currently 19 alderpeople who support this legislation. We need 26 to get it passed!

If your alderperson is not on this list, please call them today to demand that they support CPAC. You can find your alderson's phone number and email address here: https://chicago.legistar.com/People.aspx
If your alderperson is on this list, please call them today to thank them and ask them to stand firm in their support of CPAC (their numbers are in the table below). Alderpeople are persuaded by their constituents and need to know that they are making the decision of the people!
If you don't know who your alderperson is, you can look them up here with your address (try copying and pasting if link doesn't work): https://www.chicago.gov/city/en/depts/mayor/iframe/lookup_ward_and_alderman.html?fbclid=IwAR2iYLKqVOQiYtsUZuVSQPisnhkZEH7iNErLHjWaruoN9O2h_JIIBRA02SA
CPAC SPONSORS IN CITY COUNCIL
| | | | | |
| --- | --- | --- | --- | --- |
| Ward | First Name | Last Name | Phone | Email |
| 1 | Daniel | La Spata | 872-206-2685 | |
| 5 | Leslie | Hairston | 773-324-5555 | |
| 8 | Michelle | Harris | 773-874-3300 | |
| 9 | Anthony | Beale | 773-785 -1100 | |
| 10 | Susan | Sadlowski-Garza | 773-768-8138 | |
| 15 | Raymond | Lopez | 773-823-1539 | |
| 16 | Stepanie | Coleman | 773-306-1981 | |
| 20 | Jeanette | Taylor | 312-744-6840 | |
| 21 | Howard | Brookins | 773.881.9300 | |
| 22 | Michael | Rodriguez | 773-762-1771 | |
| 25 | Byron | Sigcho-Lopez | 773-523-4100 | |
| 26 | Roberto | Maldonado | 773-395-0143 | |
| 31 | Felix | Cardona, Jr. | 773-703-7357 | |
| 33 | Rossana | Rodriguez-Sanchez | 312-447-4081 | |
| 35 | Carlos | Ramirez-Rosa | 773-887-3772 | |
| 37 | Emma | Mitts | 773-379-0960 | |
| 40 | Andre | Vasquez, Jr. | 773-654-1867 | |
| 47 | Matthew | Martin | 773-868-4747 | |
| 49 | Maria | Hadden | 773-338-5796 | |
Police are supposed to protect and serve the community, but right now in Chicago all the power belongs to the mayor and the police union.  We demand CPAC so that WE have the voice in who polices our communities and how they are policed. 
The Council will have one elected member for every two contiguous police districts for a total of 11 members. These members will be directly elected by you.  They're only allowed to accept campaign contributions from within their district.
The most recent draft of CPAC gives the council many important responsibilities, and broad authority to carry them out.  For example, CPAC will enable the people to have the power to:
Hire and fire the police superintendent;
Hire and fire the head of Civilian Office of Police Accountability (COPA);
Hire and fire the members of the police board;
Write and determine CPD policy; maintain final authority over CPD policy and COPA policy;
Maintain final authority over police board policy and disciplinary measures, including firing of officers and convening grand juries; 
Negotiate the CPD union contract;
Broaden the scope of investigations to include all allegations of misconduct, including sexual assault;
Oversee all COPA investigations of police misconduct and maintain the power to subpoena officers.
THE ALLIANCE CAMPAIGN
We've been working for the passage of the CPAC bill in a variety of ways:
We staff sidewalk tables around the city every weekend to educate the public and collect postcards for our aldermen.
We collect petitions from local businesses in support of CPAC.
We run community events to provide in-depth educate around the systemic problem of police crime and the systemic solution of CPAC.
We protest police crimes like those that happened to Laquan McDonald, and show support at court dates for police victims
We meet with our aldermen to educate them about the legislation and its public support.
ENDORSING ORGANIZATIONS
8th Day Center for Justice
Action Now
American Friends Service Committee
American Party of Labor
AnakBayan
Arab American Action Network
Asian Americans Advancing Justice
Assata's Daughters
Black Caucus, Chicago Teachers Union
Black Lives Matter Chicago
Black Lives Matter Chicago Youth
Black Lives Matter Women of Faith
Black People Against Police Torture, National Conference of Black Lawyers
Black Youth Project 100
Brighton Park Neighborhood Council
Campaign to End the Death Penalty
Carlos Ramirez Rosa
Caucus of Rank and File Educators
Chicago ANSWER
Chicago Area Peace Action
Chicago Metropolitan United Church of Christ
Chicago Teachers Union
Church of the Living God
Circles and Ciphers
Coalition of Black Trade Unionists Chicago
Coalition of Labor Union Women
Comite Exigimos Justicia/We Demand Justice Committee
Committees of Correspondence for Democracy and Socialism
Communist Party, USA, Scott Marshall
Council of Islamic Organizations of Greater Chicagoland

Democratic Socialists of America, Chicago
Fight 4 15
Freedom Road Socialist Organization

GABRIELA 
Gay Liberation Network
Illinois Coalition Against Torture
Innocent Demand Justice

Jewish Voice for Peace
Jobs With Justice
Justicia en Ayotzinapa
Let Us Breathe Collective
Lifted Voices
Lincoln United Methodist Church
National Alliance of Filipino Concerns

National Asian Pacific American Women's Forum, Chicago

National Coalition for a Truth and Reconciliation Commission

Network 49
Northside Action for Justice
Organized Communities Against Deportation

People's Lobby

Pilsen Alliance
Pueblo Sin Fronteras/Familia Latina Unida
Radical Public Health, UIC
Reclaim Our Community
Resist Reimagine Rebuild Coalition
SEIU Health Care Illinois/Indiana

SEUI Local 1
SEIU Local 73
Showing Up for Racial Justice

Southsiders Organized for Unity and Liberation (SOUL)
Southside Branch NAACP
St. Margaret Episcopal Church
Torture Justice Memorials
Tree of Life Justice League of America
Trinity Episcopal Church
Trinity United Church of Christ
U.S. Palestinian Community Network
UAW L 551 Union Solidarity Committee
UIC Graduate Employees Organization
United Electrical Workers Region 4
United Working Families
Veterans for Peace
Women's All Points Bulletin
Workers Center for Racial Justice
Workers World Party
GET INVOLVED!
We need volunteers like you to help us with these and other activities to support the CPAC legislation.
Learn more about volunteering with the Alliance »
Why is CPAC the ONLY ordinance that will give the community power over how they're policed?
The Mayor wants to pass GAPA ("Grassroots" Alliance for Police Accountability) because GAPA would keep the power with the Mayor's office and the police. See how below.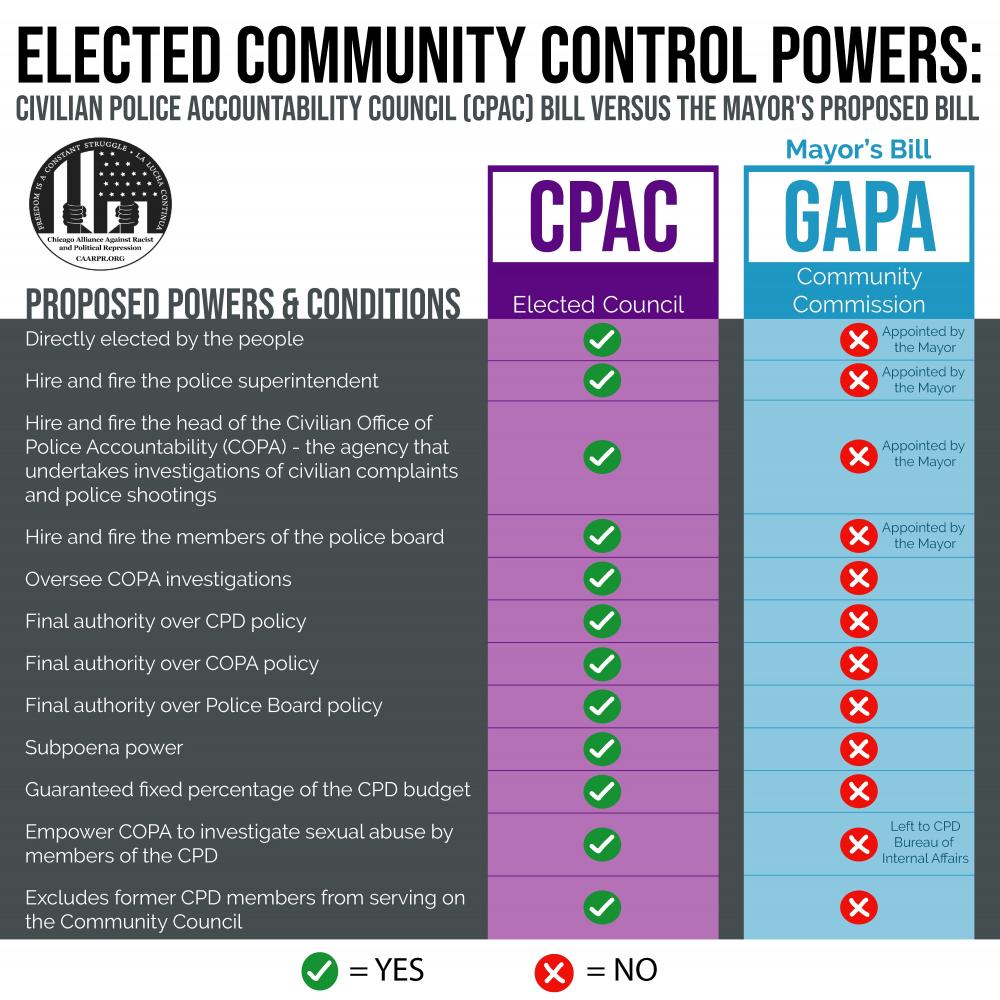 ---
To get involved, attend one of our weekly organizing meetings - all are welcome!
Stop Police Crimes Committee Meeting
Mondays 6-8pm, 1325 S Wabash, Suite 105, 312-939-2750
Or, sign up to volunteer and we'll reach out to you.  Call our office: 312 - 939-2750, or email us at contact@naarpr.org